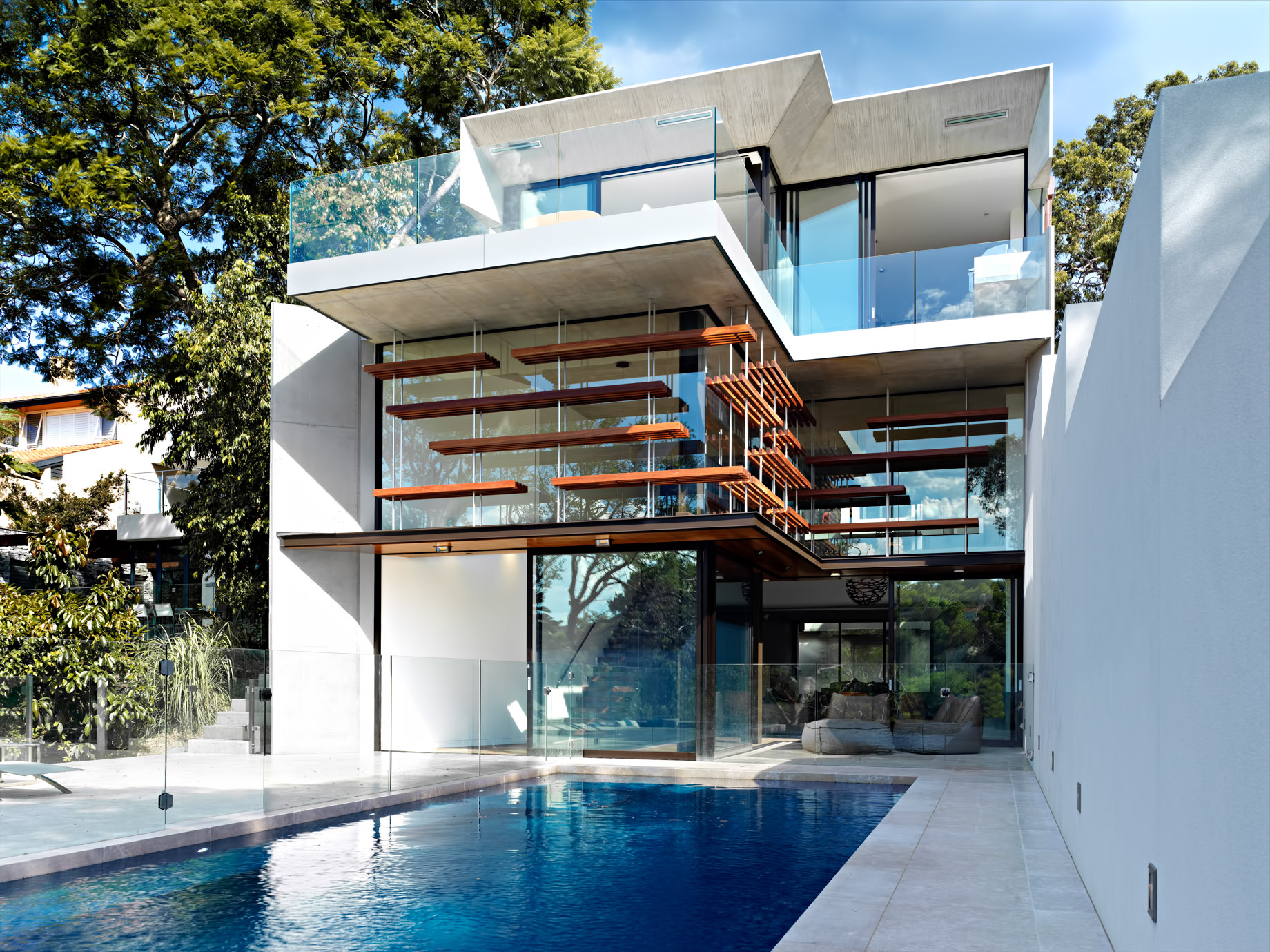 Name: Mosman House
Type: Modern Contemporary
Bedrooms: 4
Bathrooms: 6
Size: 7,965 sq. ft.
Lot: 11,775 sq. ft.
Built: 2017
More than a home, this is an architectural experience from beginning to end. Built to be complex, yet delicate and graceful, this luxury residence was carefully sculpted to take best advantage of the sites light and views. The deconstructed structure of its elements is indispensable in order to connect the house visually to its magnificent setting. The result is an exciting piece of architecture that at the same time, and most importantly, feels like a home for a family.
Conceived as two pavilions arranged on each side of a central courtyard. The front pavilion contains bedrooms and amenities. The rear pavilion, opening to the nature, contains a variety of living spaces and a large study. The kitchen and dining are on the top floor, though below the entry level, due to the steep fall of the site now sitting high, offering fantastic views. Below this the large living room, empowered by the topography to a dramatic double height space, reaching to the reserve via a large deck, sunken conversation pit and waterfall edge pool.
The house follows the steep fall of the long narrow site; opening up in many different ways to the landscape while being solid and windowless to the sides ensures privacy where neighbors are close. The connectivity between the spaces on each side of the courtyard is important, as is the ability for all spaces to gain excellent access to light and views of one sort or another. Empowered by it topography, this exquisite home is an architectural statement that exceeds expectations delivering a sculptural luxury residence that truly delivers on the experience of timeless luxury.
Architect: Rolf Ockert Design
Photography: Luke Butterly
Location: 44 Hopetoun Ave, Mosman NSW 2088, Australia