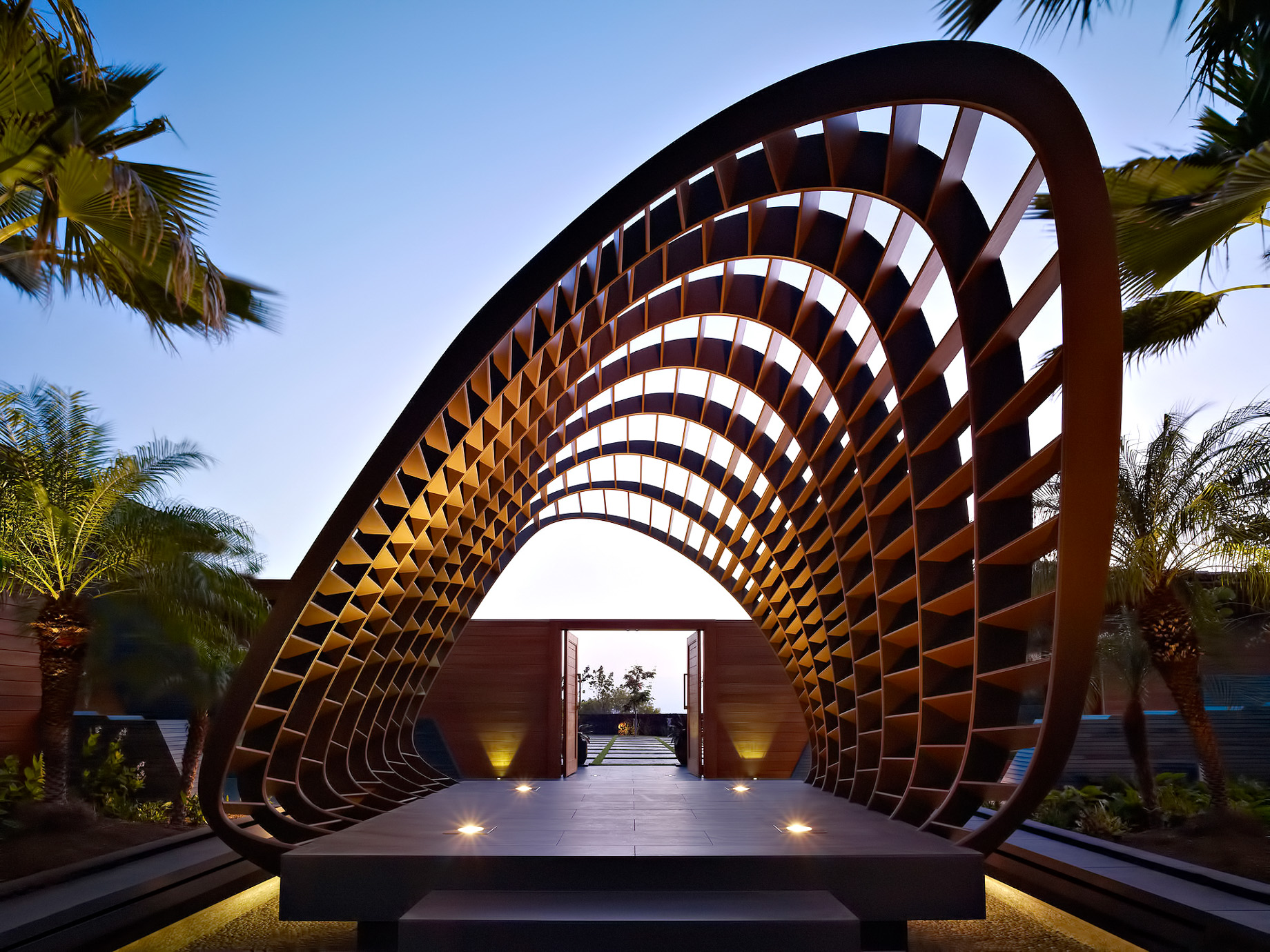 Name: Kona Residence
Type: Modern Contemporary
Bedrooms: 7
Bathrooms: 8
Size: 6,961 sq. ft.
Lot: 1.01 acres
Built: 2010
This stunning pavilion style resort home in Hawaii was created as a series of pods with one of a kind architectural design detail. Situated in the center of Hualalai Resort, this spacious vacation house of glass, water and exotic finishes is secluded yet convenient to enjoy club amenities. Various digitally sculpted wood ceilings and screens, throughout the house, continue the abstract approach to traditional Hawaiian woodcarving further infusing traditional elements into the contemporary arrangement.
Nestled between cooled lava flows, the Kona residence situates its axis not with the linearity of the property, but rather with the axiality of predominant views available to the site. Within the dichotomy of natural elements and a geometric hardscape, the residence integrates both the surrounding views of volcanic mountain ranges to the east and ocean horizons westward.
The program is arranged as a series of pods distributed throughout the property, each having its own unique features and view opportunities. The pods are programmatically assigned as two sleeping pods with common areas, media room, master suite and main living space. An exterior gallery corridor becomes the organizational and focal feature for the entire house, connecting the two pods along a central axis. This stunning sculpted luxury residence breaks with the island's Colonial architecture tradition, but it has a Hawaiian soul.
Architect: Belzberg Architects
Designer: MLK Studio
Photography: Benny Chan
Location: 72-230 Kahikole St, Kailua-Kona, HI 96740, USA