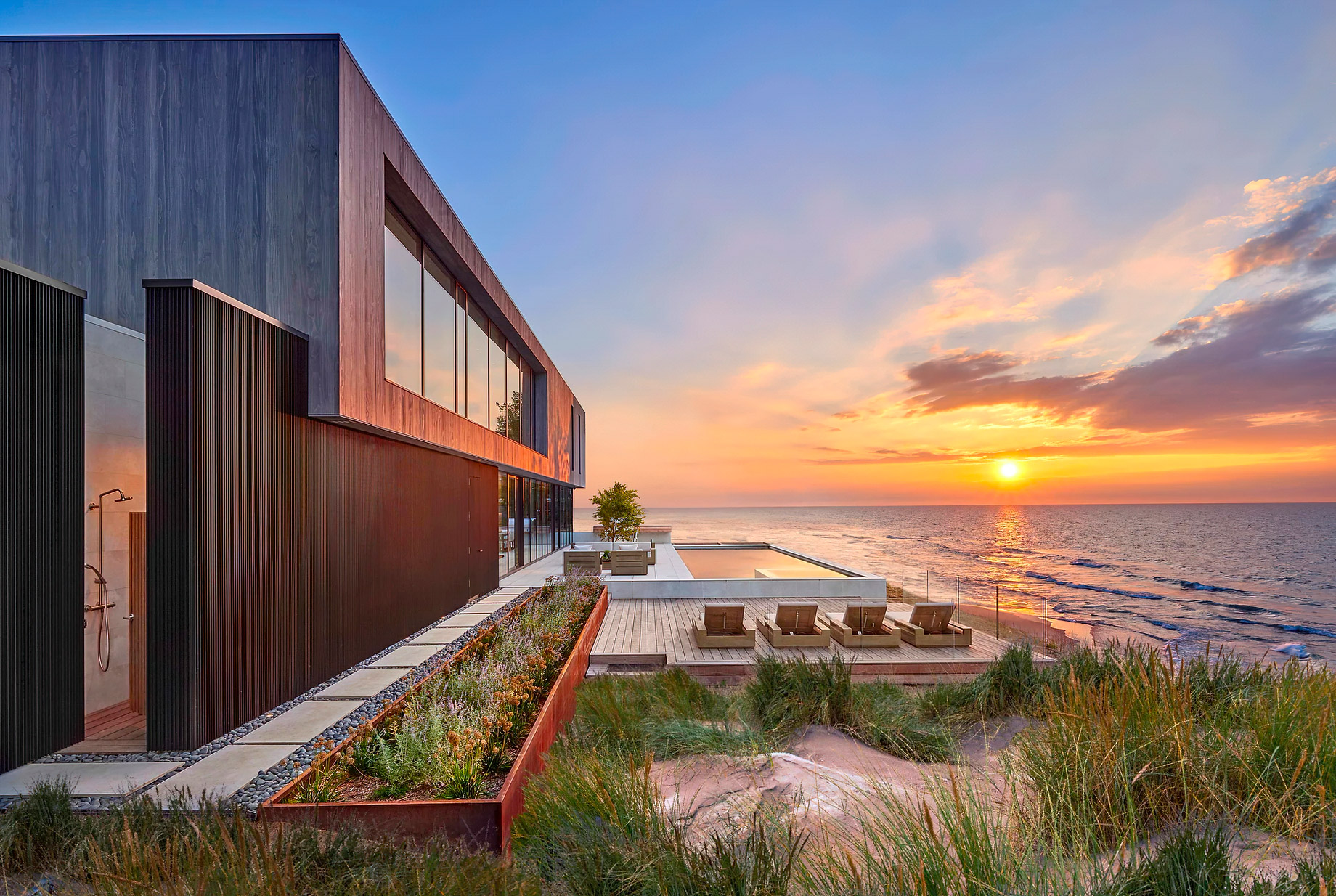 Name: Horizon House
Bedrooms: 5
Bathrooms: 5
Size: 4,700 sq. ft.
Built: 2021
Horizon House was created as a weekend sanctuary for jet-setting owners seeking a St. Barths-inspired lifestyle on Lake Michigan. Located just an hour away from Chicago, the house boasts sleek modern open plan living with expansive glass wall panels. The standout feature is a glass rectangular volume on the first level, which gives the illusion of the second level hovering over the dune and offers breathtaking horizon views. The upper level is clad in sustainable Accoya wood, aging gracefully to blend into the environment. A narrow vertical glass space connects the two horizontal volumes, housing the double-height entry and showcasing a floating staircase.
Inside, a contemporary beach aesthetic prevails, with a restrained palette of materials such as white oak millwork, large-format porcelain tile, and warm whites on walls and fixtures. The interior tile extends seamlessly to the pool terrace, enhancing the connection between indoor and outdoor spaces. A leeward courtyard, landscaped with Ginkgo trees, provides shade and respite from lake breezes. The low textured concrete wall adds both privacy and artistic flair. Perimeter lighting highlights the outdoor areas, promoting a seamless flow between the interior and exterior, day and night.
Architectural firm dSPACE Studio designed Horizon House as a contemporary beach haven in New Buffalo, perched on Lake Michigan. The integration of the pool with the house was a rewarding achievement, reflecting the meticulous attention given to creating a high-performance home in a challenging environment. The collaboration between the owners, architects, and builders resulted in a remarkable residence that seamlessly blends with its surroundings.
Architect: dSPACE Studio
Builder: Zahn Builders
Photography: Tony Soluri Photography