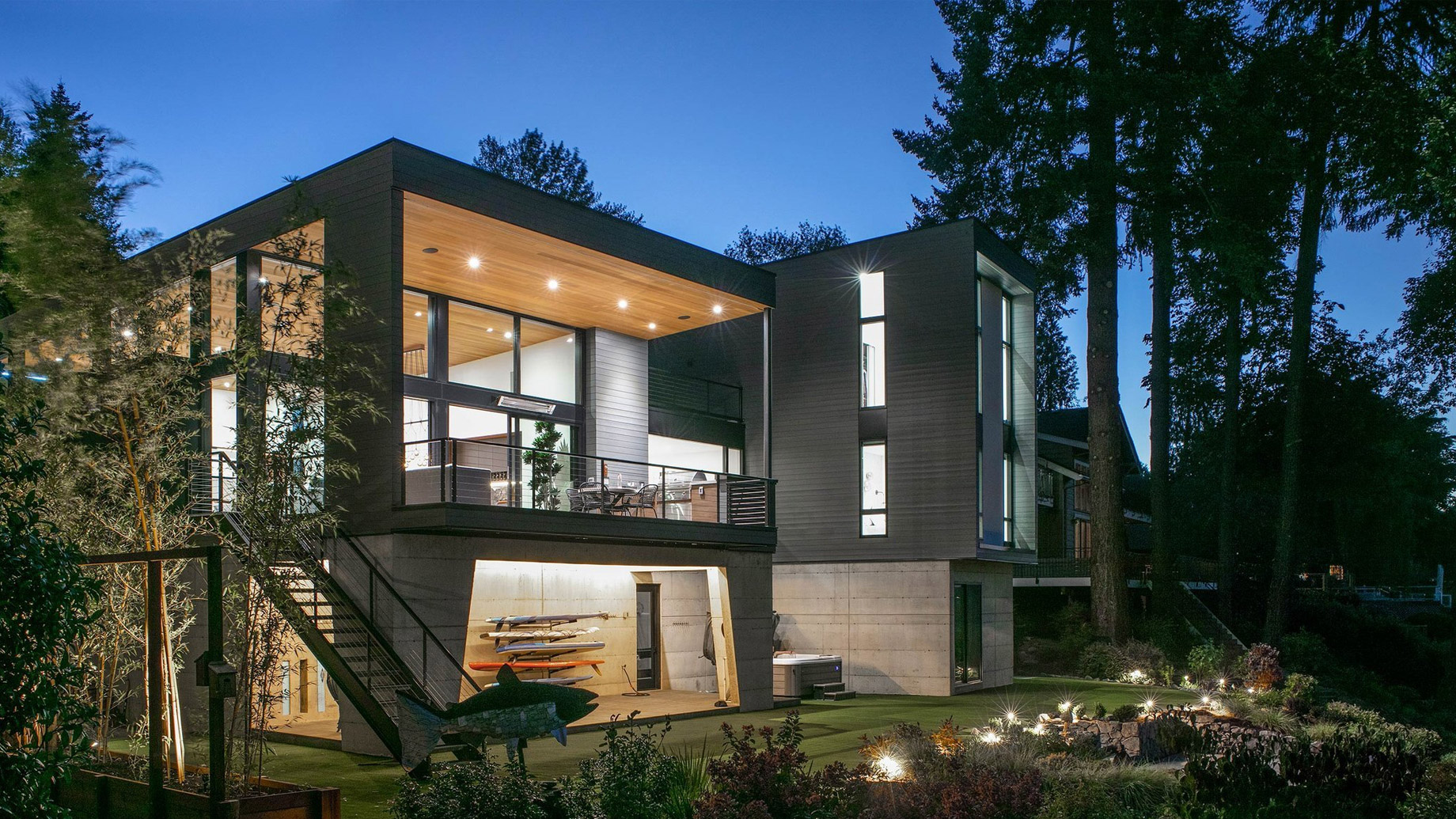 Name: Cedar Island Residence
Bedrooms: 4
Bathrooms: 5
Size: 4,200 sq. ft.
Built: 2018
Nestled along the Willamette River, the Cedar Island Residence embraces the concept of connectivity by dividing its functional spaces into three distinct volumes. These volumes include a spacious family room and gathering area, a private wing for bedrooms, and a guest house, all interconnected by a suspended steel bridge walkway. Positioned strategically, the volumes are oriented to maximize breathtaking views of the Willamette River and Cedar Island. With a profound appreciation for fishing, bird watching, and the great outdoors, the family found this location to be the perfect haven, providing unrivaled access to nature and making it an ideal place to call home.
The design by SEA Architects focuses on creating a central living space that encourages family togetherness. Recognizing that each family member leads a busy life filled with various extracurricular activities, the goal was to provide a communal area where they could gather and share meals, media, and music experiences. To promote family unity, the family specifically requested the absence of separate living rooms or large individual bedrooms for the children, instead emphasizing the importance of congregating in the main space rather than retreating to solitary activities.
Expansive sliding patio doors establish a strong connection between the interior and the river landscape beyond. The design adopts a simple material palette featuring wood, concrete, and steel, which harmoniously blends with the contemporary Northwest aesthetic and complements the home's waterfront setting. This thoughtful selection of materials enhances the overall ambiance and creates a seamless integration with the surrounding environment, immersing the residents in the natural beauty of their surroundings.
Recognizing the family's active lifestyle and passion for outdoor pursuits, the home's design also includes designated storage areas for outdoor gear, such as kayaks. These storage spaces cater to the family's need for accessible and organized storage, allowing them to easily access their equipment whenever they embark on outdoor adventures. Additionally, a separate 'casita' provides a detached accommodation for extended family and friends, offering privacy and tranquility. Accessed via a suspended steel bridge above the natural landscaping, the casita features a bedroom, a living and dining space, and captivating views of the river, providing a welcoming retreat for guests within the scenic surroundings of the Cedar Island Residence.
Architect: Scott Edwards Architecture
Interior Design: Baines Design
Photography: Peter Eckert / Lincoln Barbour
Location: West Linn, OR, USA