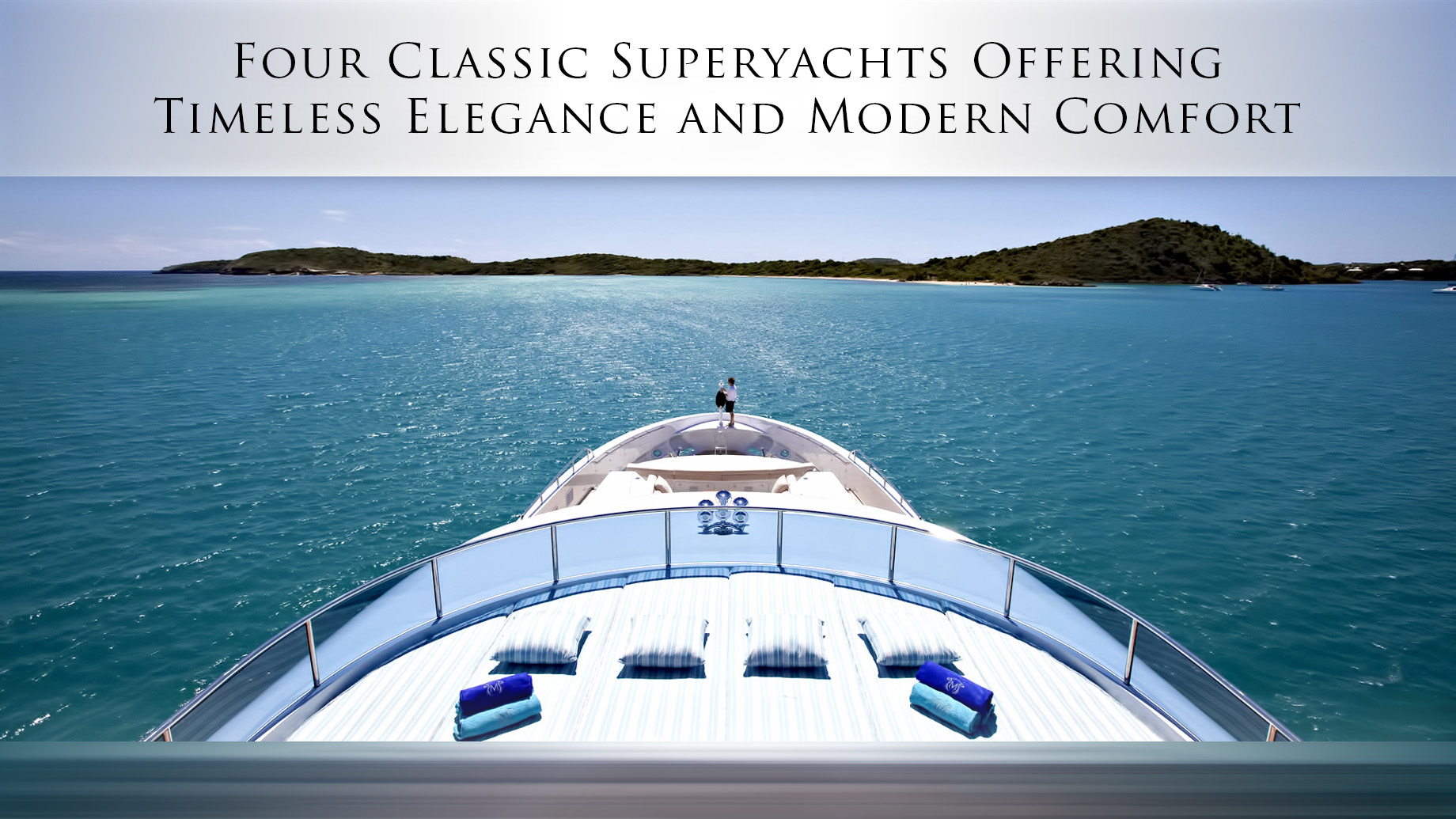 Buying a classic yacht from a bygone era is an opportunity to own an elegant piece of yachting history. A classic superyacht for sale offers the opportunity to journey back in time and experience a feeling of timeless glamour, yet it does not compromise on modern comforts. There are currently some stunning classic yachts for sale, from spectacular world-cruising motor yachts and converted expedition vessels, to plush 'gentleman's yachts' and majestic three-masted schooners.
1. M/Y SHERAKHAN
On board the iconic M/Y SHERAKHAN, timeless opulence meets modern comfort in unforgettable style. The 69.7m motor yacht was launched in 1965, with major refits in 2005 and 2014 bringing her up to the exceptional condition she is presented in today. M/Y SHERAKHAN has an exceptional charter pedigree—in part because her large interior volume allows for 26 guests to be accommodated in 13 unique and very spacious suites. Other extraordinary features of this yacht include a magnificent atrium dining room – which can be admired from a walk-around gallery – an 18-person Jacuzzi on the sundeck, and the luxurious spa and gym area. M/Y SHERAKHAN has fantastic world-cruising capabilities, proving to be as at home in fashionable Saint Tropez as in the icy blue wilds of Antarctica. M/Y SHERAKHAN manages to convey the ocean-voyage glamour of yesteryear with all the amenities and technology of the modern superyacht, making her one of the finest classic yachts afloat today.
2. S/Y FLEURTJE
S/Y FLEURTJE for sale presents a fantastic opportunity to own a part of classic yacht sailing history. Launched in 1961 from the renowned De Vries Lentsch Shipyard, 57m S/Y FLEURTJE is an exceptional three-masted schooner and has benefited from extensive upgrades and careful maintenance throughout her sailing life. S/Y FLUERTJE accommodates 12 guests in five double staterooms, with plenty of room to relax in the double-height salon and dining room. There's also an alfresco dining table on deck, under the mizzenmast – one of the three Douglas fir masts that make this yacht so iconic under sail. Other notable features of this classic yacht for sale are the elegant lines of the white hull, with long overhangs at bow and stern, and the improved sailing performance that allows this yacht to compete at classic regattas.
3. M/Y IL ODYSSEY
A rare find in the modern yacht market, the classic M/Y IL ODYSSEY offers charterers excellent value for money, with her spacious decks and extensive selection of water toys. Benetti built the 32.84m superyacht in 1967, but a refit in 2005 has brought her into the modern age with an elegant and sophisticated interior that evokes the yachting experience of yesteryear. M/Y IL ODYSSEY can accommodate nine guests in four lavish staterooms. She has a cruising speed of 10 knots and a range of 2,600 nautical miles.
4. M/Y SARITA SI
M/Y SARITA SI is the epitome of the 'gentleman's yacht' of yesteryear, with a sumptuous and decadent interior and the classic exterior lines that can be expected on a 1972 motor yacht. This 38.6m vintage superyacht from CRN Ancona accommodates 12 guests in six lavish double staterooms, with the deep red colour scheme adding to the classic elegance of the interior. The sophisticated red theme continues into the unusually spacious outdoor areas, where a large dining table allows for alfresco dining in style, and the fresh red and white striped upholstery contrasts brilliantly with the blue glow of the raised Jacuzzi. Down on the waterline, a swim platform is the perfect place to relax in the sun and launch off on the yacht's many water toys. M/Y SARITA SI offers the enchanting feeling of cruising in a bygone era, with all the comforts and features of a modern superyacht.
To learn more about any of these yachts or other classic yachts available for charter, contact the charter team at Fraser Yachts, the world's leading yacht brokerage.