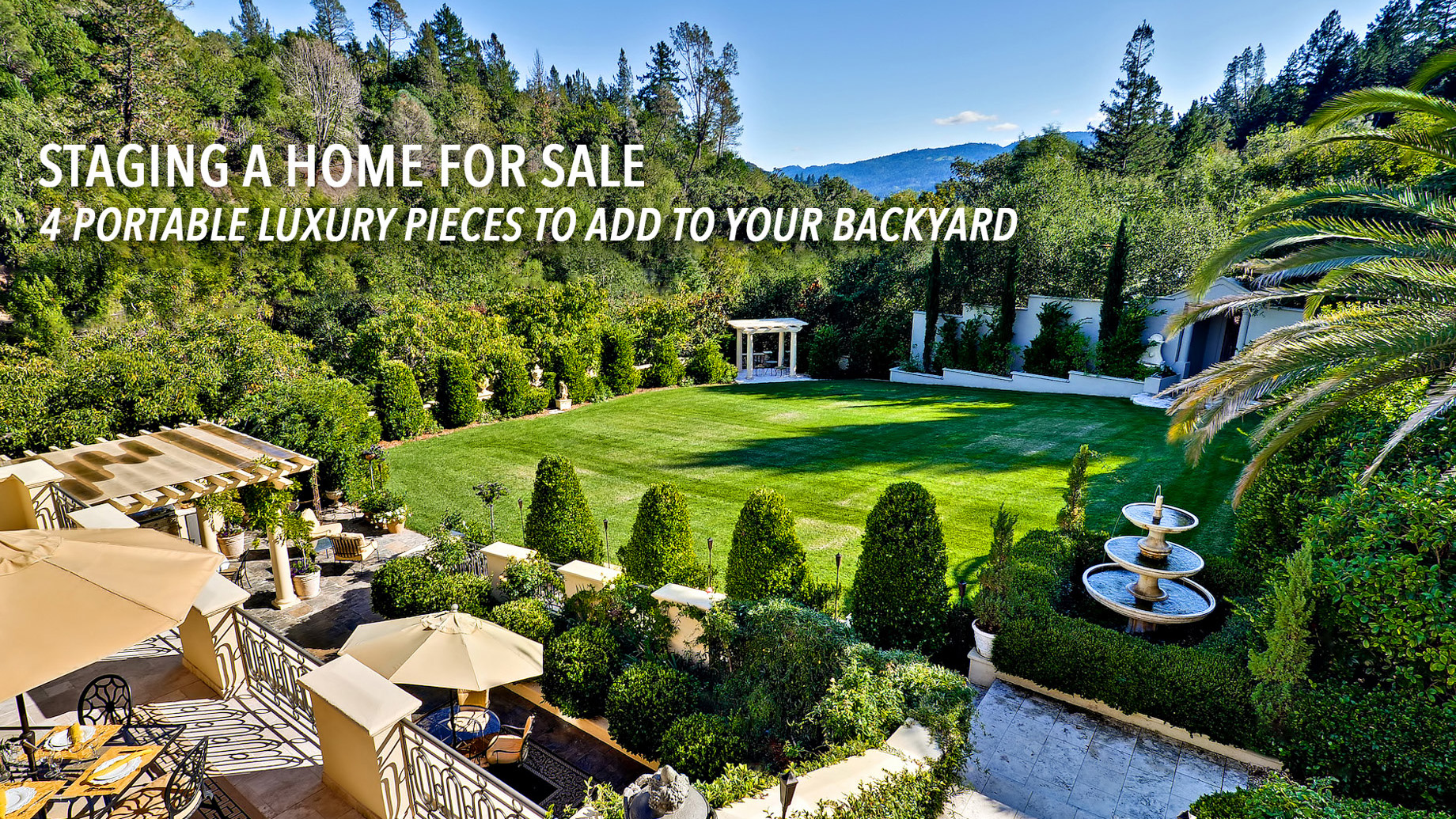 When putting a home on the market, even some of the most beautiful luxury abodes fall short in gaining buyer interest. Many home sellers believe that a large, ornate backyard with expensive landscaping and decor can only improve their selling chances, but in fact, the reverse may be true. If a backyard looks too manicured and intricate, buyers tend to assume it will be too much of an upkeep commitment, or that the influence of the original homeowner's preferences are too permanent and inflexible. The key to solving this problem is to showcase the value of the home and backyard but without creating permanency. Here are four portable backyard luxury items that will help you stage your home and help potential home buyers visualize the potential in your home.
Portable Grill
Portable does not mean it should look cheap. The Alfresco ALX2, for instance, is a huge gas grill that is built to last. Its elegant design adds a touch of sophistication to backyard grilling, and the 82,500 BTU output from the main burners means it has one of the fastest heating systems on the market. It's unique enough to catch the eye but not overtly personal in style. Any buyer could visualize grilling on Sunday afternoons in the backyard around this lustrous piece of equipment, creating an instantaneous feeling of home.
Portable Spa
Nothing signifies relaxing at home like a jet massage spa in the backyard. The Intex PureSpa Jet Massage Spa conjures up visions of unwinding in opulence. With adjustable jets and temperatures, this spa can acclimate to any individual's liking. It is simple to set up and breakdown, requiring no electrical work or concrete foundation. After setting eyes on this luxury piece, potential home buyers may never want to leave.
Removable Deck
If you've spent considerable time and money constructing a breathtaking backyard with no place to sit or stand, home buyers may walk away. What good is a beautiful view if there is no comfortable point from which to view it? Building a permanent deck may be too irreversible for the hesitant buyer, but a temporary deck can illustrate the potential of your home without overwhelming viewers. A product like SnapDeck Deck Tiles can highlight the features of your backyard and create an inviting stage for outdoor entertaining. These tiles connect via an interlocking loop and cylinder backing system and can be laid with ease or moved to a different spot at the homeowner's whim. A portable deck is a lavish touch which helps buyers see the potential to individualize.
Portable Gazebo
One of the fastest growing trends in the housing market is the addition of exterior yard structures. In 2011, homeowners spent more than $4 million on exterior projects for seating and outdoor enjoyment, according to this report from the Joint Center for Housing Studies of Harvard University. A fusion of class and style, a portable pergola or gazebo presents potential buyers with photogenic and functional backyard retreat. An ideal spot for mild-weather brunches and summer night stargazing, home viewers can easily picture themselves under the canopy in hundreds of home scenarios.