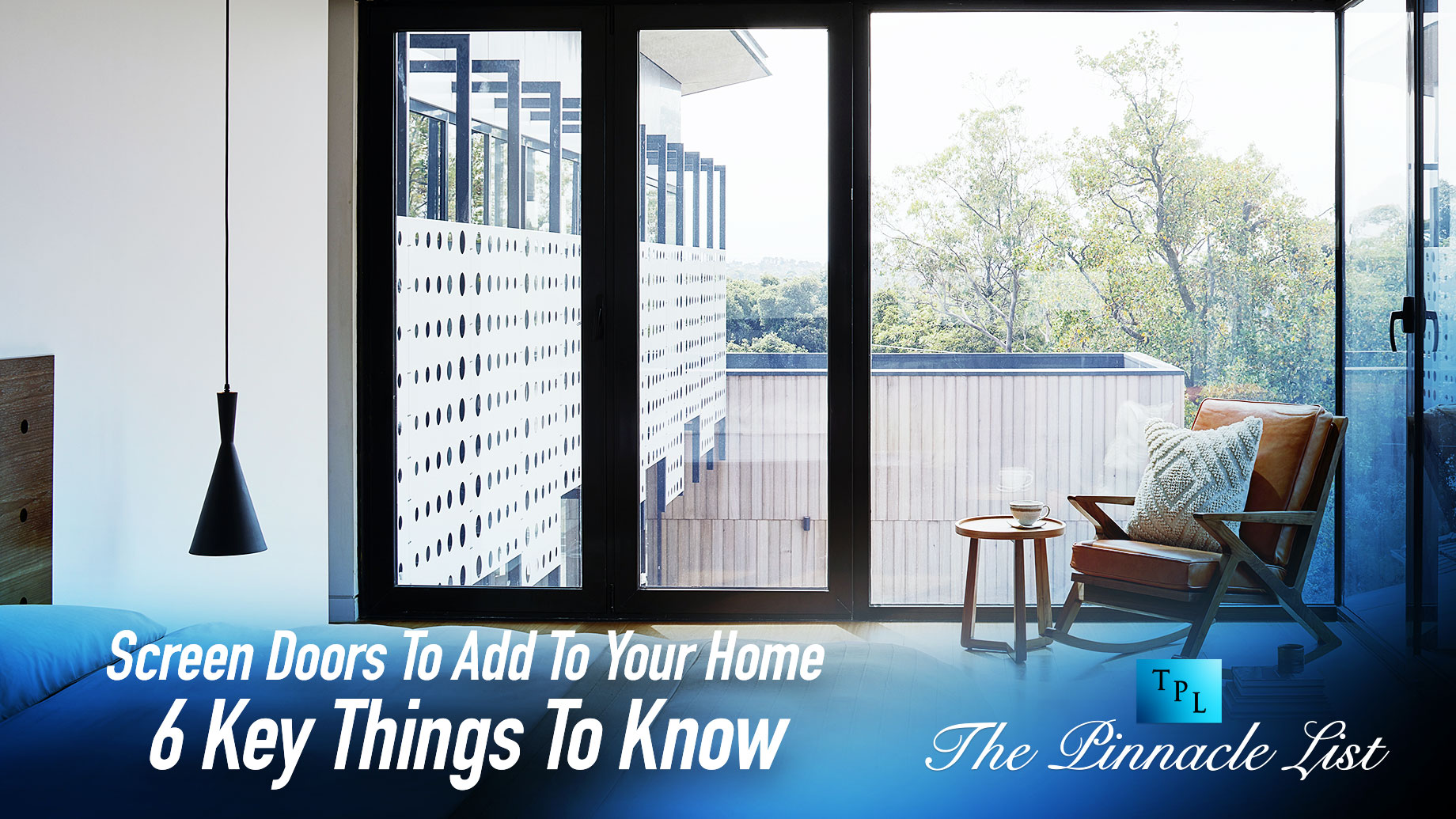 Are you looking to add an eye-catching, practical feature to your home? Then consider installing a screen door! A screen door can help keep bugs out of your home and provide an additional layer of security. In this blog post, we'll go over six key things to know about screen doors and what you need to consider before buying one for your home. From understanding the different types available to considering installation, read on to learn more about making the right choice for your home.
Do Your Research
Doing your research is a key step when selecting the right screen door for your home. Consider the various types available—such as aluminum, wood, and steel—and decide which type best fits your style and needs. The team behind Superior Screens says you'll also want to think about the size of the door and where it will be installed, whether it's a single or double door, and any special features you want to add. Additionally, ask yourself if the door needs to be weatherproof or able to withstand strong winds. By researching different types of screen doors before making the final decision, you'll be sure that the one you choose will look great and last for years.
Benefits of Screen Doors
Screen doors offer a range of benefits that make them a great addition to any home. Not only do they provide an eye-catching feature, but they also help keep bugs out while allowing fresh air in. Additionally, screen doors are relatively low maintenance and can be easily opened and closed without having to worry about getting stuck. They're also a great way to add an extra layer of security to your home since you can see who's at the door without having to open it.
Types of Screen Doors
When choosing the right screen door for your home, a few different types are available. Aluminum and steel doors offer superior durability and strength, while wood doors offer a more traditional look. However, if you're looking for something with more visual appeal, consider glass or mesh screen doors that allow lots of natural light in while still keeping bugs out. In addition, you can also find foldable and retractable screen doors that give you the option to open up all or part of the door when desired.
Considerations for Choosing Screen Doors
When choosing a screen door for your home, there are several considerations to take into account. Consider the size of the door, where it will be installed, how much traffic will flow through it, and whether or not you'll need to weatherproof it. In addition, think about any special features you might want in a screen door, such as a pet door or security features. Finally, think about the color and style of the door that best fits your home's aesthetic. By considering all these factors before making your purchase, you can be sure you're getting the right screen door for your home.
Installation and Maintenance Tips
Installing a screen door is relatively straightforward, but it's important to make sure you do it correctly for maximum performance. Before installation, measure the doorway accurately and ensure that you have all of the necessary tools and hardware for assembly. Additionally, consider having an expert come in to assess the area before attempting the installation yourself. Once the door is installed, it's essential to maintain it properly for optimal performance.
Cost Factors
Cost is also an important factor to consider when purchasing a screen door for your home. Generally speaking, steel and aluminum doors tend to be the most expensive option, while wood and glass are more affordable. If you opt for a retractable or foldable door, you can expect to pay more due to the additional features they offer.
In conclusion, screen doors can be a great addition to any home. With the right research and considerations, you'll be able to find one that fits your style and needs perfectly. Be sure to take into account all of the factors mentioned above when selecting a screen door, so it will last for years to come.