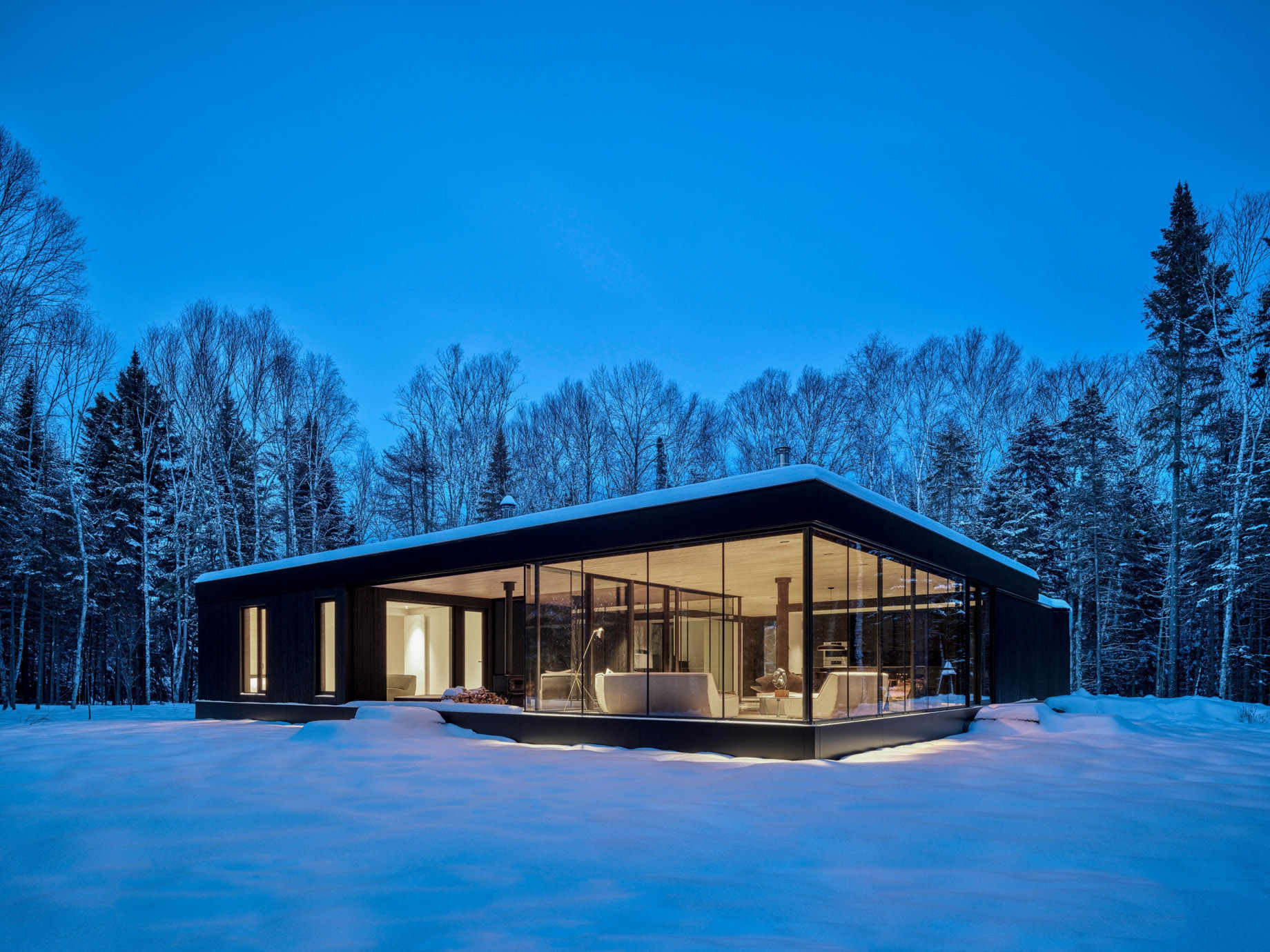 Name: Apple Tree House
Bedrooms: 4
Bathrooms: 3
Built: 2021
The Apple Tree House is a family retreat located in the heart of Quebec's Lanaudière region reflecting the nostalgia of the orchard setting provoked a sincere and pure emotion incorporating an apple tree at the heart of the project to sow the seeds of a family's future history. The single-story glass structure is a testament to ACDF's approach to architecture that prioritizes creating a connection between humans and nature. Set on a private 250,000 sq. ft. plot surrounded by dense boreal forest, the house was designed to meet the needs of an urban family looking for a modern home that would enhance their connection with nature, both internally and externally. The Apple Tree House serves as a peaceful escape for the family, where they can reconnect with each other and enjoy moments of solitude amidst the breathtaking forest surroundings.
From the beginning, the architects of the Apple Tree House project aimed to incorporate nature into the design in a sensitive and meaningful way. The inspiration came from the owner's vivid memories of growing up in an orchard and his lifelong connection with nature symbolized by the apple tree. This tree became the centerpiece of the project, representing the family's tradition of spending quality time together in nature. To bring the family's desire to merge the indoor and outdoor spaces to life, ACDF chose a minimalist glass house with a focus on transparency and openness. This modernist architectural concept seamlessly blends the interior and exterior and creates a harmonious connection with nature.
The incorporation of the apple tree as the central core of the house design allows the family to cultivate a deep connection with nature. They experience nature's changing moods, seasons, and weather through their relationship with the tree. The children and parents have learned how to care for the tree, watching it grow, trimming its branches, treating it for diseases, and admiring its blooms and fruit. This relationship with the tree has made the surrounding nature a central part of the family's daily life, promoting awareness of nature's fragility and importance. The apple tree serves as a living example of how humans can, and must, learn to coexist with nature, emphasizing the importance of this fundamental relationship.
Architect: ACDF Architecture
Photography: Adrien Williams
Location: Saint-Donat-de-Montcalm, QC, Canada