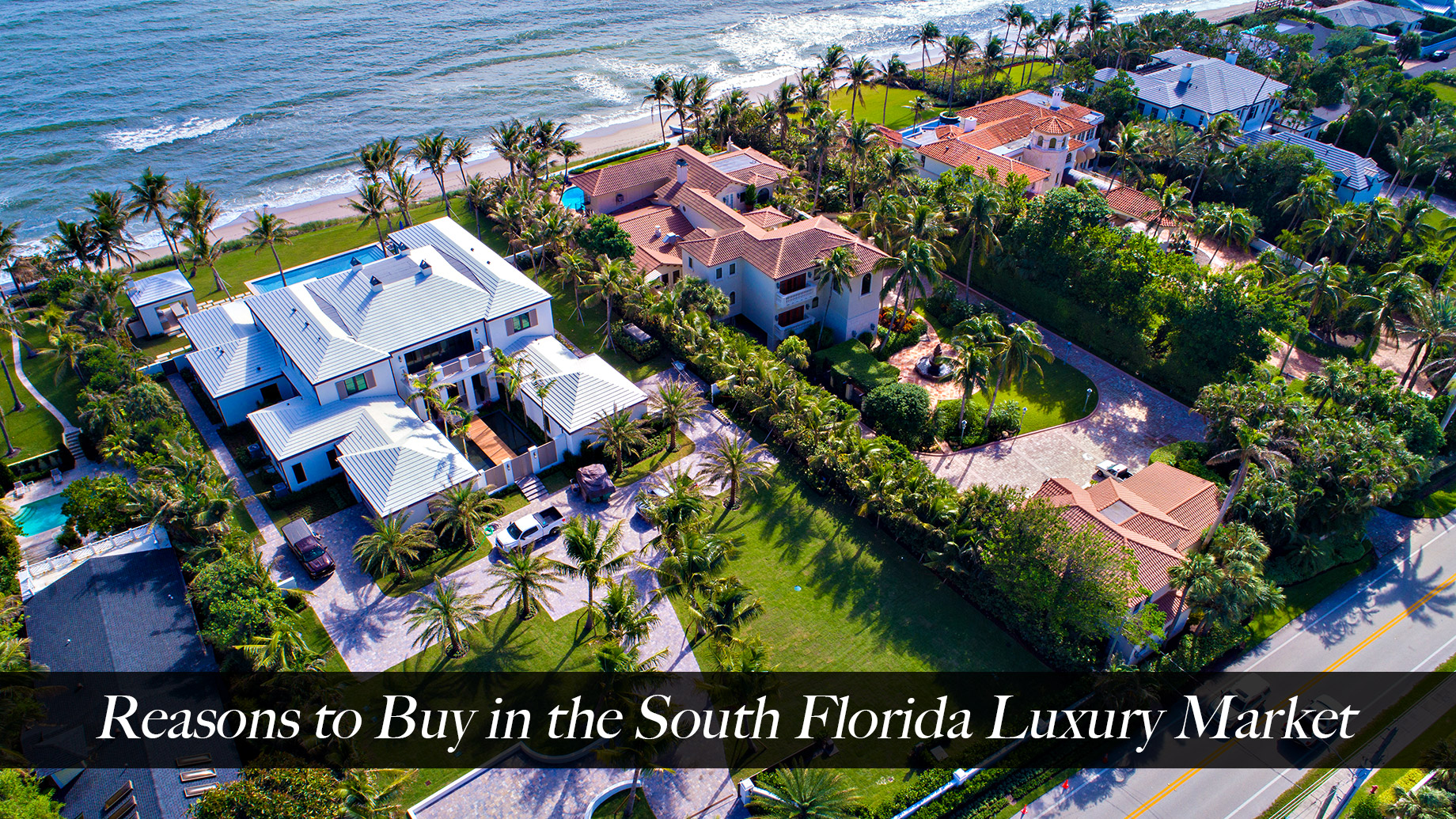 The South Florida luxury property market has been booming recently, with luxury homes in Palm Beach, Broward, and Miami-Dade being in incredibly high demand. Sales for single-family homes have increased by 24% over the period of a year.
For property investors and developers, buying or building in South Florida is a very profitable strategy right now. Many property experts have stated that the coronavirus pandemic has been one of the main reasons for this huge uplift in people wanting to move to South Florida. With many people now working from home, they have more flexibility about where they live, as they do not need to commute to work anymore.
The pandemic has changed people's priorities and instead of living in busy cities with high populations, an increasing number of people want to live somewhere safer and more scenic. They want to be able to enjoy walks along the beach and the luxury lifestyle that South Florida offers.
Investing in South Florida properties
Florida has been one of the most profitable investment markets for a long time, delivering good returns for investors for a wide range of property types. The warm climate in Florida has ensured that it is a popular vacation choice for people all over the world but also for Americans.
South Florida is within easy travel distance from the theme parks at Orlando but offers great beaches to enjoy on holiday too. This makes it an ideal place to buy property, as there is a high demand for holiday accommodation all year round.
Miami is a very popular destination for tourists and there are many local attractions in addition to the beaches. The nightlife in Miami is another attraction, and with Miami being a favourite location for celebrities, tourists enjoy tours to see famous people's houses while visiting.
South Florida is a global property investment hotspot due to the incredible demand for property there right now, so whether your main objective is to earn good rental income from holiday accommodation or renting on a long-term tenancy, you can reach your investment targets.
What is also happening in South Florida is that property prices are increasing at a higher rate than in most other places. In the first half of 2021, property prices have increased by 16%. Therefore, as well as making money from rent, there is a good chance that you are going to make a profit when you sell the property due to the predicted price increases.
Building property in South Florida
Luxury properties get sold very quickly in South Florida, which is why many property investors look at building property in South Florida instead of buying already built property. By building property in South Florida, you can save a substantial amount of money, especially on a well-managed construction project.
Funding property investment in South Florida
If you are considering building property in South Florida, you will need to find a niche mortgage lender who will provide a self-build mortgage lender, unless you already have the capital for a building project.
For a self-build mortgage, you would need to provide more information and evidence than you generally would with a standard mortgage. A self-build mortgage is regarded as a higher risk as there are plenty of issues that could go wrong with the project. Due to this higher level of risk, lenders will require a larger deposit, usually at least 25% before they will approve a mortgage loan.
It is also likely that a self-build mortgage will have a higher interest rate than standard mortgages, again due to the bigger risk for the lender. The additional documents and information that lenders will usually request for a self-build mortgage include:
Project plans for the build
A full breakdown of costs for the project
Plans for the project management
If you want to raise money to fund a self-build project, one option could be to remortgage an existing property. If you already have a niche type of mortgage, a good way to identify good remortgaging deals is to use a remortgaging calculator to work out remortgaging options.
There are lots of other types of ways to fund property investments to buy in South Florida, such as taking out a buy-to-let mortgage. If you are planning on buying the property and selling it quickly, a bridging loan could be a possibility to provide funding for a short period until the property sells.
A bridging loan will usually be secured against another property for security and the terms will be that you must repay it within 12 months, for example. This means that you could potentially buy a property and make improvements to turn it into a luxury property before selling it on. With the high demand for luxury property in South Florida, you are pretty much guaranteed you will be able to sell the property within the required amount of time to repay a bridging loan.
When you look at alternative investment opportunities, there are few that offer the same returns that are available for investing in property hotspots. The COVID-19 pandemic has affected property investment in a number of different ways, with some areas now much less lucrative than they used to be.
In the UK, for example, London used to be the area that had the highest returns for property investment due to the high rent yields that could be achieved. Since the pandemic, there has been a large increase in the number of people looking to live in places that are outside of busy cities, where there is more outdoor space and more room in the property.
The pattern is similar around the world, including the US, where people who can afford to choose where they want to live are generally choosing places like Miami, where they can enjoy the local area as well as the benefit of having no state income tax to pay.
The cultural attractions in South Florida are another reason the luxury property sector is booming in this part of the US, with art galleries, music and film festivals regularly taking place there.