Traveling to Istanbul, Turkey by air will never be the same when a newly designed airport by global architect firm, Grimshaw, is fully constructed into what will be a modern architectural masterpiece. The new airport project is being built on 76.5 million m2 (18,903.60 acres) of land between Tayakadın and Akpınar villages near the Black Sea on the European side of Istanbul. The site of the new airport is located about 35 km (21.75 miles) from Atatürk Airport, the main international airport currently serving Istanbul.
The "Istanbul New Airport," as it is currently referred to, will be the third international airport built in Istanbul, due to lack of capacity in the existing airports. The project, which broke ground in 2014, is made up of four construction stages.
The first phase aims to serve 90 million passengers per year. After all stages are complete, Turkish Airlines' ambitious expansion plans will tip the iceberg making this the largest airport in the world, upsizing it for an expected annual capacity of 150 million passengers.
The airport will uniquely feature one single terminal, appropriately named Terminal 1, with close to 1 million square meters of floor space that will include a range of retail shopping outlets. The large expansive roof covering the massive floorspace will be architecturally breathtaking and an engineering marvel. The open concept of this airport plan offers a truly modern airport experience for the new millennium.
Images of the Istanbul New Airport showcase Grimshaw Architects' flair for modern, futuristic design. The team was appointed by General Directorate of State Airports Authority (DHMİ) and İGA Havalimanı İşletmesi A.Ş. to design the new airport in collaboration with Nordic Office of Architecture, Haptic Architects, and local Turkish partners; GMW Mimarlik and Tekeli Sisa.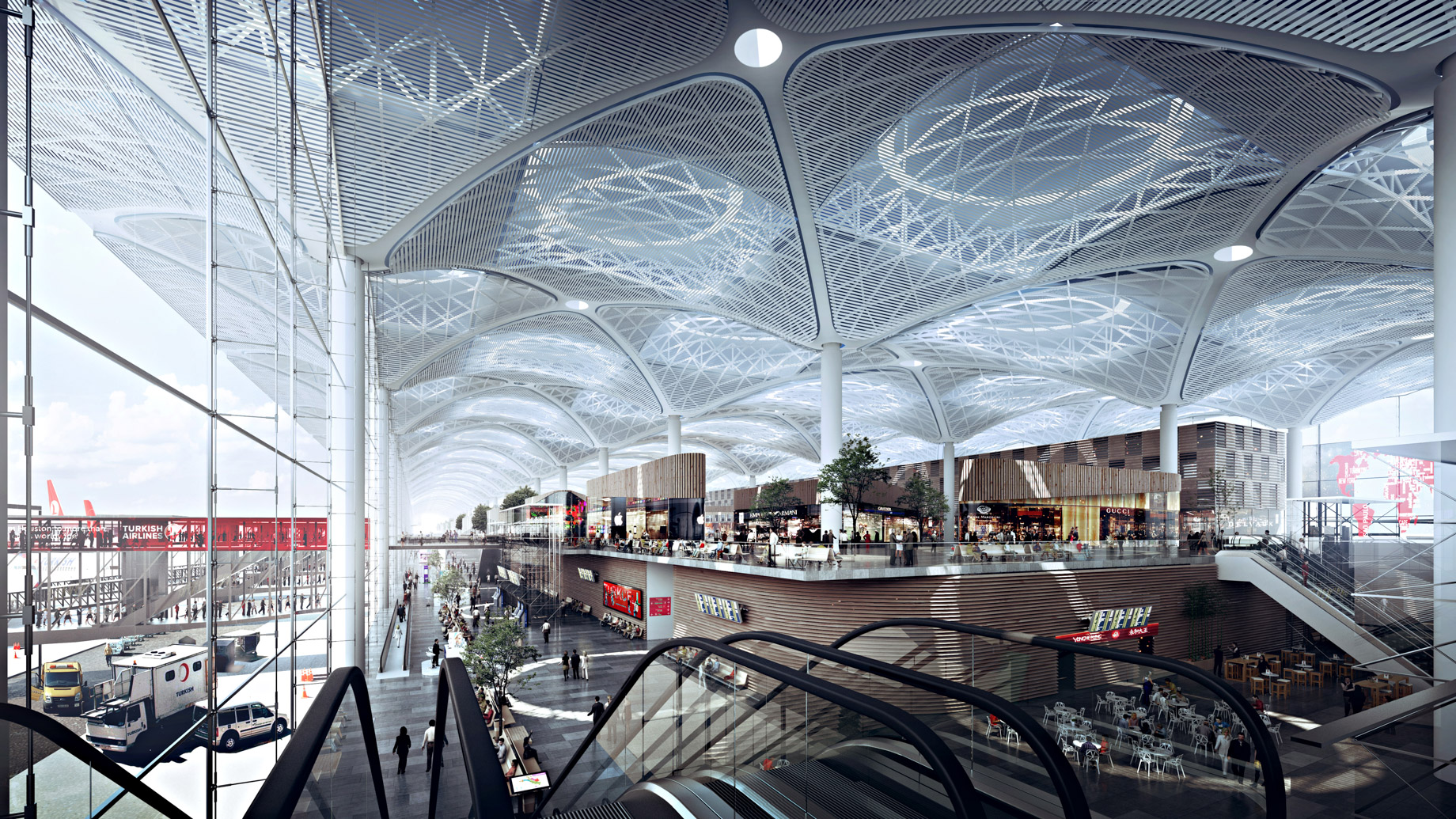 Investors for this, contemplated to be the biggest airport project in the world, include Cengiz İnşaat Sanayi ve Ticaret A.Ş., MAPA İnşaat ve Ticaret A.Ş., Limak İnşaat Sanayi ve Ticaret A.Ş., Kolin İnşaat Turizm Sanayi ve Ticaret A.Ş., and Kalyon İnşaat Sanayi ve Ticaret A.Ş. – all with an equal share of 20%.
After the first stage of the airport is completed in 2017, these investors will begin paying €26.142 billion over a 25-year lease to the Turkish state government. An estimated 100 thousand people will directly be employed by Istanbul New Airport, along with 1.5 million people, who will be employed in the sub-sectors.
Istanbul New Airport is being constructed with a vision that captures the incomparable spirit and unique character of the region. Today, Istanbul is one of the 15 largest cities in the world, with a population of 14.7 million people.
When all four stages of the Istanbul New Airport construction are complete, travel routes will expand significantly from simply Europe, Middle East, and North Africa to more than 350 travel destinations. This expanded wide flight network capability will truly make this new airport one of the leading airports and aviation hubs in the world.