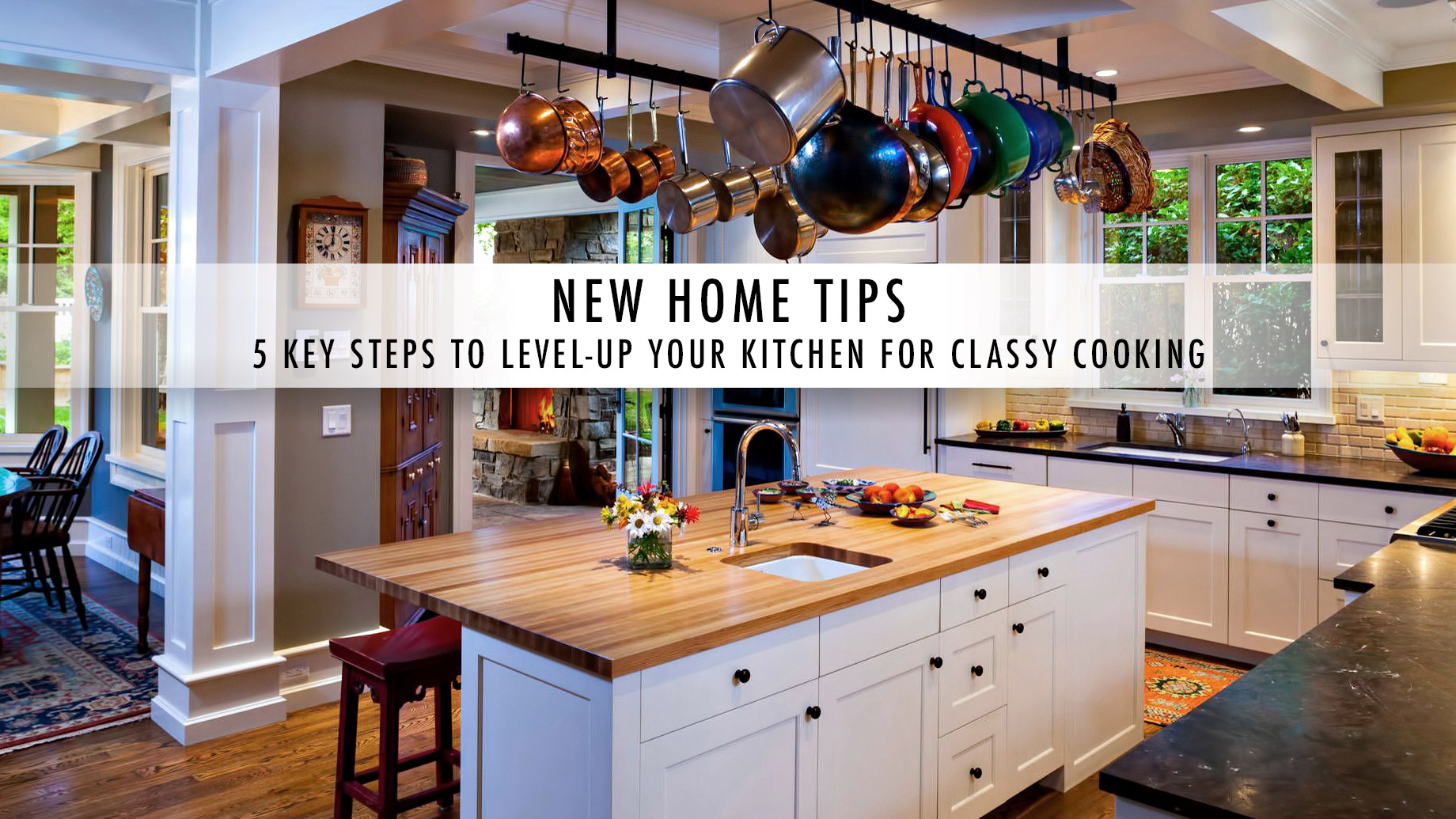 If you're like most people, you spend a great deal of time in your kitchen. From the cookware you use, and display, to the design and décor, it should be a room you enjoy coming into. So now that you've moved into that new home it's a great time to level-up your kitchen. When it comes to your kitchen, however, certain trends definitely take precedence over others. For example, amateur and professional chefs alike demand technology in the kitchen. When it comes to cooking, you have a lot of options for taking your skill to the next level. From acquiring the most advanced cookware to trying complex recipes, it's easy to impress even your most critical audience.
If you'd like to level up your own kitchen, then here are several ways to do it:
1. Get the Most Advanced Cookware
There has been a multitude of new cookware over the years. From non-stick surfaces to their copper counterparts, cookware continues to improve. Today's most advanced cookware, induction compatible cookware, takes cooking to a whole new level. Designed to work with induction cooktops, this type of cookware cooks food using a magnetic field to produce heat, which results in more even cooking and less risk of getting burned since the pots themselves don't get hot. For a really eye-catching display of your induction cookware, consider purchasing a wall or ceiling mounted rack, as these pots and pans are great decor pieces, as well.
2. Make Room for Fido
If you consider your pet(s) a member of your family, jump on board with an ongoing trend that makes room for Fido in the kitchen. From pull-out food and water dishes to cut-out niches for dog/cat beds, your pet can hang out with you in the kitchen without getting in your way and everything looks purposeful and tidy.
3. Be Creative with Storage
Today's homes and condos are smaller than ever before. As such, it's important to be creative when it comes to storage. In the kitchen, many people are opting to go with storage drawers that can be pulled out when needed and pushed back in for a clean look overall. For even smaller spaces, vertical storage is another option, while some kitchen designs incorporate a small closet converted into a pantry to store food items in a convenient and organized manner.
There are no hard and fast rules when it comes to storage. Use your imagination to make your kitchen space work for you.
4. Give Your Kitchen a Feeling of Openness
A trend in today's kitchen design is openness. From the cabinets to the space itself, remodeling your kitchen to give it a feeling of roominess and spaciousness is where it's at. If you're thinking of remodeling your kitchen, consider replacing your traditional cabinets with open shelves to give your kitchen a sleek country appearance. Another option is to utilize the ceiling to make the space appear larger than it is. By adding color and texture to the ceiling, it draws the eye upward, making your kitchen feel bigger. You can make your kitchen appear more spacious by replacing your old double sink with a single large sink with an apron front.
5. Make it Last
Trends are wonderful because they're fun, but they often leave you with a kitchen décor that doesn't stand the test of time. While many designers give you the hottest colors and going trends, they don't take into consideration a need for timelessness, as well. To ensure your kitchen décor will be in for many years to come, consider things like granite countertops, simple backsplashes, a clean color palette, and hardwood floors.