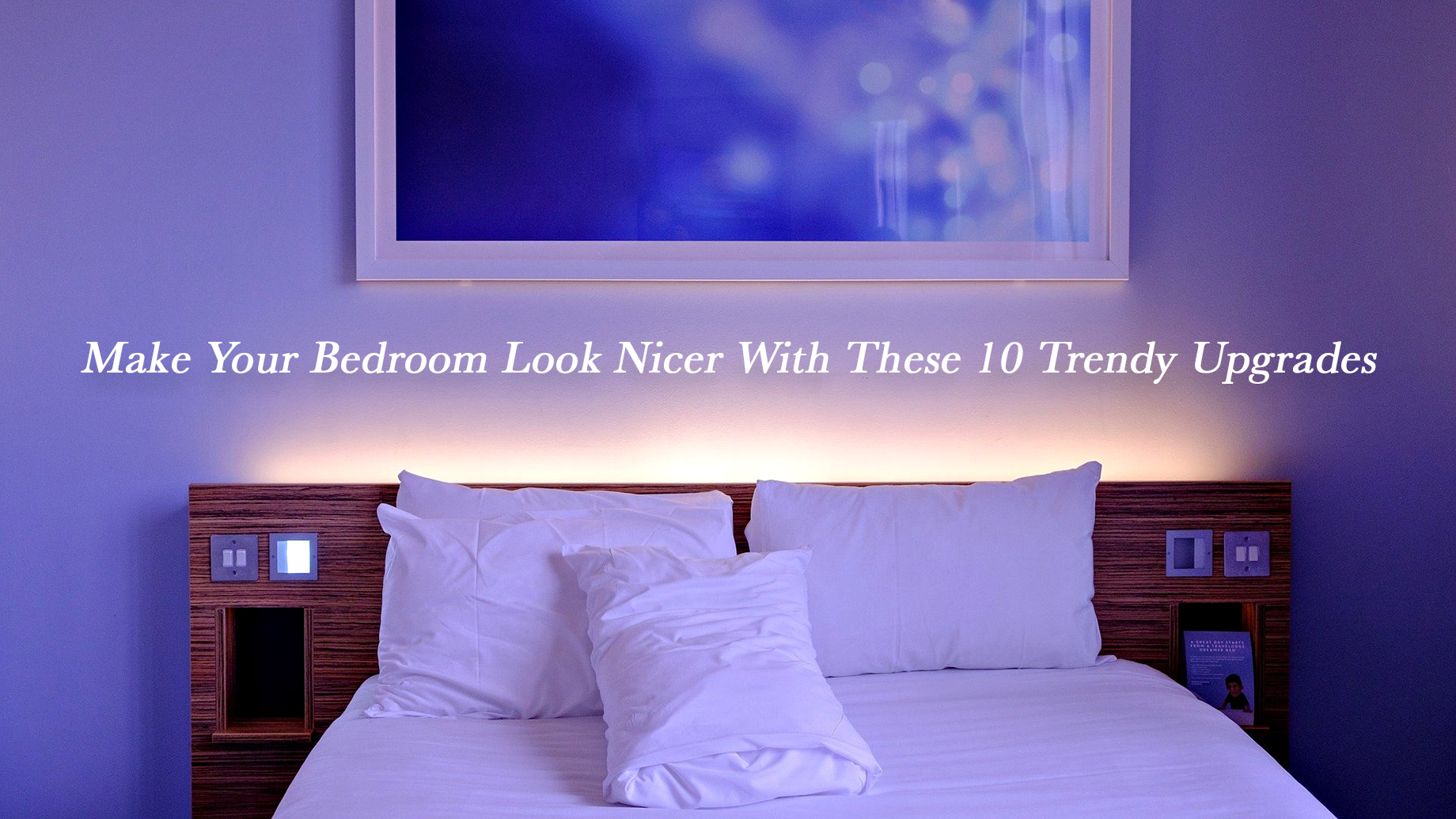 Let's face it; your bedroom is the most important room in your house. Spending nearly half of your day lying in your bed, it wouldn't hurt for you to make improvements in it. You might even find it rewarding after your oh-so tired body finally retreats to a cozy room.
What are you doing this weekend? Mind if you move your bed more to the side? Little changes such as these, improvements on your bedding, lighting, or wall tapestries all sum to an improved after-work relaxation. Check out our list of trendy upgrades that can improve your bedroom in no time!
1. Have The Luxury Of A High-Quality Mattress
Nothing beats a nice, soft bed that you can lie on at night. It is best if you change to a more comfortable mattress that also suits your preferred sleeping position. If you like sleeping on your side, there are different types of side sleepers mattress sold everywhere that you can choose from.
2. Reposition Your Bed To A Better Spot
Your bed doesn't always have to lean closer to a wall or a window. It will help if you allow a little reading space between your bed and the wall. This way, your bedroom wouldn't look suffocating, giving your space more avenue to architecturally breathe.
3. Hang Eye-Catching Wall Tapestries
Not only can wall tapestries make a bold statement in your room, but it is also trendy and cheap all the same time. Picking what tapestry to hang on your wall depends on what theme you want your bedroom to have. It might be vintage or witchy, whatever you prefer.
You can cover any scratches or dents on your room just by having a wall tapestry hanging on it. What an ingenious way to improve your bedroom! Style your tapestries that they won't look too much on your bedroom wall.
4. Change The Frames Of Your Displayed Artworks
Putting all your displayed artworks into similar frame layouts can give a more gallery-inspired look in your bedroom. Who doesn't like harmony and order, right? This upgrade organizes the set-up of your bedroom wall better than your previous design.
5. Dispose Of Every Furniture That You No Longer Need
Going minimalist is the trend nowadays. As they say, "less is more." Select what furniture you use daily and keep it. As for furniture which lies dormant in your room, better dispose of it as you do a bedroom makeover.
You can donate or sell all the furniture that is of no use and only take up space in your bedroom. Please opt for smaller furniture with multiple functions, such as a study desk that can also serve as your nightstand.
6. Clear Up Your Closet Space
Consider decluttering your closet. It is much better to arrange it as often as you can. Your clothes will thank you for it. Most fabrics don't like being suffocated in cabinets and might smell nasty in the long run.
You might also have clothes that you haven't used for the past months. After all, we're that anxious to go out these days. Think of donating or selling them instead of keeping them holed up in your dresser. This much possession can only bring more mess in your bedroom.
7. Organize All Your Scattered Documents
Letting important documents scatter around your bedroom can bring you serious problems in the future. You might want to buy a binder to organize all the paper you own. Better yet, make a switch to electronic paperwork so you can save more space and trouble.
8. Tidy Your Cords Up
You may consider organizing your electrical cords in a wire basket and hide them behind a desk or under your bed. There are plenty of ways to mask your router, such as putting a house plant in front of it. Nobody wants to be tripping around their bedroom just because of an unattended power cord.
9. Invest On Stylish Curtains
Having stylish curtains to wake up to can give a good start to your day. Invest in some good quality curtains to make your bedroom cozier. But if you very much prefer your current curtain, you may consider placing it higher to make your room bigger and spacious.
10. Add Color Accents Or Patterned Wallpaper To Your Furniture
Adding these details can give your bedroom more personality. Planning how to design them on your furniture is not much work. You only have to make sure that you follow a certain theme so that the designs have harmony with each other. Make it certain too that you don't put too much wallpaper on your furniture. It might be distracting to your eyes soon enough.
Takeaway
You can never go wrong with upgrading your bedroom. Making your space more cozy and comfortable to sleep can improve the level of relaxation you so deserve at night. Investing in your satisfaction will never go out of style. What are you waiting for? Let's get cleaning!