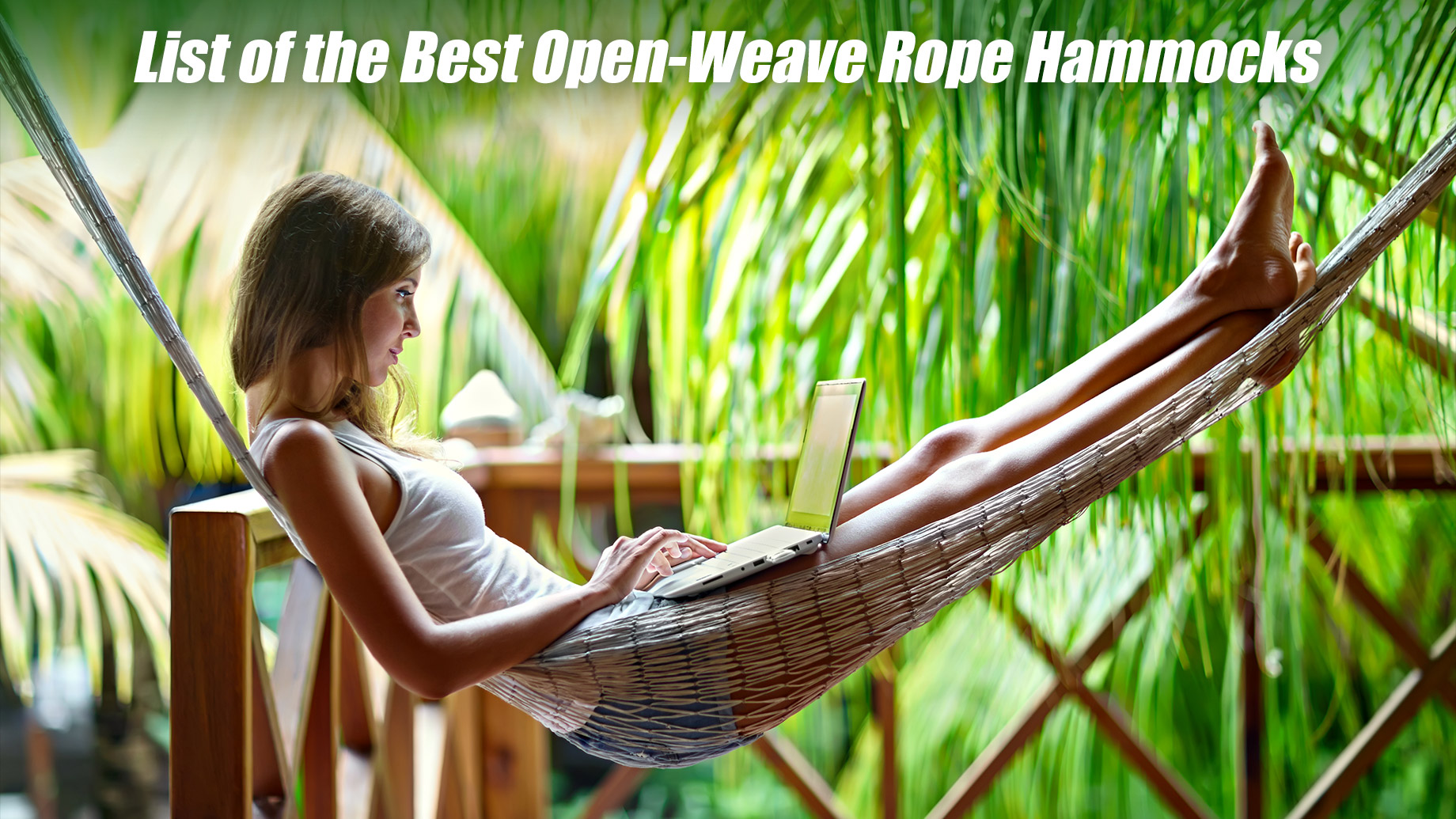 Hammocks are useful and can be used anywhere inside or outside the house. They offer the best way to relax or to take a nap anywhere comfortably. Also, when added to your home it can give a classic look. They are very durable and comfortable that so many people are looking for an open weave rope hammock these days.
In this post, we will be looking at the top 5 rope hammocks, but first let's learn about hammocks.
What is a rope hammock?
A hammock that is made of rope using cotton or polyester material is known as a rope hammock. It is weaved in various styles to give it a net-like appearance. There are so many types of hammocks available in the market today but people prefer rope hammocks as they are highly comfortable and durable.
One can easily hang this hammock between palm trees or anywhere you want. With proper space in your house, you can enjoy it indoors as well. It will float beautifully in the air and takes your weight. It doesn't break easily and is tough, thus, can accommodate sometimes two persons also.
In rope hammocks, you usually get spreader bars for support and security. Thus, when you go to buy a rope hammock, you should consider what material is used to build the hammock, as well as what type of bar spreader material is given for strength and durability.
Going for Colton Rope hammocks is good as they absorb the moisture from your body; however, they are prone to get mildew. Cotton hammocks are best for indoor use only. Whereas polyester hammocks are durable and prevent rusting and mold or mildew development.
Also, consider the size when choosing the rope hammocks. The size should be according to the space you have. Jumbo models are most favored as they give more comfort and provide the greatest space for your body to relax.
List of open-weave rope hammocks
1. Original Pawleys Island dura cord rope hammock
If you are looking for some superior quality rope hammock then the original Pawley Island dura cord rope hammock is best. Hardware parts are plated with zinc to avoid rusting and a rope is made using material durable and strong enough to withstand harsh weather.
Apart from that, this hammock prevents mold, rot, and mildew. It is made using synthetic material as well as the dura cord rope, which provides added support.
Features
Apart from durability and high-quality material, various other features make the original Pawley Island dura cord rope hammock the best.
There is a well-crafted double latch weave that makes it easy to use.
The rustic look of this hammock makes it suitable for using outdoor or on beaches.
Not only that, this hammock is easy to maintain and clean.
It is important to note that this hammock is ideal for the use and enjoyment of adults. Since the spaces between ropes are large, kids cannot use them. So, make sure to keep your kids and toddlers away from these particular hammocks.
2. Patio watcher quick dry hammock
This summer you would want to relax on the beach or near the poolside, so take patio watcher quick-dry double hammocks with you. It will make your pool party or beach more fun and exciting.
This hammock will last longer because of the high quality and durable material used in it. It is wide enough to accommodate two people. Also, the hammock is built to make it comfortable, as well as breathable.
The material used can be quickly dried after washing and is also oil spill-resistant. This is extremely versatile, as it can be used for indoor as well as outdoor activities.
This hammock is 77×55 inches as well as 14 feet long.
3. Lazy daze hammock with stand
To meet your indoor and outdoor relaxing requirements, we have another most suitable hammock on our list – the lazy daze hammock. This hammock is highly durable, portable, and easy to use.
This hammock bar is made of tough hardwood and gives it a classic look. Also, it comes with a stand which is also very durable. This hammock is meant for single-person use. It is rust-proof and can withstand bad weather.
Also, there is a reversible polyester hammock pad given. The weight it can handle is about 275 pounds and is 12 feet long. This hammock comes with coffee-coated steel construction, which makes it look eye-catching.
4. Caribbean rope hammock
This is a handwoven hammock that is highly comfortable, as well as durable. Its polyester cord design makes it UV resistant, as well as rain resistant. Also, even if you use it for a long time, there won't be the development of mold or mildew on its surface.
You can set it up on your house balcony or take it to the beach to float and relax. You can relax alone or have a companion. The hanging distance of this hammock is 11.5 feet and the hanging height 4 feet.
There are so many wooden spreader bars upon which the hammock spreads giving its durability and ease of setting up.
5. Sunnydaze polyester rope hammock
For multi-purpose use, this hammock is the most suitable. The Sunnydaze polyester rope hammock is very useful and can hang from various locations. Thus handwoven cotton hammocks can be set up easily to relax alone or with a partner. Since the weight of the hammock is light, you can carry it with you anywhere.
This hammock is a highly known Caribbean style design. It comes with hardwood spreader bars. Dimensions are 133 x 55 inches long and the bed size is 88 x 55 inches wide. This heavy-duty hammock will last with you longer. Also, this hammock comes in different colors; thus, you can choose the color which you like.
Now that you have gone through the list of the best open-weave rope hammock, we hope you can choose the one suitable for you. Make sure to set a budget and look at the features of the rope hammock to compare and select the best one.