Lake Tahoe provides the perfect landscape for a beautiful wedding, and every season has something to offer the bride-and-groom-to-be. Winter can offer a backdrop of pure white snow, and the spring a blanket of wildflowers. Summer and fall ensure fair weather, and the picturesque beauty of the Sierra Mountains ensures gorgeous photos.
Spring: Beautiful, but Beware Flash Snow Storms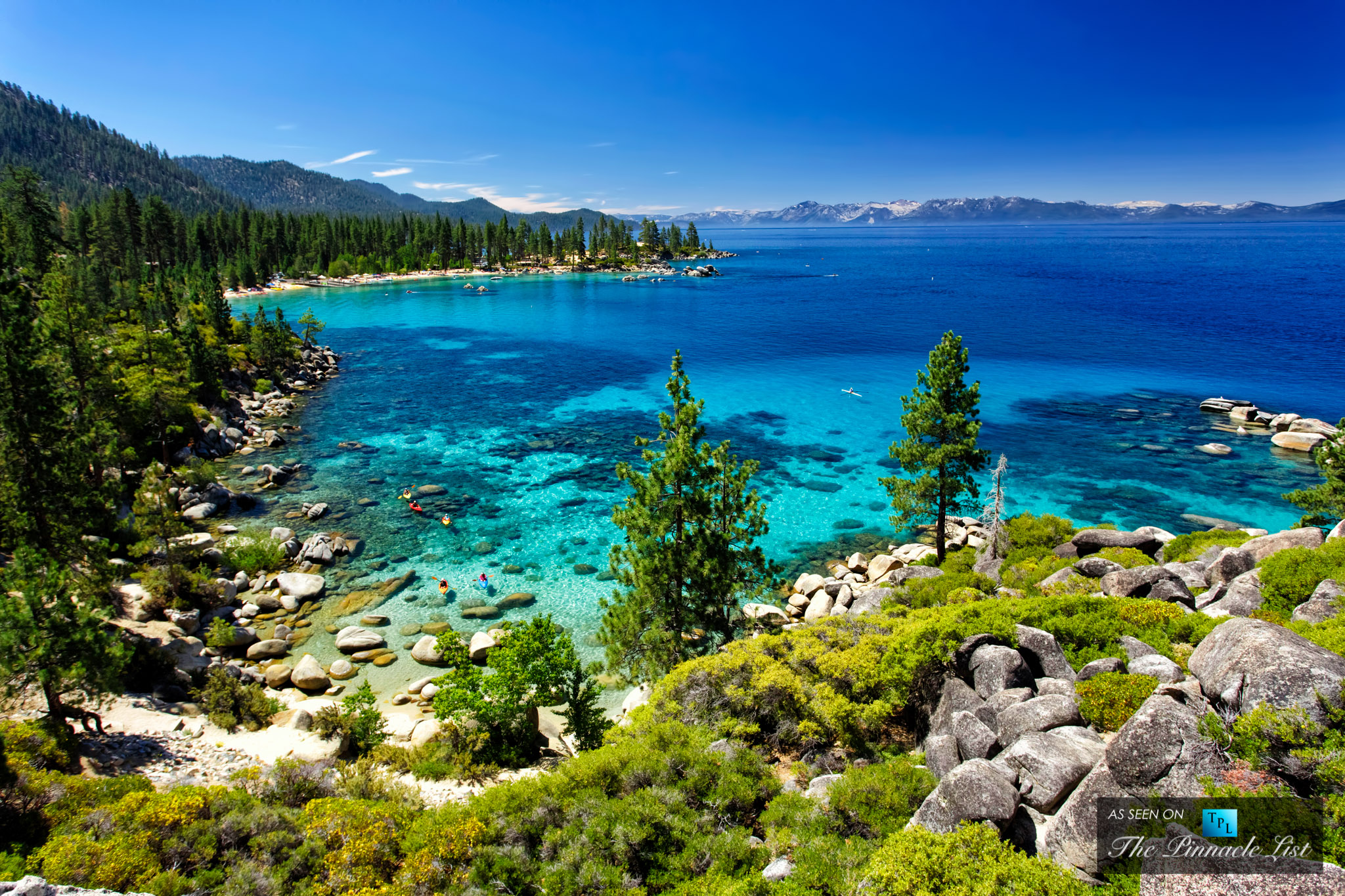 Although spring is a wonderful time to host a wedding in Tahoe, it is a temperamental season. The snow is just beginning to melt, and the weather is warming up, but as Tahoe.com warns: "Spring is slow at the lake… Don't be surprised if you plan a spring getaway to Tahoe in May to find a full-on snowstorm and several inches on the roads."
As the snow melts, the flowers will begin to grow. Things may be a little damp, so make sure you pick an area that is dry and a bit elevated. To complement the season, choose the rich color pallet of the region's wildflowers: yellow, pink, baby blue, and green.
Summer: Ideal Season for a Picturesque Tahoe Wedding
June, July, and August offer ideal temperatures with ample sunshine. Temperatures don't get too hot and max out around 77 degrees. Low humidity means your guests will be comfortable outdoors, so feel free to treat them to the unforgettable views by hosting your ceremony and reception outside.
Lake Tahoe is incredibly serene, and a deep rich blue color. Consider choosing wedding colors that feature the beautiful blue water of Lake Tahoe. You could include the colors in your centerpieces, flowers, and even the accessories the bridal party wears. Look for stand-out pieces, such as blue sapphire rings, necklaces, and corsages.
Fall: Beautiful Colors Make for a Striking Wedding
Want your wedding to be forever remembered by your attendees? Few places are as beautiful as Lake Tahoe is during the fall months. Plus, you can save big on your venue because fall is considered off-season for travelers.
Linda du Plooy, of Heavenly Valley Lodge Bed & Breakfast puts it like this:
"It is definitely an advantage to come in the fall, or off season. Many properties offer off-season specials or lower prices. Tahoe is definitely less crowded, and it is easier to get into parking areas for sightseeing and even popular restaurants. The pace is more relaxed and less hectic."
Fall is very colorful and incorporating this color pallet into your big day will prove memorable. Expect an array of traditional fall colors, burnt sienna, orange, yellow, browns, and reds. Tree leaves can be integrated into bouquets for an all-natural, money-saving bouquet.
Winter: Expect Snow, and Lots of It
Each year, Tahoe receives approximately 125 inches of snow. Travel could be difficult at this time a year, but it's not impossible. There are more than 12 ski resorts in the area, all of which offer paved routes making them easy-to-access venues. The higher the elevation, the more snow there will be. So, if you're looking for a moderate amount of snow, choose a venue that's midway up the mountain.
The color pallet is all-white, so feel free to accent your wedding with any colors you wish. All colors match white, so you can play around with the scheme and find something unique to delight your guests. Winter weddings are typically held indoors, but you're welcome to venture outside for photographs. They should look amazing when you consider the breathtaking snow-covered mountains.
All-in-all, Tahoe is an amazing place to hold your nuptials. Choosing a season all depends on what you love most about the lake and mountain region.