Right next door to the Museum of Modern Art, another Manhattan icon is rising. 53W53, known by its neighbors as "The MoMA Tower," is transforming the Midtown landscape, with its stunning views, elegant interiors, and unprecedented amenities changing the meaning of what it means to enjoy Manhattan luxury to the fullest. While the building's artistic exterior and peerless location have already captured the interest of countless passersby and potential residents, it's what's inside this architectural gem that truly shines.
While Manhattan is known for its architectural diversity, few of the city's residents can claim they reside in a piece of the city's living history, but that's exactly what those fortunate enough to call 53W53 home will get. Designed by Pritzker Prize-winning French architect Jean Nouvel, whose portfolio also includes masterpieces like the Philharmonie de Paris, Madrid's Reina Sofia Museum expansion, and Paris' Arab World Institute, the building is as much a work of art as anything in the museum next door, a living, breathing sculpture towering over Midtown.
Standing 1,050 feet tall, the building is at the epicenter of New York's most iconic landmarks, overlooking and offering exhilarating views of Central Park, next door to one of the world's most celebrated modern art museums, and just a few blocks from the world's best luxury shopping on Fifth Avenue. However, the building's gridded glass-and-steel façade, with its zig-zagging diagrid that ascends from ground floor to top, somehow manages to fit right in. In fact, the building's craftsmanship and design are so exceptional that it will soon be more than just MoMA's neighbor; the museum will also use three of the building's floors as gallery space for some of its world-renowned artwork.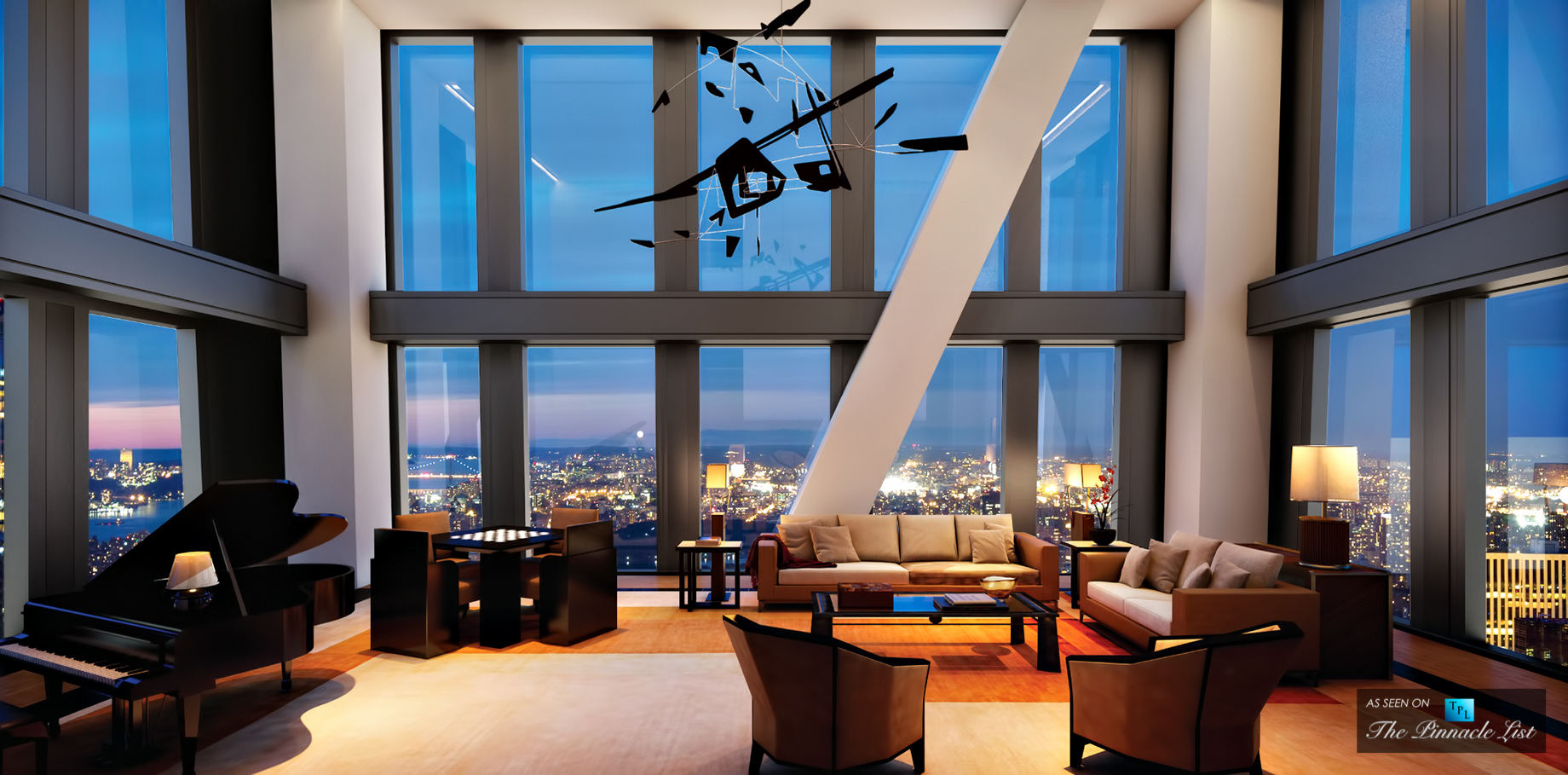 Although the building's exterior is undeniably modern, 53W53's interiors take inspiration from great design from past generations. Melding the jutting angular structures that have come to define many of Nouvel's other buildings, like the National Museum of Qatar, mid-century modern influences, and ultra-modern touches, Nouvel has created a building that defies categorization. The building's interiors were entrusted to Nouvel's fellow Frenchman Thierry Despont, who crafted 145 stunning residences, ranging in size from one-bedrooms to two-story penthouses, spread across the building's 82 stories. In addition to the triple-glazed floor-to-ceiling windows providing residents views from Central Park to the Hudson River while minimizing noise and temperature issues, each home is outfitted with hardwood floors, sleek modern kitchens with white lacquer cabinetry, and luxurious master baths with dual vanities with under lighting and marble accents that perfectly complement the master baths' otherwise neutral tonal palette.
New Yorkers used to the best in service will be anything but disappointed by the luxe amenities that are part and parcel of the 53W53 experience. Upon entering the building, a fully staffed lobby awaits residents, with a doorman and concierge ready to attend to any need. After a long day at work, residents can enjoy a wealth of relaxing activities right at home, whether they're enjoying a workout in the building's fitness and wellness center, taking a dip in the 65-foot indoor lap pool, relaxing with a good book in the Lobby Library, entertaining guests in the Park View Lounge, or picking the perfect bottle from the building's wine vaults. Perhaps even more enticing are the Benefactor-level memberships that will be given to residents, granting them early access to the museum and invitations to some of its special programming and events.
Stunning architecture, elegant interiors, plush amenities, and an unbeatable Manhattan location join forces to create a building that is a work of art in and of itself. Fortunately for 53W53, with neighbors like MoMA, it couldn't be in better company.