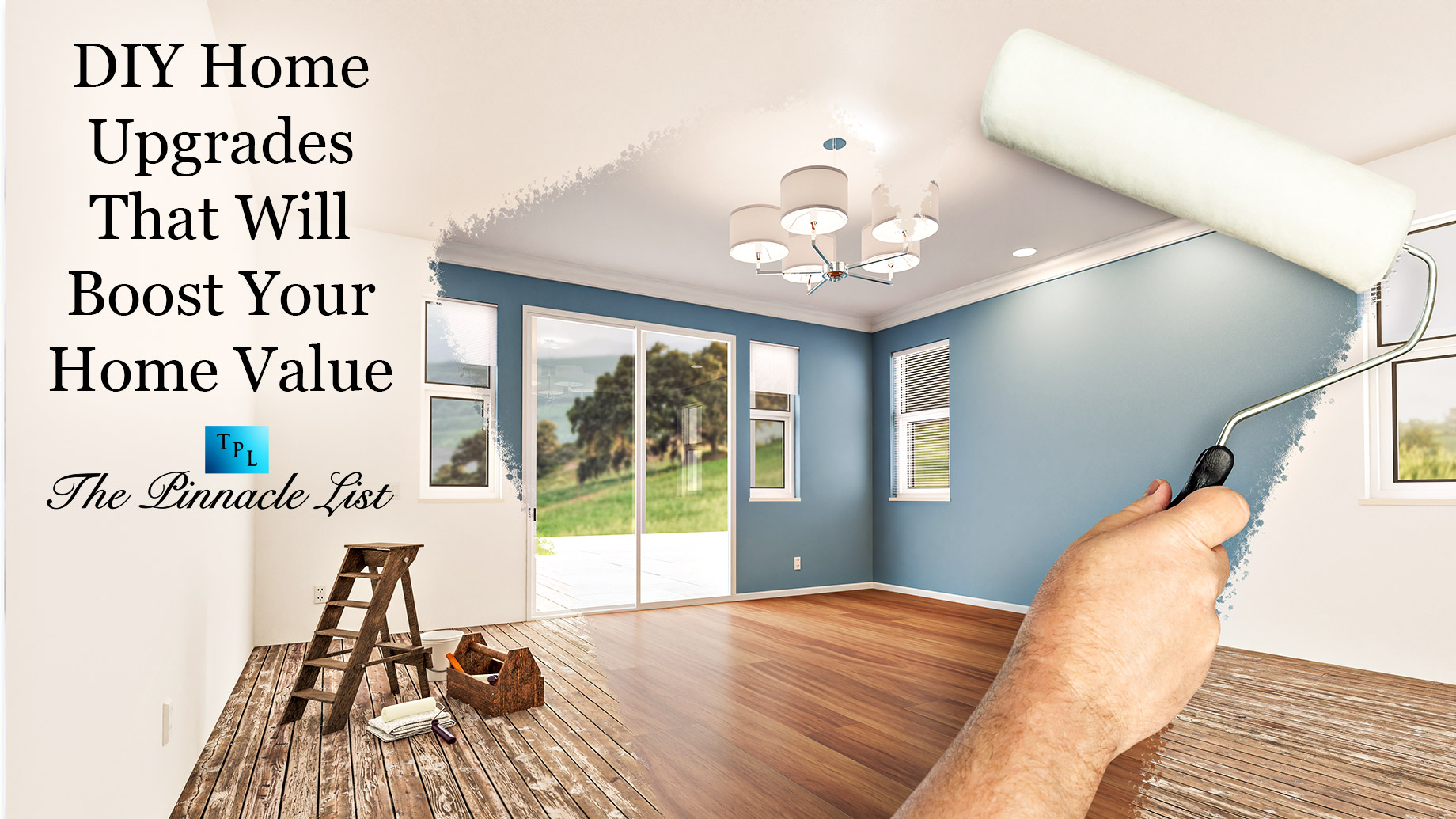 DIY home renovations, such as adding the best vinyl plank flooring, can boost the value of your home and make it look more up-scale. There are tons of cost-effective DIY projects that you can do during your free time. And the best part is that not all have to cost an arm and leg.
From small tasks like changing paint colors or adding a fresh coat of paint to larger projects such as updating bathrooms or kitchens with new fixtures and finishes, these DIY home upgrades can give your space an updated look and feel.
Paint The Walls
One of the first things clients notice when they walk into a house is the paint. A bad paint job will significantly hurt your appraisal value. According to a HomeGain Seller Survey, painting your house's interior and exterior walls leads to a 107% and 55% increase in return on investment (ROI), respectively.
That said, achieving a professional paint finish can be challenging. How can you paint like a pro for your DIY project? It's all about the prep work:
Make sure you use high-quality paint – it will look better and last longer than cheap paint
Invest in quality brushes and rollers to get a smooth finish.
Wash your brushes before painting to get rid of loose bristles
Clean the walls thoroughly with a damp cloth or sugar soap to remove dirt and grease.
Mask off areas not to be painted before you begin work
Replace Your Flooring
Replacing your flooring is a great way to boost your home's value and cushion it against declining prices due to the housing recession.
Although DIY flooring is fun, it requires precision and careful calculations for measurements, cutting, and fitting. Investing in the right tools and being realistic about your skills are critical to a successful DIY flooring project.
Make sure that you conduct enough research before choosing a flooring type. Hardwood, laminate, carpet, and vinyl are some of the popular options that you can choose from.
One of the easiest floors to install by yourself is luxury vinyl plank (LVP) flooring. LVP is inexpensive and stylish, not to mention it comes in various colors and textures to fit any decor. It's also highly durable and easy to maintain. If you're looking for the best vinyl plank flooring, keep in mind that quality and thickness will make a massive difference in the overall look of your floor.
Update Your Bathroom Fixtures
The bathroom is an often forgotten yet essential part of your home. To give your bathroom a fresh look, update the bathroom fixtures such as showers, sinks, and toilets.
The following bathroom renovation ideas are a surefire way to boost your home value:
Add a bathroom: Install a bathroom under your spacious staircase, in your basement, or unused walk-in closet. Adding a bathroom isn't expensive if you have open walls and can lead to an 88% ROI.
Add mirrors: High-quality round or oval mirrors create an airy feel and improve the feng shui of your bathroom.
Install a new vanity: Upgrading to a modern vanity with double bowl sinks and plenty of storage can instantly boost the appeal of your bathroom.
Update old toilets: Replacing old, inefficient toilets with high-efficiency, low-flow models save you money on water bills in the long run.
Install a walk-in shower: If you have several bathrooms with bathtubs, you can increase your home's value by swapping out one bathtub for a walk-in shower. This project is easy, as the plumbing is already in place.
Clean The Driveways And Walkways
Dirty driveways and walkways decrease your home's curb appeal and can lower its value. Taking the time to give them a good cleaning will make your home look better and add value to it.
The best way to clean driveways and walkways is by using an electric pressure washer. A good quality pressure washer produces higher water pressure than regular garden hoses, making cleaning dirt, grime, and weeds easier. Use the correct nozzles and settings to avoid damaging hardscapes or plants.
To get the most out of pressure washing, use a detergent appropriate for removing oil and grease stains before using the washer. Additionally, invest in good quality brushes, as these will help you achieve a better result.
Clean The Fireplace
Increasing your home's value can be as easy as giving your fireplace a much-needed cleaning and tune-up. Cleaning the chimney from soot and creosote buildup is essential for preventing fires, but it can also create a more inviting atmosphere in your living room.
Clean the soot away using a damp cloth, then clean the creosote off using a fireplace cleaner. You might need to scrub several times to clean the creosote off, but it will be worth it.
Consider updating the look of your fireplace by painting it, adding tile, or installing a new mantel. These types of updates will help you add instant value to your home.
Conclusion
Doing minor upgrades can increase your home's worth and give you a better return on investment when you decide to sell it. Consider these simple DIY projects if you're thinking of upgrading your home.