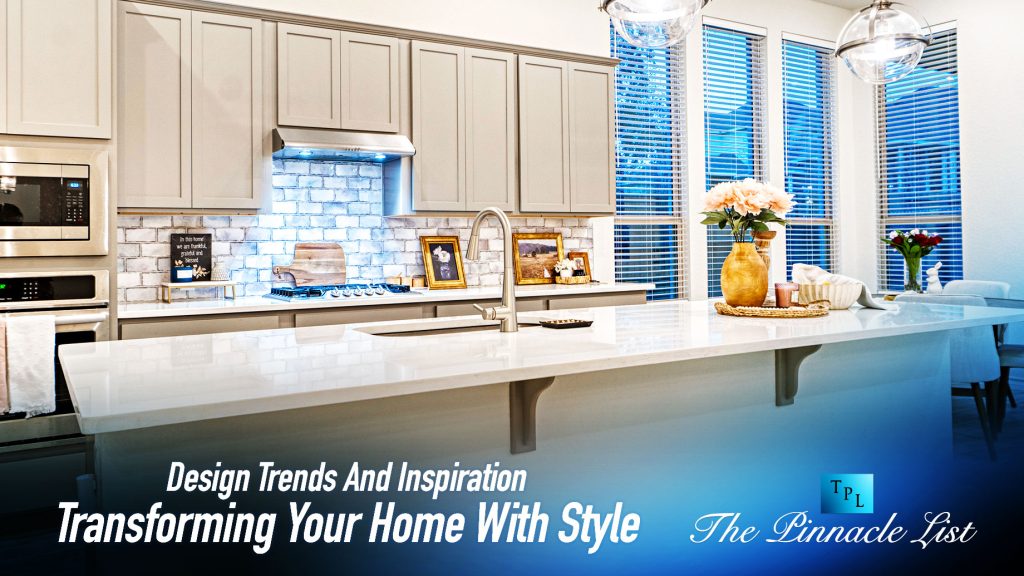 It is important to keep yourself updated with the latest design trends if you want to transform your home with style. Furniture fashion trends have been evolving rapidly for the past few years. We see new trends, designs, and styles keep on rising as the customer's expectations and suggestions grow.
Whether you are looking to redesign your bedroom, living room, or any other area of your house, it is crucial to not only understand the latest trends but also incorporate them to create an inviting and stylish living space. That is why most businesses consider this constant evolution of furniture trends and designs as an opportunity. Businesses utilize these trends to reflect the taste and desires of their customers.
In the article below, we will discuss a few transformational tips through which you can style your home in light of the latest designs and trends.
Tips for Transforming Your Home With Style With the Latest Design Trends and Inspiration
Below we will discuss a few tips considering the latest ongoing design trends for an impressive home décor look:
A Mixture of Various Materials and Textures
A good way to start can be by experimenting with mixing different materials and textures to gain visually appealing and captivating home décors. Try combining rough textiles with smooth metals or natural wood with soft tiles. It can add richness and depth to your space décor. Next, you may also try bringing in some stylish creativity through cushions, rugs, curtains, and even wall treatments if affordable. So, through these creative practices, you would be able to achieve an inviting and cozy trending décor to your space, all by mixing different materials and textures.
Visit the Showroom to Seek Inspiration Online
Visiting showrooms, whether in person or online, can provide you with solid inspiration regarding the latest style trends. There are tons of online Houston Texas furniture stores you can start with. Visit them online to check their décor sample options to get an idea and inspiration of how you can use it to transform your space beautifully.
Most showrooms often showcase their current designs and trending combinations. For instance, you can find a whole bedroom furniture trending stylish layout, which would include a bed, wardrobe or closet, side table, chest of drawers, etc.
Additionally, you can explore various magazines, design blogs, and social media platforms like Instagram and Pinterest. All these sources can help you transform your home with style, and some may even help to do the same on a low budget through DIY projects.
Different Patterns and Colors
Another significant idea is to use bold patterns and colors to decorate your home. It can instantly transform your living space by adding personality. You can start with some vibrant hues, such as rich yellows, deep blues, or attractive greens, on your accent walls or even on statement furniture pieces.
In addition to that, you can also go with adding some floral designs or geometric prints with the help of rugs, wallpapers, and cushions. However, make sure to keep a balance of patterns with bold colors to make them look naturally fitting with one another to create a visually appealing and attractive-looking space.
Use Lightening Trends Effectively
Most people, while decorating their homes or other spaces, often neglect the impact of using lightning. However, lightning can play a crucial role in giving a pleasing and appealing mood to their ambiance. Keep yourself up to date with the latest and stylish lighting trends by using different relevant fixtures. You can initially start by using chandeliers, pendant lights, and even floor lamps to add a beautiful and attractive look to any space.
Next, you can also use task lighting for an area where you require focused lighting. Also, the use of dimmers can help in achieving a lighter and a different nighty environment for an occasional event. So, these lightning fixtures can help greatly in achieving a focal point for your design ideas while adding a touch of elegance to your home style.
Personalized Accessories With Art Carvings
Both accessories and artwork can contribute to creating a stylish personality for your home. Start by choosing pieces that best go with your experiences and interest for more appealing and calming results. Here you can try sculptures and paintings or other unique artifacts you have collected from different sources.
Use these items creatively to add a personal touch to your home or other space. As a tip, thoughtfully arrange them while considering the principles of proportion and balance to achieve the most harmonious and appealing results.
Use Natural Elements as Creativity
Nowadays, it has become a unique yet pleasing and attractive style trend of bringing outdoor natural elements and using them for interior designs. This includes the use of attractive stones or pebbles, plants, woods, or other natural sources. They can help to add serenity and warmth to your home design.
Moreover, you can also consider using accent walls or wooden furniture pieces, indoor plants can help with natural greenery and linen and jute can help with upholstery and curtain decoration looks. By using these natural elements, you can incorporate a refreshing and melodious atmosphere into your home.
Adopt Simplicity and Minimalism
A touch of simplicity has been reigning the stylish décor trends for years, especially in the past earlier this century. Simple yet popular clean design and style trends are always loved and usually the first preference of most people for their homes. So, to adopt simplicity, focus more on decluttering the space and give preference to quality instead of quantity.
A good way to do that would be to use simple and sleek lines in your furniture choice. Also, don't forget that in simplicity, the less you place, the more it will look. So, don't try to overcrowd your home or other space with extra décor styles and furniture.
Final Thoughts
It takes the latest stylish designs and trends to décor your home for a unique and attractive transformation. However, it may not be as easy and simple as you may think of it. It takes advice from a professional for the best results, or if you wish to do it by yourself, try adopting the above ideas into your practices for the best results. Start your design and style journey today and make the most out of it to give an attractive and pleasing look to your home or other space.