If you are dreaming of visiting an exotic and breathtaking place for your honeymoon choose Bali. Among all the Indonesian islands, Bali's charm is one of a kind. This country displays a romantic picture with wide shores, towering volcanoes, lush green paddy fields and tropical forests. There is so much to do in Bali and it also has extravagant nightlife. All of this combined makes for a great honeymoon package.
So, we have listed 10 romantic places to visit in Bali to make your honeymoon full of love.
Uluwatu
Kuta
Git Git waterfalls
Pasir Putih Beach
Mount Batur
Canggu
Pura Besakih Temple
Bali Marine and Safari Park
Tirta Gangga
Seminyak
1. Uluwatu
Uluwatu, the peninsular hotspot for weddings, is number one on our list of places to visit in Bali; it has a romantic vibe. Indulge your enthusiasm on the pristine beaches of Balangan and Suluban, which are considered to be the most lovely in Bali. These beautiful places can be visited by choosing our Bali honeymoon packages at the Pickyourtrail website.
Spend some time on your Bali wedding night lazing in the infinity pool overlooking the beach at the Hotel Alila. For some sizzle, watch the unusual Kecak fire dance. It is, without a doubt, one of the best places to visit in Bali for a honeymoon.
2. Kuta
When you and your special someone visit the community markets in Kuta and enjoy the pulsating nightlife, you will be on the move. On your honeymoon in Bali, visit the Tanah Lot temple, which is perched on a rock surrounded by the sea. This beautiful place is a part of our list of romantic places to visit in Bali.
Between May and September, you can share an endearing experience with your sweetheart by releasing baby turtles into the ocean. Kuta will undoubtedly be one of the most unique places to visit in Bali for a honeymoon. If you are planning to visit Ubud, Tabi Together has a guide about the place.
3. Git Git Waterfalls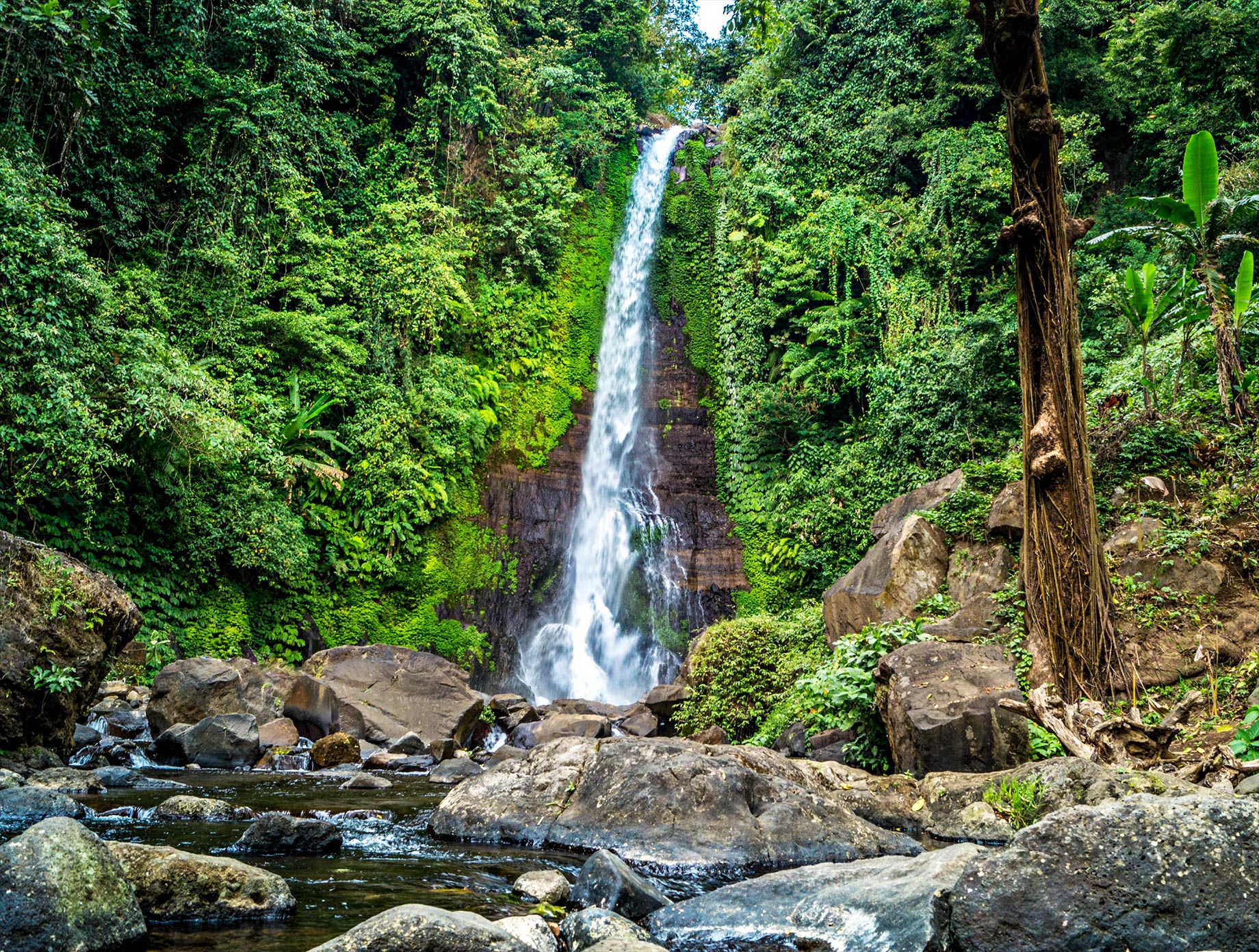 If you and your significant other want to get away from the crowds and experience traditional Balinese life, head to the quiet colonial village of Lovina.
Relax at the nearby Banjar hot springs before venturing depth into the rainforest to discover the captivating Git Git waterfalls. Observe silk at work, creating beautiful Ikat and Silk pieces. If you're trying to find a place to visit in Bali, Indonesia for your honeymoon, this is without a doubt your top choice!
4. Pasir Putih Beach
Pasir Putih beach, one of Bali's just that little secrets, will provide you and your partner with much-needed respite with its tourist-free, crisp white beaches.
Rent a fishing boat from Candidasa to get to this crescent-shaped heaven and find the joy flavours of local dishes. It is one of the most beautiful beaches in Bali that you should visit during your honeymoon.
5. Mount Batur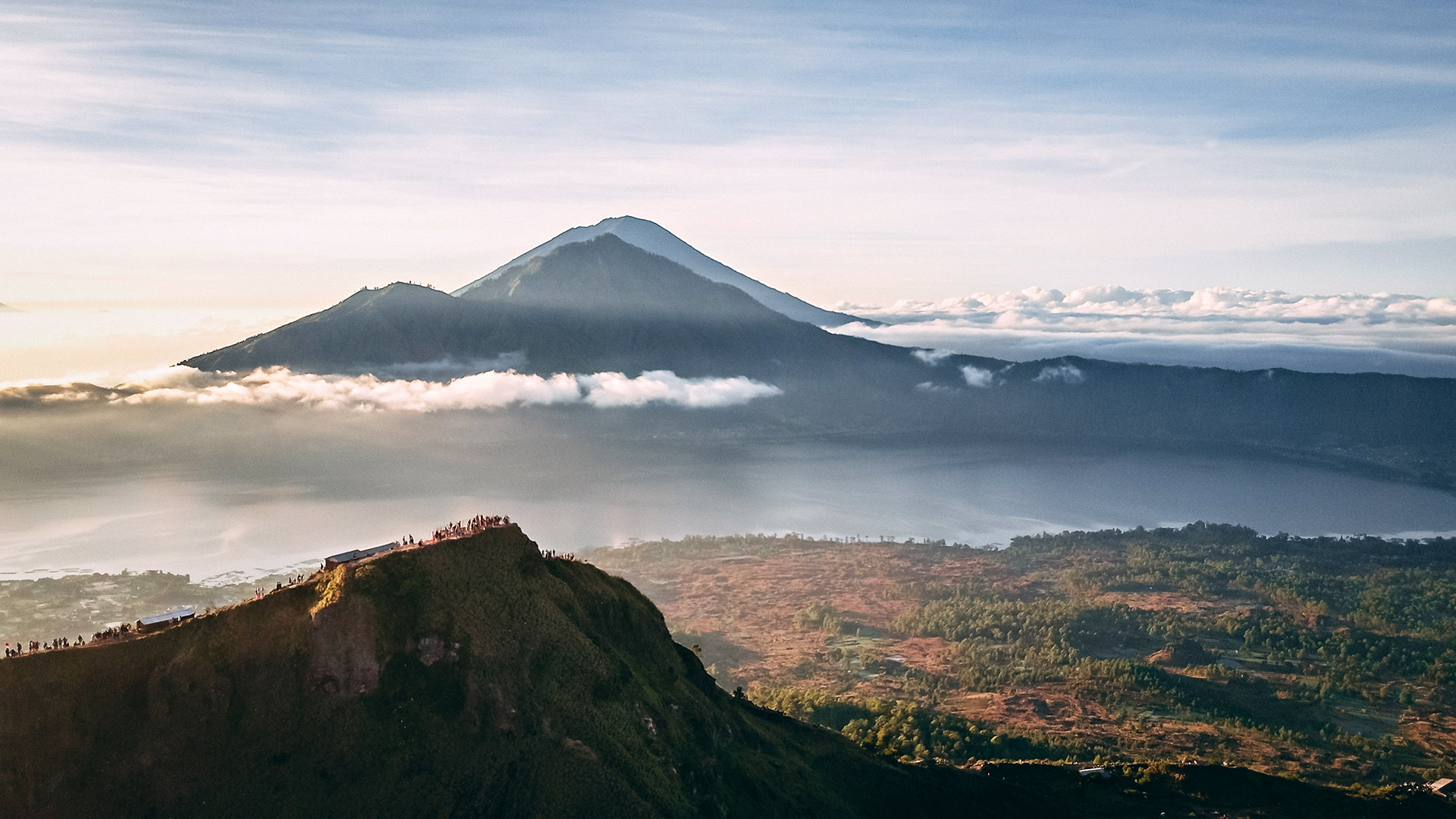 Encounter humanity's greatest romantic drama on a sunrise hiking trip to Mount Batur, an active volcano located 1700 metres above sea level. This breathtaking mountain is a part of our list of romantic places to visit in Bali.
With its gorgeous crater lake, hot springs, and fantastic panoramic views from its peak, this adventure is one-of-a-kind and entrancing. Visit the perilously hinged Besakih temple before concluding your romantic journey with a meal at the secluded Gunung Batukaru restaurant.
6. Canggu
An intimate ride into the dusk isn't just for movies; it's also one of the greatest things to do in Bali for honeymoon couples!
Ride down the beach with your suitor, traversing river creeks, waddling through serene cities and towns and rice paddy fields, with a stop or two at temples and caves. Canggu is one of the best honeymoon destinations in Bali. You could even go old school and take a bendi ride drawn by a horse.
7. Pura Besakih Temple
Pura Besakih, considered one of Bali's most important temples, is a popular tourist destination. The temple complex contains over 28 structures built on seven ascending stairs. This holy temple is a part of our list of romantic places to visit in Bali.
The temple's setting is enchanting. If you want to do some places to visit in Bali, make sure to include this location on your itinerary. To make the most of our experience, you and your bae can join an organised tour.
8. Bali Safari and Marine Park
Visit Bali Safari and Marine Park if you're still looking for the best honeymoon destinations in Bali. This is one of the must-see places in Bali for honeymooners, and it has been popular since 2007. This is one of the locations that attract a large number of wildlife enthusiasts.
Over 60 species, including orangutans and elephants, can be found here. The greatest feature about this place is that you can see the elegance of the park while riding in an air-conditioned tram. Oh, and did we mention there are a plethora of amazing places to visit near Bali Safari and Marine Park?
9. Tirta Gangga
Tirta Gangga is one of the most romantic places to visit in Bali. For the past 70 years, people from all over the world have been drawn to architecture. This location is a water garden with lovely fountains and pools. It is also lauded for its historical significance, as it was once a palace.
Taking your partner to this location will be the smartest choice you'll ever make! You can also enhance your experience by visiting some of the historical monuments near Taman Tirta Gangga. It is, without a doubt, one of the best places to visit in Bali for a honeymoon.
10. Seminyak
Seminyak, on Bali's southwestern coast, is among the most unique vacation destinations. Its extensive collection of high-end boutiques and five-star restaurants provide honeymooners with a luxurious stay.
One of the most romantic and soothing things to do in Seminyak is to go to a spa with your significant other. Enjoy the amazing views of the Indian Ocean while sunbathing on the beach with your bae. This is without a doubt one of the most exciting places to visit in Bali on your honeymoon, where you can shop until you drop!
Bali has an excursion for every type of dreamy soul, making it the ideal honeymoon location. Intend your honeymoon trip to Bali and start your nuptial voyage as it provides you and your adored one with a million opportunities to describe and experience the various flavours of love. Make a note of all the places to visit in Bali for a honeymoon on your ranking.