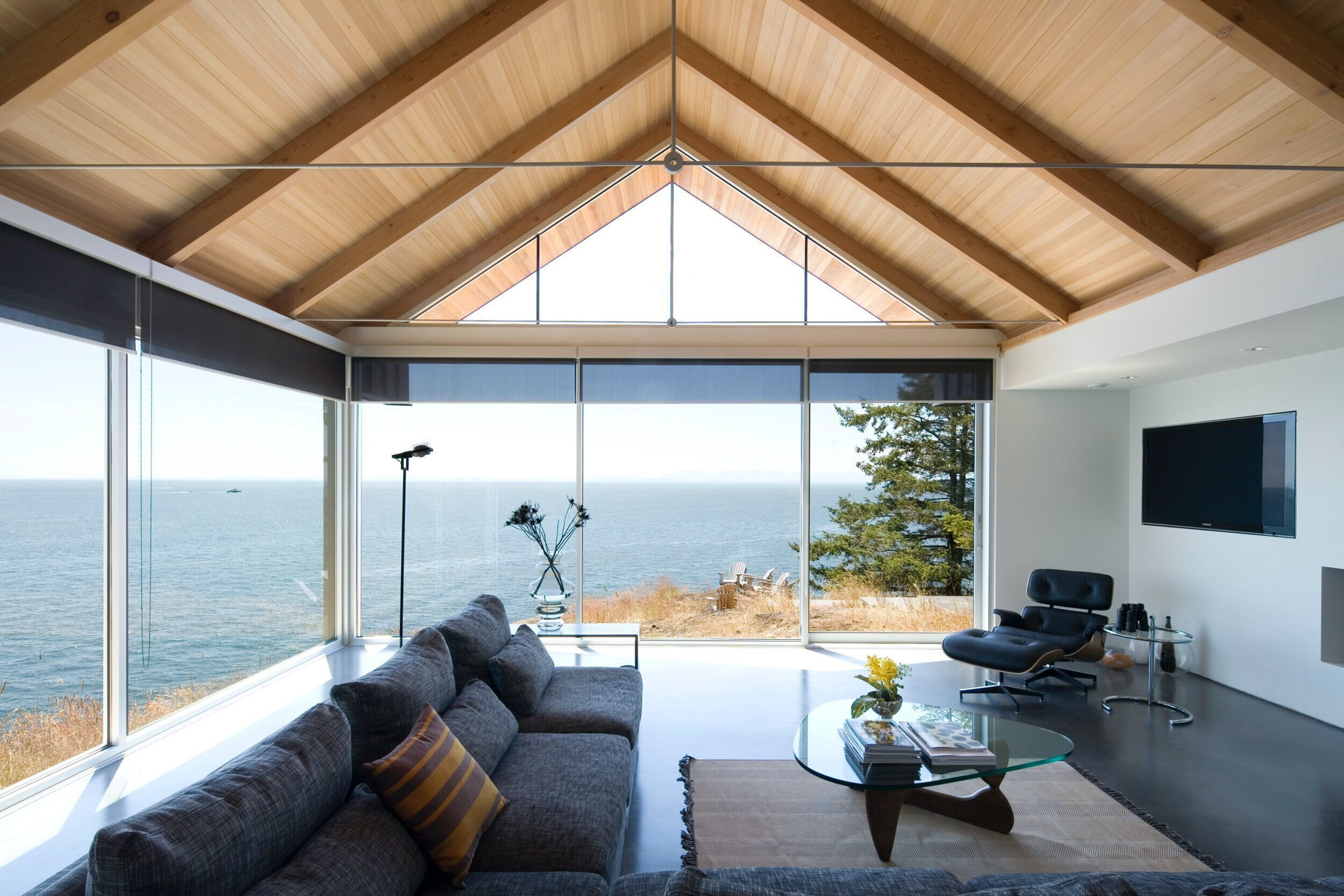 Name: Ocean Park Residence
Bedrooms: 3
Bathrooms: 5
Size: 3,985 sq. ft.
Lot: 1.557 acres
Built: 2008
A modern Westcoast contemporary take of an island beach house, the breathtaking, minimal, and modern Ocean Park Residence is perfectly set within its environment. Inspired by the Finnish fishing cabins found in Finn Slough in Richmond, B.C, Architect Cedric Burgers incorporated the shape and the simplicity of those buildings into an architecturally elegant structural iteration that blends seamlessly into the surrounding typography.
This stunning Bowen Island waterfront vacation home overlooks the ocean perched on a coastal bluff with views of the Georgia Straight and Gulf Islands on a sloping grass meadow dotted with protected coastal fir and the region's trademark arbutus trees. The house's straightforward lines and tight building envelope help it withstand strong winds and corrosive sea air while allowing free access to the rugged coastline and endlessly spectacular sea views.
A sensational example of luxurious modesty with minimal details, maximum impact, and an efficient, social kitchen, the structures u-shaped design spans almost 4,000 sq. ft. with a solid exterior that is complemented by an interior of finely milled hemlock trusses, black concrete floors, and large sliding doors to be left open through the warm summer months, allowing fresh sea air to sweep in off the site's granite cliffs. The colours throughout are neutral, and all detailing minimally expressed, creating a complimentary vernacular to reflect a sense of place with a practical, human-centred nature of design brought to life.
Architect: Burgers Architecture
Photography: Michael Boland
Location: Ocean Park Lane, Bowen Island, BC, Canada