The South Aegean is one of Greece's 13 administrative regions, including the Cyclades and Dodecanese archipelagos. Despite occupying just 4% of Greece's territory, this area attracts over 20% of international tourists arriving by air and generates over one-quarter of the country's tourist income.
An Important Region for Greek Tourism
The tourism industry is an important part of Greece's economy. According to preliminary estimates by the World Travel & Tourism Council (WTTC), the sector contributed 19.6% (€35 billion) to Greece's GDP in 2017. WTTC expects its share of GDP to grow to 23.8% (€54.7 billion) by 2027.
The Aegean islands are one of the country's most important regions in this regard and are growing in popularity among tourists compared to the rest of Greece. According to the Association of Greek Tourism (SETE), local airports handled 9.5% more international passengers compared to 2016 (4.1 million in total) compared to the average nationwide figure of 8.6% (18.4 million in total).
According to a survey by Greek real estate company Algean Property, visitors to the Aegean islands spent €3.3 billion over the first nine months of 2017, which exceeds the 2016 total (€3.1 billion) and tourist receipts in every other Greek region. The average tourist expenditure on the islands also increased from €600 in 2016 to €647 in 2017.
Aegean Islands Like No Other
In January 2016, local authorities launched the "Aegean Islands. Like No Other" campaign developed in association with SETE to promote the region up to 2020 by highlighting the specific qualities of each island. The campaign includes four components: beach, cultural, religious tourism and weekend tour packages, which account for 80% of international tourist arrivals in the country.
The strategy includes state-supported promotion of the Cyclades as a destination for gastro-tourism. Greece will invest €3.2 million in a local agricultural support programme, which includes opening specialised stores on the islands and in Athens, installing vending machines with local produce in ports and airports, and an online platform for retail trade and wholesale distribution. According to SETE president Yannis Retsos, the organisation's goal is to bring together companies from different economic sectors (e.g., agricultural and cultural) to enhance the quality of goods and services Greece offers tourists.
"The South Aegean islands were named the European Region of Gastronomy 2019 by the International Institute of Gastronomy, Culture, Art and Tourism (IGCAT)"
Local authorities are actively investing in cultural immersion activities available on the islands and expanding the geography of traditional events. For instance, the animation festival AnimaSiros, one of Greece's largest cultural events held annually on Syros since 2008, will also take place on the islands of Kimolos, Sikinos and Folegandros.
New Routes Leading to the Greek Islands
In 2017, the Fraport Greece joint venture (73.4% of which is owned by German company Fraport AG and 26.6% by Greek company Copelouzos Group) took over 14 public airports in Greece. Under this agreement, Fraport Greece will invest about €400 million into airport modernisation and expansion over the next four years. The airports include those located on the Aegean islands, Kos, Mykonos, Santorini and Rhodes. The project stipulates the construction of five new terminals, runways and the modernisation of baggage handling systems.
"Santorini Airport will be leased by Fraport Greece for 40 years, and will undergo modernisation and expansion as part of the agreement."
In 2018, German airlines are expected to launch new flights to the Aegean islands. In 2017, 14% of international arrivals in Greece originated in Germany. From March, Lufthansa, the largest German airline, will fly to Santorini from Frankfurt. Starting this summer, German low-cost carrier Eurowing will fly to Rhodes and Kos from Hannover, and Germania will launch flights to Rhodes, Kos and Karpathos.
New transport hubs are also being developed. For example, regional authorities have discussed the possibility of launching a high-speed ferry between Syros and Piraeus and organising new year-round ferry routes to service the Cyclades archipelago: between Syros, Paros and Naxos.
The Aegean Island Property Market
According to a survey by Algean Property, the most popular type of property on the Aegean islands are three-bedroom sea-view coastal villas. According to the company, the islands of Mykonos, Paros, Santorini and Rhodes are the best Mediterranean locations to lease property. Investors, mainly from Central Europe, Scandinavia, the United States and the Middle East, typically by property in the range of €500,000 to €1 million.
Mykonos
According to estimates by Algean Property, real estate in Mykonos yields 8.4% per annum. The most popular rental properties are three-bedroom flats with swimming pools and sea views, located south of the town of Mykonos. The average sale price ranges from €5,000 to €7,000/m ², and villas are rented out for €9,000–11,000 per week.
Mykonos Greece Real Estate: This 1,035 m² villa on the island of Mykonos is on sale for €8.7 million.
Santorini
The average yield rate for villas in Santorini is 6.4% per annum. Villas with a view of the island's volcano are in high demand. The average property price is €5,000–7,000/m2, and the average weekly rent is €7,000–10,000.
Santorini Greece Real Estate: This detached house on the island of Santorini is on sale for €2.4 million.
Rhodes
Rhodes is one of the region's most popular islands. In 2017 the islands received 2.2 million international tourists who arrived by air. The average yield rate for villas on Rhodes is 5.6% per annum. Local property prices, which range from €2,500 to €3,500/m², are significantly lower compared to the rest of the islands, and renting a villa is twice cheaper (€3,000–5,000 per week).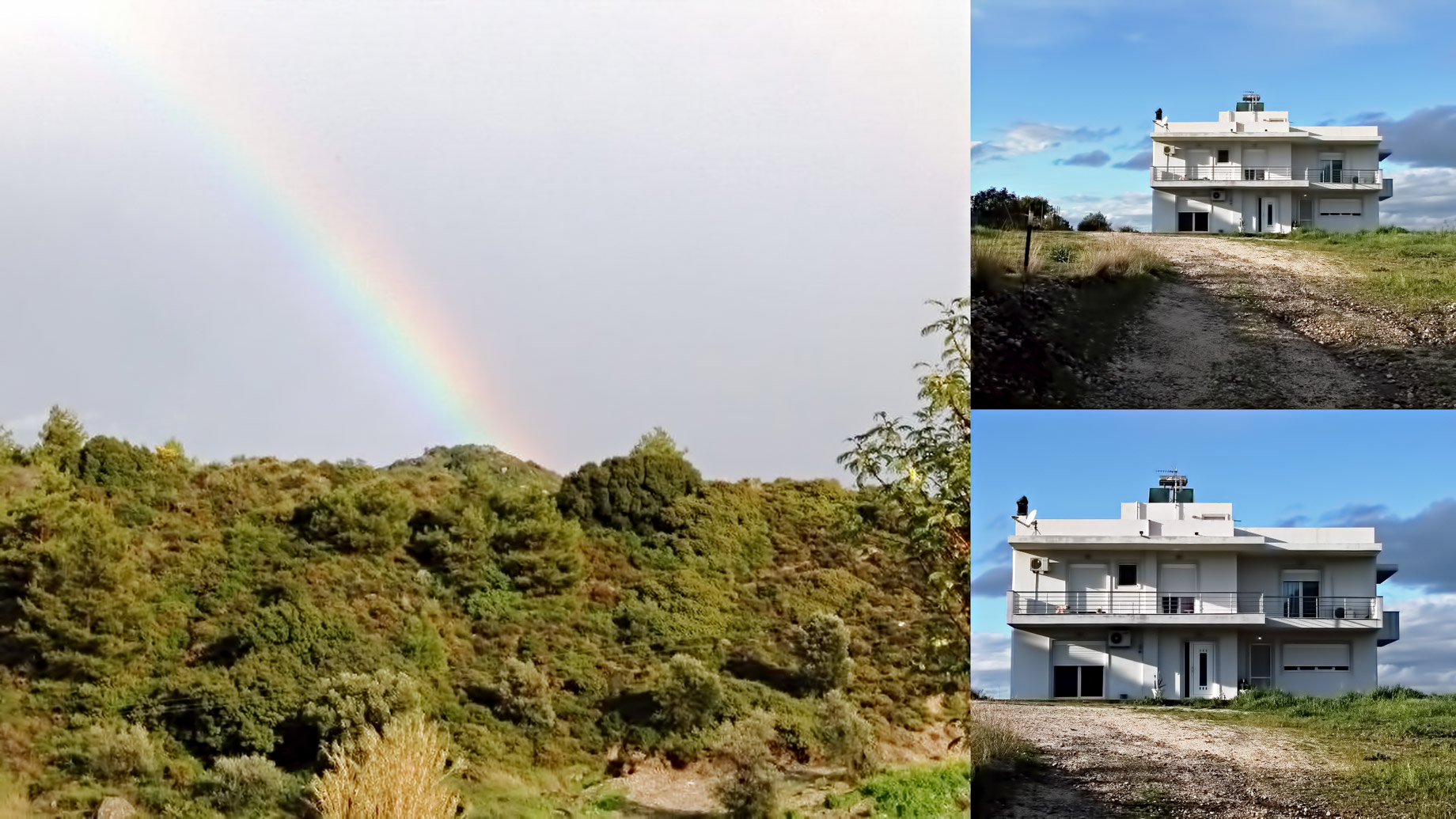 Rhodes Greece Real Estate: This villa on the island of Rhodes is on sale for €1.6 million.
Paros
According to data from Algean Property, international arrivals in Paros almost doubled in 2017 due to the opening of the island's new airport in July 2016. Local properties yield as much as those in Santorini despite being considerably cheaper: their prices range from €3,500 to €4,500/m². The average rental rate is between €4,000 to €7,000 per week.
Paros Greece Real Estate: This townhouse on the island of Paros is on sale for €550,000.