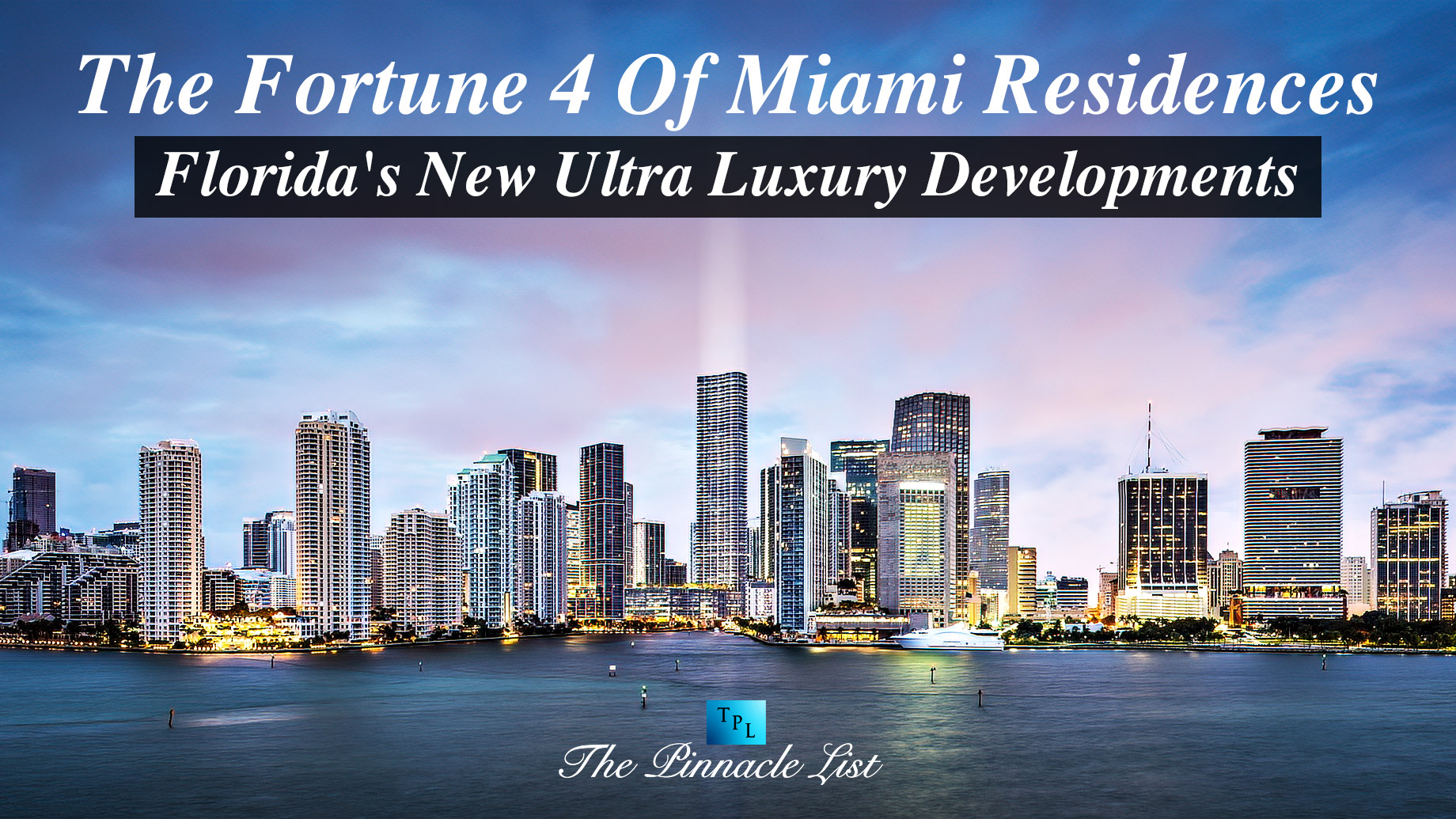 Whether you are looking to purchase a luxury Miami condo or other kinds of South Florida properties, a luxury real estate agent will be able to guide you through the entire process of finding and buying the perfect property for you in Miami.
Many of Miami's most luxurious condos are located on the waterfront, along the sandy beaches of Sunny Isles, Bar Harbor, and Biscayne Bay. The residences offer breathtaking views of Biscayne Bay, the Port of Miami, Brickell Avenue, Downtown Miami, Biscayne Bay, and South Beach. Miami, more than anywhere else in the United States of America, sees the most luxurious condos spring up every year in waterfront locations. Luxury condos like Setai, Il Villaggio, and 1500 Ocean Drive are some of the most highly regarded luxury condos in Miami Beach.
Miami's rental options are also incredibly diverse, from luxury beachfront apartments and condominiums in the downtown area, to cozy townhouses and spacious homes in the suburbs. For the same reason, focusing on luxury real estate in prime areas like Miami Beach makes a lot of sense because the high end of any product, in this case real estate, is always relatively low and in high demand. Determining the best luxury apartments in Miami, or which building is the best, is a subjective matter as tastes vary based on factors such as location, price, budget, accommodation features, and building amenities.
In the years ahead, project developers will eclipse the current standards of luxury living in Miami. Below, we highlight four of the best that will define a new era of ultra-luxury condos in The Sunshine State of Florida:
---
UNA Residences | Brickell, Miami
Creating a dramatic silhouette against the metropolis, while providing the serenity of ocean life, Una is an exemplar for Miami living.
Project: 135 waterfront units (2 to 5-bedroom residences)
Developer: OKO Group and Cain International
Architecture: Adrian Smith + Gordon Gill Architecture
Interior Design: Adrian Smith + Gordon Gill Architecture
Completion: Q1 2024
Location: Proximity to Coconut Grove, Downtown Miami, Downtown Brickell, and Miami International Airport, with access to Biscayne Bay and the Atlantic Ocean
Transforming the skyline in an elegant way, a 45-story glass tower known as the UNA Residences South Brickell, is set to soon dazzle Miami with its enchanting architecture and stunning views of both the city and Biscayne Bay. Designed by AS+GG, the scenic structure makes for a dramatic silhouette before the city, yet offers a serene view of sea life, complete with silvery waves, views of classic luxury yachts, and a private marina reserved for its elite clientele. The masterfully planned interiors include large great rooms and bedrooms with expansive terraces, allowing natural sunlight from sunny South Florida to shine in through floor-to-ceiling doors, glass balcony railings, and open layouts. OKO Group and Cain International led the charge in developing this desirable, pre-construction design.
Residents will be able to enjoy the upscale Brickell neighborhood, as well as premier facilities that include Bayfront amenities, a jacuzzi, a catering kitchen, a private dining/party room, a movie theater for cinema enthusiasts, plus an impressive state-of-the-art fitness center with yoga and personal training areas, along with an outdoor lounge, treatment rooms, and a beauty salon, among other luxuries. A lap pool will reside on the third floor, while a family pool and a children's play area are complemented by luxurious lounge cabanas and lavish outdoor bars for entertaining.
As well, the landscape design by Enzo Enea adds a final dash of luxury and desirability to this gorgeous waterfront condo. The breathtaking location of the UNA Residences is unparalleled for its proximity to entertainment, commerce, and all the best things Miami's exuberant lifestyle has to offer.
---
Waldorf Astoria Residences | Downtown Miami
Live amongst the clouds in Waldorf Astoria Residences Miami. A pillar of elegance and innovation for you to experience a one-of-a-kind luxury living experience.
Project: 100-story residential tower, covering 800,000 sq. ft. of land
Developer: PMG (Property Markets Group) and Greybrook Realty Partners
Architecture: Carlos Ott & Sieger Suarez
Interior Design: BAMO
Completion: 2026
Location: Downtown Miami's central business district, overlooking Biscayne Bay, Brickell Avenue, Downtown Miami, Key Biscayne, and South Beach
The 1,049-foot-tall Waldorf Astoria Miami Residences will soon offer a super-luxury development coming to Biscayne Boulevard, which is set to become the tallest tower in Miami. This majestic building will add a distinct futuristic flair to Miami's prestigious skyline, with this design from Carlos Ott and Sieger Suarez, and interiors by award-winning firm BAMO.
Numerous magnificent features will be found inside the exclusive residences, including private and semi-private elevators, unobstructed views of the city and ocean, summer kitchen balconies, 10′ to 12′ floor-to-ceiling windows, and so much more.
Just minutes away from the new Miami World Center, this dazzling 100-story skyscraper will overlook Biscayne Bay, Brickell Avenue, Downtown Miami, Key Biscayne, and South Beach. Waldorf Astoria Residences' impressive amenities, boasting some of the most desirable luxuries with a spa and fitness center, pool deck, café and signature restaurant, event ballrooms, and so much more, will set the bar high and redefine what it means to build a luxury condominium in Miami.
---
The Perigon | Miami Beach
The Perigon is an iconic tower where residents can enjoy a new level of sophistication every day with unparalleled sunsets to enjoy.
Project: 82 residences, 17 levels, with units ranging from 2 to 4 bedrooms
Developer: Mast Capital
Architecture: OMA
Interior Design: Tara Bernerd
Completion: 2025
Location: Miami Beach
This opulent condo complex features a fresh take on luxurious living, located in a vibrant area with pristine beaches. The Perigon Miami Condo residences offer breathtaking, soothing views with floor-to-ceiling windows in each unit, with premium-quality interiors and curated finishes. Underground parking with 183 parking spaces and nearly 15,000 sq. ft. of first-class amenities are included, along with a signature restaurant that contains a beachside swimming pool and outdoor spa with sunbeds and cabanas. A new level of Floridian sophistication for everyday living, with unmatched sunsets to be enjoyed, will be realized when living here with sparkling beaches, shimmering pools, artful experiences, trendy boutiques nearby, and a nightlife that never stops.
---
Baccarat Residences | Brickell, Miami
Baccarat Residences is truly an architectural gem that will pamper all the residents with the latest features and the exclusive location. This is where life forever sparkles.
Project: 3 towers and 360 residences, with 1 to 4 bedrooms, across mixed-use levels of 40-, 75-, and 85-story towers with hotel, office, and retail components
Developer: Related Group
Architecture: Arquitectonica
Interior Design: Meyer Davis
Completion: Q4 2025
Location: Brickell, in proximity to PAMM, Museum Park, Bayfront Park, Brickell City Centre, American Airlines Arena, many restaurants and boutiques, and the MetroMover
Welcome to Baccarat Miami Residences, the new condo community located in Brickell, managed by SH Hotels & Resorts and with service and amenities curated by Baccarat Hotels & Residences. This mixed-use luxury condominium project will consist of three towers, featuring hotel, office, and retail segments. Including 360 units ranging from 1-bedroom to 4-bedroom residences and penthouses, Baccarat Residences will also have a number of luxury amenities, including a heated pool, club room, fitness center, gourmet market, a waterfront dining experience, and much more. The development is a creation of the largest condominium developer in the Miami area, Related Group, with design by Arquitectonica, while spectacular interiors are visioned by Meyer Davis. Baccarat Residences is indeed an architectural jewel, which will enchant every resident with its latest features, at an exceptional location, with the best exclusive views of Miami.