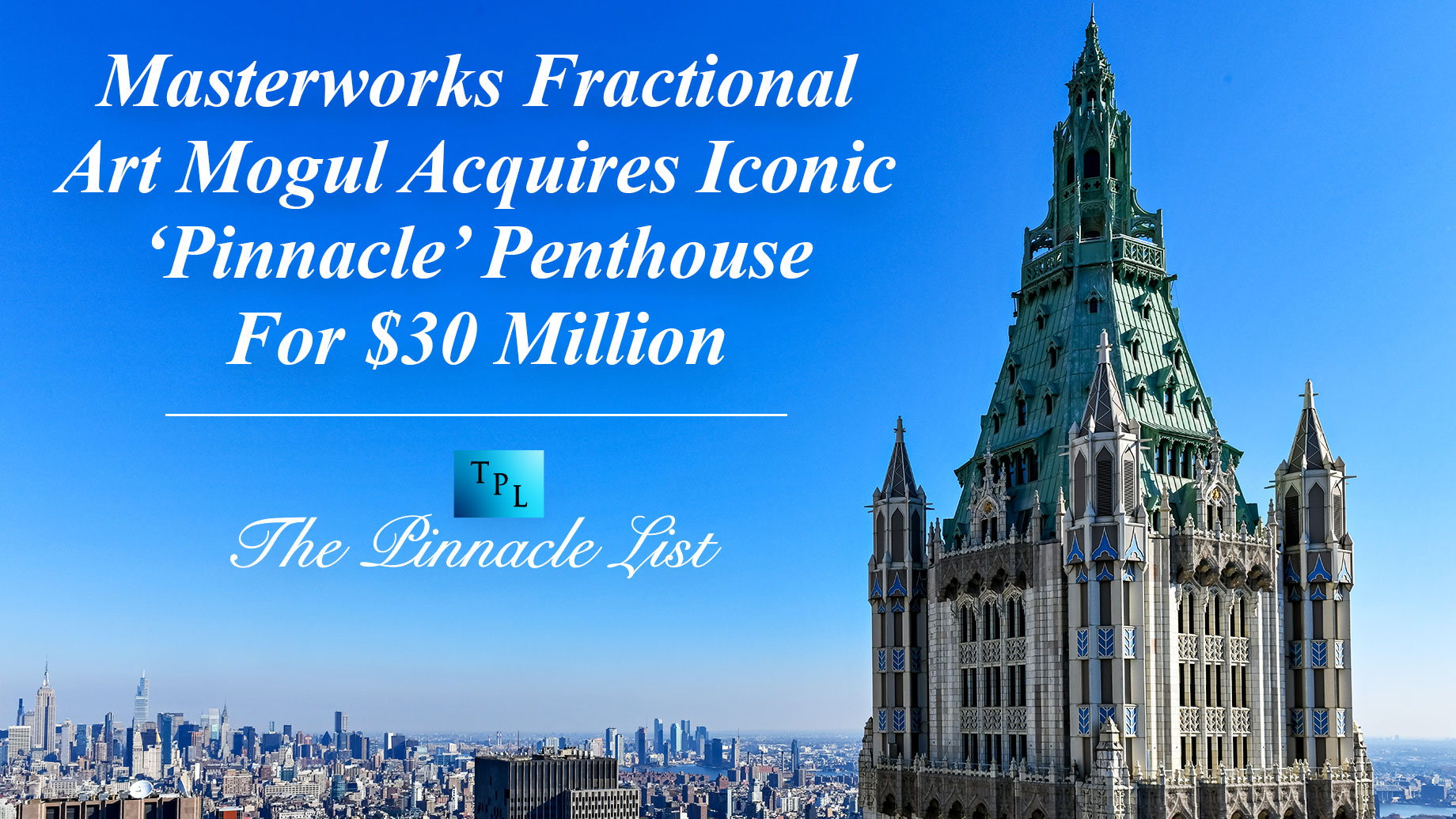 The CEO of Masterworks, an art investment company, has purchased the iconic $30 million "Pinnacle" penthouse. The Woolworth Building, located in Lower Manhattan, New York City, is an iconic skyscraper with historical significance. The penthouse atop the Woolworth Building, often referred to as the Pinnacle penthouse, is a luxurious and distinctive residence that offers breathtaking views of the New York cityscape.
Given the historical significance of the building and its prime location, the penthouse is considered one of the most prestigious and sought-after properties in New York City. This acquisition also mirrors the broader trend of condo living gaining traction among buyers seeking a balance of luxury and practicality.
The Woolworth Pinnacle penthouse has been a fixture on the market for over six years. Originally listed at an ambitious $110 million in 2017, Masterworks CEO Scott Lynn eventually purchased the property for $30 million. The penthouse is expected to need several more millions invested in renovations, as the previous owners left it partially unfinished to serve as a blank slate for its eventual purchaser.
Lynn's investment serves as both proof of the resilience of the blue-chip art market (the industry in which Masterworks operates) and as a compelling suggestion of his astute business insight and an appreciation for iconic assets.
Masterworks, skyscrapers and strategic investments
Lynn's venture into luxury real estate aligns with Masterworks' central philosophy of identifying exceptional investments early to aim for a profit. The platform's success in democratizing art investment naturally extends to the realm of real estate. This strategic step underscores the CEO's keen understanding of diversified investment strategies and the potential for value appreciation.
Analyzing the acquisition through a lens of potential appreciation, the original listing price of $110 million suggests that the value of the penthouse could be far greater than the ultimate sale price of $30 million. Lynn's decision could have been motivated by the desire to buy low, perhaps wait for a surge in popularity for luxury penthouse condos, and sell at the peak of interest to earn a large profit.
This strategy is very similar to how the Masterworks platform operates, in which meticulously vetted works are curated by the internal industry-leading research team, at which point investors can purchase a fraction of a valuable artwork with the anticipation of its value increasing over time. Just as the penthouse could appreciate due to its iconic status and prime location, Masterworks' approach to fractional art investment revolves around identifying art pieces with potential value growth and enabling investors to acquire fractions of these artworks.
It's also possible that Lynn simply saw a beautiful piece of real estate and wanted to make it his own. Fractional art is booming, as evidenced by this luxury purchase – Masterworks' success allowed him to make this investment. Only time will tell if this was a personal or professional decision.
Do luxury real estate trends correlate with other markets?
One of the reasons Lynn is in the position to make this exceptional purchase is due to Masterworks' strong performance, even through a recession. It's fascinating to see how, despite the poor performance of indexes such as the S&P 500, blue-chip art continues to appreciate. As countries faced inflation, recessions, and shrinking GDPs, the global art market generated sales worth $67.8 billion in 2022.
Luxury real estate doesn't necessarily follow typical real estate trends, so it's fascinating to speculate if this purchase by Masterworks' CEO could potentially be indicative of broader shifts in investment preferences. For example, the Manhattan luxury real estate market has heated up as other real estate markets have cooled.
Could Lynn's calculated entry into the luxury real estate arena reflect a broader inclination towards assets that have shown resilience and appreciation amid economic challenges? The art market's ability to sustain robust sales figures despite inflation and economic uncertainty could match the allure of luxury real estate as a haven for capital preservation and potential appreciation.
As blue-chip artworks continued to appreciate, even when traditional financial markets experienced fluctuations, this purchase allows one to speculate on the potential for luxury real estate to do the same.
Final thoughts
Historically, penthouses in iconic buildings like the Woolworth tower are sought after by affluent individuals who value exclusivity, breathtaking views, and unique living experiences. Previous owners might have used the penthouse as a private residence, a showcase of their status and taste, or even as an investment opportunity.
The CEO's investment in the Woolworth penthouse could fall into personal taste, fueled by Masterworks' financial success. It could also be a more calculated move to underscore the possible appreciation value of luxury real estate in an economically uncertain market. Ultimately, this nuanced step into luxury real estate mirrors Masterworks' ethos of exploring unconventional avenues.