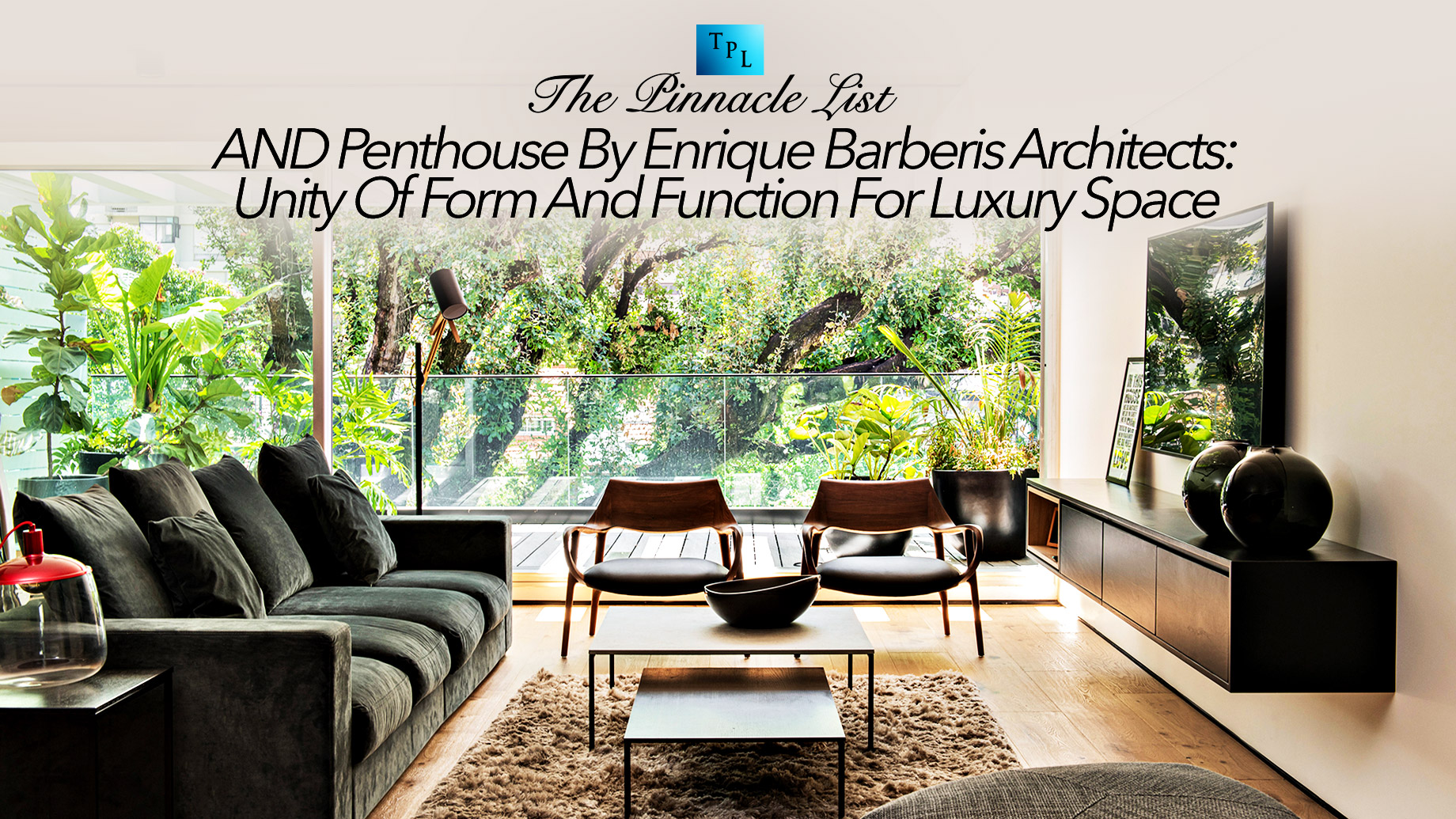 There is something in the air of Italy that makes this land produce talented creators for whom passion and quality are paramount in whatever they do. A cursory look at the portfolio of Italian-born Enrico Barberis and his company Enrique Barberis Architects is enough to realize that a tradition of uncompromising excellence in design and architecture is evident in every aspect of their work. The recent renovation project AND Penthouse was no exception. Because of the exceptional quality and creativity shown by the team at Enrique Barberis Architects, the experts at the Luxury Lifestyle Awards named this project a winner in the category of Best Luxury Penthouse Interior Design in Argentina.
Enrique Barberis Architects was founded in the mid-20th century in Buenos Aires, Portugal, but its true history goes back decades to Italy. Back then, many connoisseurs of sophisticated and functional design and architecture were well known to the Barberis family. Living his early years in the cozy Italian city of Biella, the founder of the studio Enrique Barberis absorbed the best of his native country: an outstanding diligence, respect for tradition and quality, as well as the ability to apply the latest technology to ensure the functionality of spaces and comfort for people.
When Enrique Barberis moved from Biella to Buenos Aires, he was able to give free rein to his inspiration and realize his creativity by founding Enrique Barberis Architects. Over the years, this architectural studio has established itself as a reliable provider of the highest quality services with a wide range of specializations. The EBA team consists of experienced and dedicated architects, industrial designers, landscape designers, graphic designers, textile designers, lighting designers, and other professionals who share Enrique Barberis' passion for excellence. The company's broad profile of specialists allows the company to develop projects of any size, providing a full range of work from conceptualization to material selection and finishing.
Consistently maintaining the stamp of Italian quality, Enrique Barberis Architects makes the dreams of sophisticated clients come true internationally, with headquarters in Buenos Aires, Portugal, as well as satellite offices in Rome, Italy, and Punta del Este, Uruguay. Wherever the studio carries out its projects, the sophistication and perfectionism inherent in EBA's approach is always recognized and appreciated by clients.
The renovation work on AND Penthouse was no exception, and its minimalism allowed the project to fully demonstrate the extensive potential of a luxurious lifestyle. The great attention to detail and the subtleties of the space helps to create its soul and reveal its deep essence. Through meticulous research into creativity, design, and innovative technology, Enrique Barberis and his team have managed to design a space that reflects the client's character and at the same time influences the people inside, complementing them and filling them with new meanings.
As a result of in-depth conceptualization and the involvement of designers and other specialists, Enrique Barberis Architects were able to achieve a perfect balance between aesthetics and function. AND Penthouse is a shining example of a space with personality that transcends trends and fashion, demonstrating how architecture and interior design can become an organic part of life.
Find out more about Enrique Barberis Architects by visiting its website.
About Luxury Lifestyle Awards
Luxury Lifestyle Awards is a global award selecting, recognizing, celebrating, and promoting the best luxury goods and services all over the world. The goal of the company is to connect people with the best of luxury. LLA has evaluated more than 10 000 various goods and services in 400 categories from 60 countries and analyzed the results to give you a TOP list of the best of the best in the world. Such world-renowned brands as Chanel, Dom Perignon, and Ferrari were proudly named winners. The victory brings companies status and recognition, global promotion, and exposure to an entirely new market of customers.
For more information, please visit:  https://luxurylifestyleawards.com/
Like us on Facebook: https://www.facebook.com/LuxuryLifestyleAwards/
Join us on Instagram: https://www.instagram.com/luxurylifestyleawards/