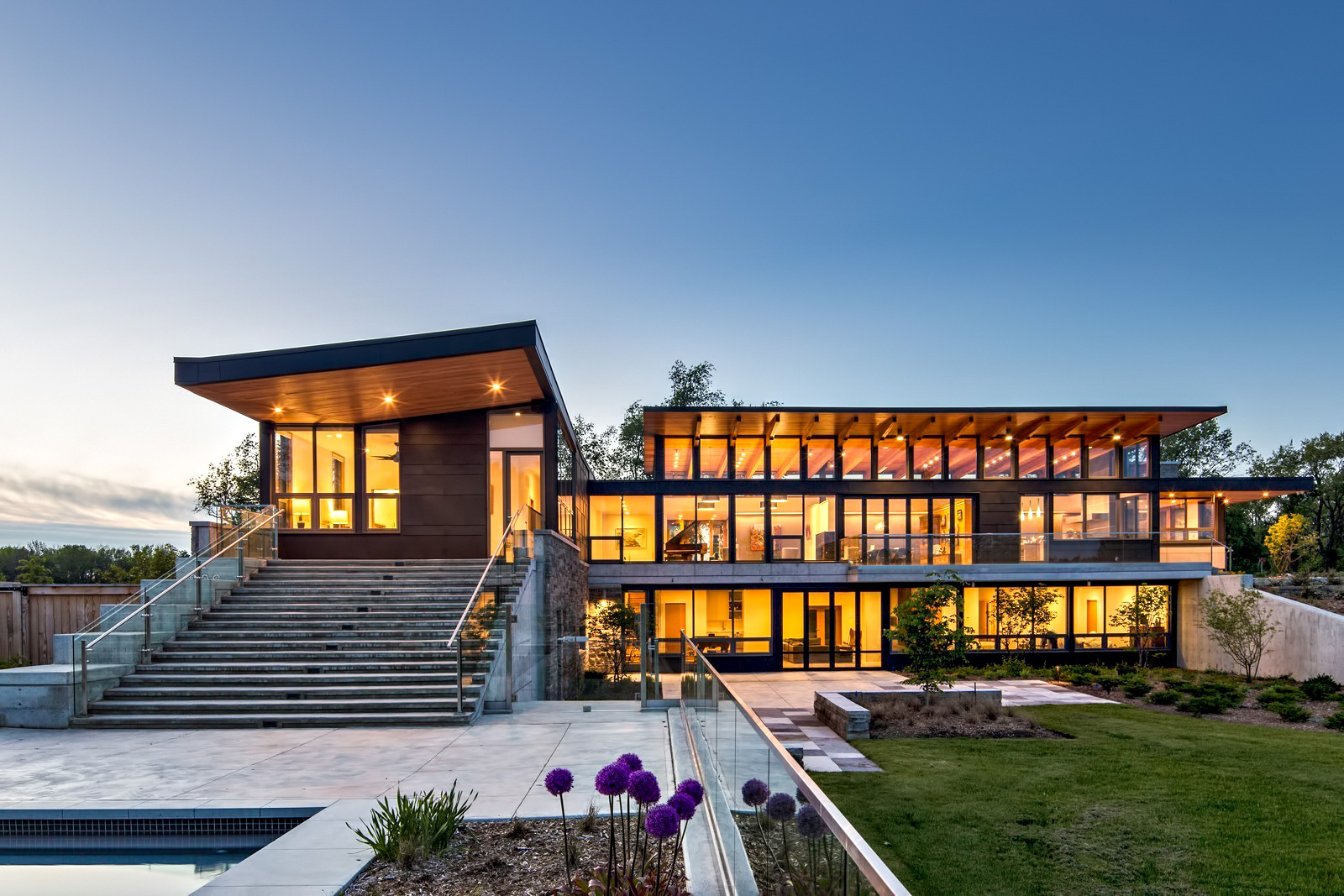 Name: Millgrove Estate
Type: Modern Contemporary
Bedrooms: 4
Bathrooms: 5
Size: 8,500 sq. ft.
Lot: 50 acres
Built: 2016
A breathtaking home designed as an architectural statement of modern luxury set upon 50 pristine acres hidden from view amongst the Flamborough countryside, the Millgrove House is a place to live comfortably, entertain and connect with the serenity of its natural environment. This is a home that responds to the context and unique lifestyle of country living with a structure that is defined by volumes of space and walls of glass with daylighting to bring joy to the residents. 
The home design strategy was to create a modern environment but maintain a modest appearance. The kitchen, dining and living rooms are the focal points of the house. These spaces are combined in one generous volume capped with a sloped douglas fir roof rising to the south, opening up expansive views of the meadows and forests. The lower level, a walkout made possible by the topography of the site, is kept almost entirely column free, keeping it bright and not obscuring views of the landscape.
Using natural materials was very important, thus the palette for the project includes three types of wood, Douglas fir roof beams and deck, walnut and white oak flooring, as well as limestone, and zinc. Moreover, the use of high-quality materials, including stone, resulted in a high level of sustainability with low maintenance requirements as the building matures. The Mechanical System includes Geothermal cooling and heating as well as central boiler for in-floor heating and domestic hot water. To add to the home's energy efficiency, the windows respond to their exposure (north is different than south), deep overhangs provide passive shading, heat is provided through in-slab piping, and double stud exterior walls allow for continuous insulation. The Electrical System is comprised of LED lighting with solar panels on the roof of the nearby accessory building. Structurally, the foundation and the basement are in concrete with a post tensioned concrete beam at the main level; wood stud structure frames the main level with Douglas fir beams and tongue and groove decking on a concealed steel frame forming the main central volume. In addition to the wood, limestone (from quarries near Owen Sound) is used throughout the project as cladding, exterior cladding, interior tile flooring, and surround the real wood-burning fireplace. Dark grey zinc flashings and wall panels give the building a polished, sophisticated appearance, which exemplifies the globally impressive architecture of the residence.
Architect: Toms + McNally Design
Photography: Arnaud Marthouret Revelateur Studio
Location: Hamilton, Ontario, Canada