One of the most beautiful travel destinations in the world and a very popular Greek island is Mykonos. The waters are blue and the beach sand is white, making this destination so peaceful and special, however, Mykonos is more than just a place to sunbathe. There are plenty of things to do such as exploring the many archaeological sites, galleries or museums found on the island. If you have never been to Mykonos before, you will probably need some advice on where you should stay. There are many different properties at varying price points that cater for your every individual need. You will need to find a place to cater to any experience you want to have. This blog will list some of the best places to stay when visiting the beautiful island of Mykonos.
Choulakia
Choulakia beach is located beside Agios Stefanos beach. It is a small, beautiful and picturesque location that attracts many tourists. This beach is the perfect location for people who want a calm and relaxing environment with a lot of natural scenery. If you are considering visiting this place and are looking for accommodation, there are plenty of luxurious villas to choose from, such as https://thekingofvillas.com/mykonos/luxury-villas/villa-cleopatra. These villas offer many special features that will provide you with an unforgettable experience. Choulakia might be small but there are plenty of things to do here. You can visit Mykonos Town which is only 20 minutes away, you can take a trip to see the lighthouse or even look at the beautiful and prehistoric pebbles on Choulakia beach. This location offers a very relaxing experience that's close to nature, it's the perfect place for those who just want to be surrounded by calm.
Psarou Beach
Psarou beach is located 4km to the south of Mykonos and is described as the most cosmopolitan beach on the Greek Island and considered the liveliest beach in Mykonos. Here you will find sandy beaches, beautifully clear waters at the perfect temperature, great restaurants, and beach clubs to enjoy. You will find the most famous beach club and restaurant in Mykonos called Nammos on this Beach that attracts many celebrities. This location is an ideal place for couples and solo travellers.
Agios Ioannis Beach
If you are looking for a family-friendly location to visit then Agios Ioannis is the perfect place for you. You will find this small village situated in the Islands southwest across Delos And close to Ornos. This is a great location for families who are looking for a peaceful getaway. There are amenities including an amphitheatre and the beaches have beautiful clear water. There is so much to do in Agios Ioannis, you can dine at one of their many restaurants or visit their Greek taverns, you can enjoy many water sports such as scuba diving or surfing or you can scroll through the nearby villages and soak up the architecture. This is an ideal location for young and single people or families.
Platys Gialos
Considered one of the best beaches to stay at in Mykonos, Platys Gialos is a village in Mykonos. The waters are turquoise and the sand is golden and this location attracts thousands of people during summertime. The beach offers visitors amenities such as sunbeds, umbrellas, and sports activities and there are also many activities that can keep visitors entertained such as boating, jet skiing, fishing, and water skiing. This is the perfect place for singles or couples and visiting this destination is sure to offer a relaxing time under the sun.
Ornos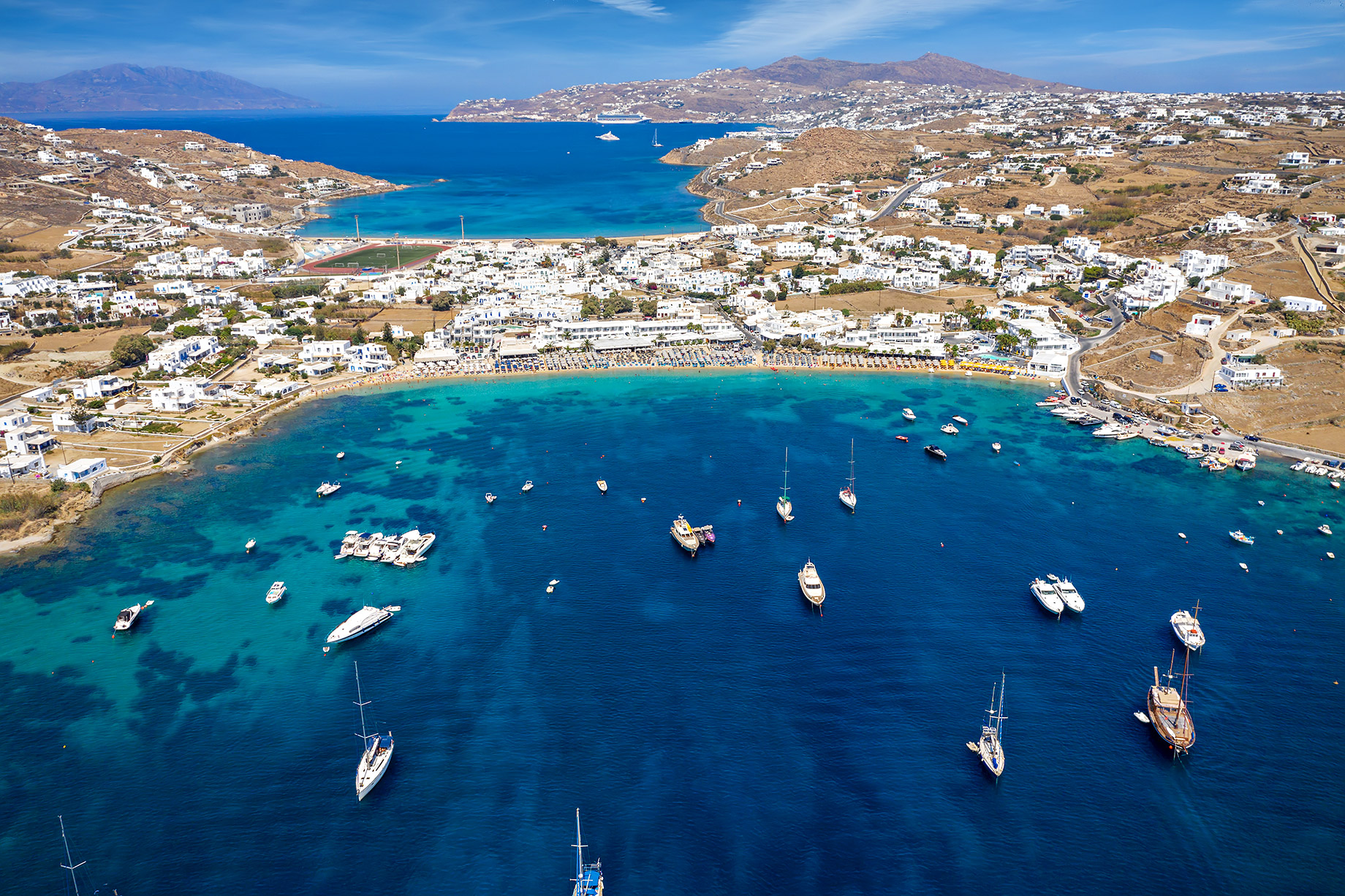 Right in front of a fishing village you will find beautiful Ornos. There are many things to do on this beach from sea skiing and windsurfing. You can scamper around the local flea markets or enjoy their cute cafes all within walking distance to the beautiful turquoise waters. Some restaurants that you absolutely have to visit include Apaggio Restaurant, Kostatis and Apomero Ornos. This is a great location for singles or couples and it is enjoyed by people of all ages.
If you are looking to enjoy a beautiful Mediterranean holiday then Mykonos is the perfect place for you to visit. The beaches are crystal clear and there are many things for you to do including dining at local restaurants that are close by the beach. Whether you are a couple, single or a family, there is a place for you in Mykonos.