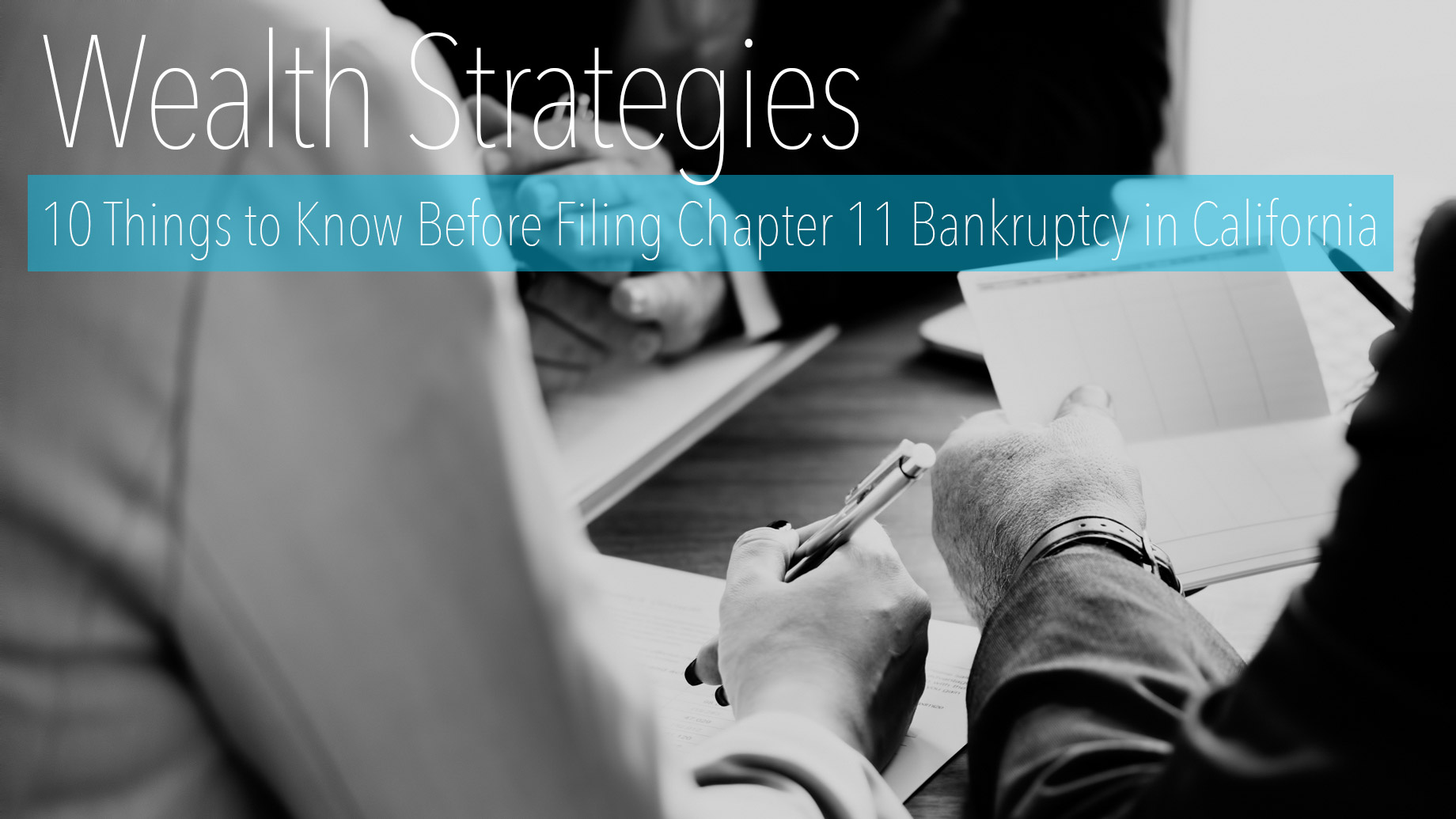 Whether you are a real estate investor or a business owner, while at first thought, filing for Chapter 11 bankruptcy may not seem like a wealth strategy, it can actually be exactly that for many situations. If you consider the fact that it is usually filed by business owners who seek to restructure the debts of their organization, you may find it a useful to investigate this as a strategic option if you need time to reorganize the amount of debt of your business owes.
Chapter 11 bankruptcy can be an effective financial remedy for businesses that are having a hard time with secured and unsecured debt. However, some essential facts must first be understood before committing to this possible solution.
Listed below are 10 important things you need to know about the process of Chapter 11 bankruptcy according to Irvine Bankruptcy Lawyer.
You Can Carry On with Business Operations
Filing Chapter 11 bankruptcy does not mean that your business will automatically be closed down; neither does it mean that you lose control of your organization. Instead, you will most likely become a "debtor in possession," allowing you to maintain ownership of the company and all of its assets. However, for reasons like fraud or gross mismanagement, the court may appoint a bankruptcy trustee to oversee the operations of your business, which is when you may need an LA lawyer for asset protection.
Creditors Can't Take Action Against You
An automatic stay immediately goes into effect when you file Chapter 11 bankruptcy. It temporarily prevents creditors from taking legal action against you. The intent behind the automatic stay is to allow the business a limited period of time to make a reorganization plan without interference from creditors. The stay remains in effect until the conclusion of the proceedings or until the date established by the bankruptcy court. Nonetheless, creditors can choose to stop lending additional money to your business, which can create a problem with the cash flow of your company.
You Can File Chapter 11 Bankruptcy Voluntarily
Depending on the circumstances, Chapter 11 bankruptcy can be filed voluntarily or involuntarily. The debtor is the one who files the petition in a voluntary filing, while three or more creditors take legal action in an involuntary filing. In cases of involuntary filing, the debtor may contest the petition. However, the proceeding will likely restrain the business from operating as it has in the past.
You Don't Have to Deal with a Creditor's Committee
In a bankruptcy proceeding, a creditor's committee is appointed by the court represent a company's creditors. Their responsibilities include creating a reorganization plan for bankrupt businesses or deciding whether they should be liquidated. Nevertheless, the court doesn't have to appoint a creditor's committee in cases where the debtor is a small business which's total secured and unsecured debts are $2,566,050 or less. Not having to deal with a creditor's committee makes the process less costly for the debtor.
Your Reorganization Plan is A Crucial Component
The reorganization plan is a key element in filing Chapter 11 bankruptcy. Its design and administration are crucial to its success as well as to the future of the business in need of debt protection.
Creditors Don't Need to File Claims
Creditors are entitled to distribution if they are listed on the schedules of the debtor. As long as they receive payments and feel they are treated fairly, they are not required to file claims. However, creditors must file claims in cases where they are left out of the schedules, or they object to the way they are being handled.
Court Approval is Necessary for Major Decisions
When you become a debtor in possession, you are not granted the same level of control on your business as you did before filing bankruptcy. The court has a hand in every major decision like selling assets, breaking leases, or retaining external professionals such as lawyers. The court may also allow a lender to make a loan for you to have more operating capital for your business. The lender is given "superiority," which means you are obliged to pay off the new lender before other unsecured creditors.
You will Get Paid Last
Until all of the creditors of the business are paid in full, equity owners in the company are prohibited from retaining any asset or profit says Irvine Bankruptcy Lawyer. For instance, you can't sell assets of your business and promise to pay creditors 30 cents for every dollar you owe them, but keep the $30,000 in the bank account of the company. In other words, you can't cash out until you pay off all your business debt.
You are Required to Pay Court Fees
Bankruptcy courts will charge you a case filing fee of approximately $1,167 and miscellaneous administrative fees worth $550 when you file Chapter 11 bankruptcy. If you are incapable of paying the fees all at once, the court may allow you to pay them overtime in no more than four installments. The final payment must also be made no later than 120 days after you file.
You will Need a LawyerChapter 11 is notorious for being the most complicated type of bankruptcy, which is why it should not be a decision to be taken lightly. It is vital that you get sound legal advice throughout the proceedings. Generally, a lawyer or attorney with specific experience in the field of bankruptcy is the best way to go. Hiring a lawyer can be expensive but it must be considered if you want to be successful or, at the very least, continue business operations throughout the bankruptcy process.