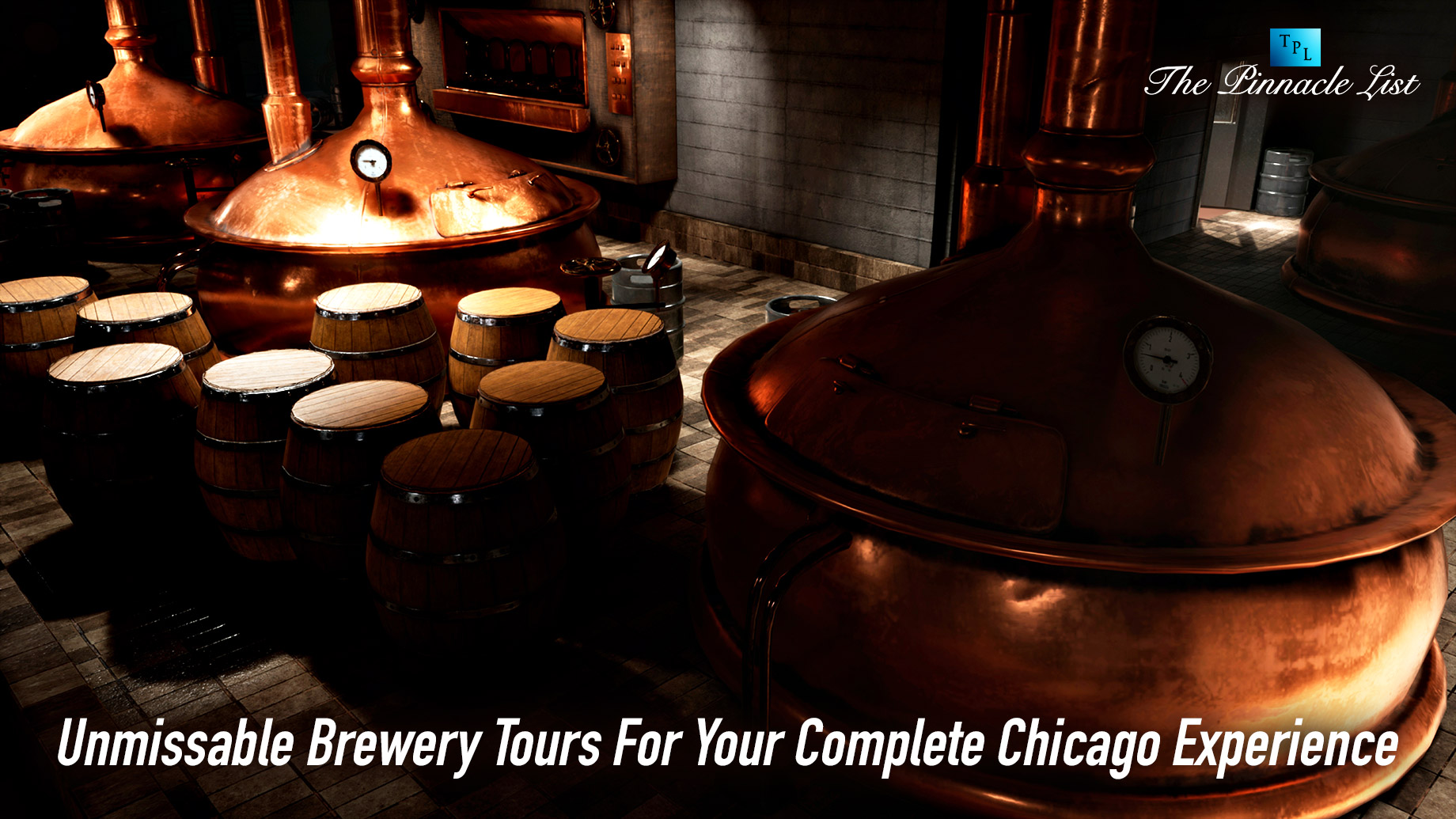 Chicago is one of the most vibrant and exciting cities in the United States. From its world-famous architecture to its renowned museums, there is something for everyone in the Windy City. And of course, let's not forget about the food! Chicago is home to some of the best restaurants in the world, serving up everything from deep dish pizza to hot dogs.
But what about the beer? Chicago is home to many breweries, and there are plenty of ways to tour them. Here are some of the most popular brewery tours in Chicago:
The renowned Goose Island Brewery is located in Chicago, and their brewery tour is well worth seeing. You'll be able to observe the brewing procedure up close, as well as sample some of their excellent brews.
Another excellent Chicago brewery is Half Acre, and their tour is a lot of fun. You'll learn about the brewing process as well as sample some of their rare brews. This brewery is located in a beautiful setting, making it all the more enjoyable.
3. Metropolitan Brewing Company Tour
Metropolitan Brewing is one of the newer breweries in Chicago, but their tour is already very popular. If you're curious about how beer is brewed, this is the tour for you. You'll sample some of their delicious brews as well.
Located in an up-and-coming area of Chicago, it is definitely a spot worth checking out.
4. Three Floyds Brewing Company Tour
When in Chicago, a stop at Three Floyds is a must. This family-owned brewery has been around for three generations and has perfected the art of brewing. The tour includes a walk through the production area, where you can see how the beer is made and ends with a tasting in the taproom.
5. Goose Island Clybourn Tour
For a more in-depth look at the brewing process, head to Goose Island Clybourn. The tour starts in the malt room, where you can see how the grains are milled and stored, and ends with a tasting of some of the brewery's most popular beers.
6. Haymarket Pub & Brewery Tour
Haymarket Pub & Brewery is located in the heart of Chicago's historic Haymarket district. The tour includes a visit to the brewing area, where you can see how the beer is made, and ends with a tasting in the pub.
7. Revolution Brewing Tour
If you're looking for a tour that will show you the ins and outs of brewing beer, look no further than Revolution Brewing. Their tours take place every Saturday afternoon and last about an hour.
8. Pipeworks Brewing Company Tour
Pipeworks is a small batch brewery, which means they make limited quantities of each beer. Want to see how that blonde beer you love so much is made? Then this is the tour for you! The tour includes a visit to the brewing area and a tasting of some of their most popular beers.
9. Begyle Brewing Company Tour
This North Center brewery is known for its community-focused events and tours. Some of the events they offer include yoga and beer tastings. The tour includes a visit to the brewing area and a tasting of some of their most popular beers.
10. Lagunitas Brewing Company Tour
Lagunitas is a California-based brewery with a taproom in Chicago. Do not forget to take some beer to go for your friends back home. They'll love you for it! Cheers, mates!
OK, so you know how to make the most of your trip to Chicago. But how do you organize the trip per se? Here are the most important steps in planning your Chicago brewery tour experience:
1. Determine the scope of your trip. Are you looking to visit a few breweries, or do you want to go all out and visit as many as possible? You should also decide how long you want to spend on your trip – a day, a weekend, or longer?
2. Choose the right time of year to visit. The weather in Chicago can be unpredictable, so you'll want to plan your trip accordingly. If you're looking to avoid the crowds, aim for a visit during the week rather than the weekend.
3. Choose your transportation. A Chicago limousine service can be a great way to get around, especially if you're visiting multiple breweries. You can also use public transportation or rent a car.
4. Book your tour in advance. Many of the popular breweries offer tours, but they can fill up quickly, so it's best to book in advance.
5. Look for accommodation near the breweries. If you're planning to visit multiple breweries, you'll want to find a place to stay that's centrally located.
6. Have a backup plan. In case one of your chosen breweries is closed or doesn't offer tours, have a few other options in mind. For instance, if you're interested in visiting Goose Island, you could also visit Haymarket or Revolution Brewing. Or, if you are more into learning some history, visit the Field Museum or the Art Institute of Chicago. Outdoor enthusiasts will want to take a stroll down the Magnificent Mile or visit one of Chicago's many parks.
7. Pack your patience and a camera. With so many breweries to visit, you're bound to have a wait at some point. But don't worry, it will all be worth it in the end! And don't forget to take some photos to remember your trip.
8. Enjoy your trip! Chicago has a lot to offer, so make the most of your time in the city.
So there you have it – everything you need to know about planning to experience the best of a brewery tour in Chicago. Now, all that's left to do is book your tickets and start packing! Cheers!