New York City is one of those locations that by nature breeds fit residents, and it makes sense. Everyone can agree that it's much easier to keep up with Manhattan's rapid pace when you're in good shape and feeling healthy. Thankfully, maintaining a regular workout routine is a breeze for those living at 56 Leonard Tribeca, a new luxury residential building offering a lengthy list of amenities including a 75-foot lap pool, state-of-the-art fitness center, private yoga studio and a sauna room.
Plus, it doesn't hurt that the trendy TriBeCa neighborhood is already a prime destination for the nation's most exciting fitness trends. From a spin class that feels like a nightclub to a ballet-inspired sculpting class, there's a studio nearby to help you achieve your fitness goals, and have a blast in the process.
Here are five of TriBeCa's hottest spots for keeping trim:
Soul Cycle TriBeCa | 103 Warren Street, New York
A visit to this ultra-modern spin studio feels less like a workout and more like a night out at your favorite dance club. Your instructor assumes the role of resident DJ at Soul Cycle, where playlist previews are posted online for perusal prior to class registration. Top 40 fans can clip in for a heart pumping, 45-minute Rihanna vs. Beyoncé ride, while dubstep fans will love breakin' a sweat to popular electronic artists like Skrillex, Flux Pavilion and Adventure Club. Hair ties, earplugs, lockers, toiletries and towels are on the house, so all you need to bring along is an upbeat attitude and an urge to find your soul.
AQUA Studio NY | 78 Franklin Street, New York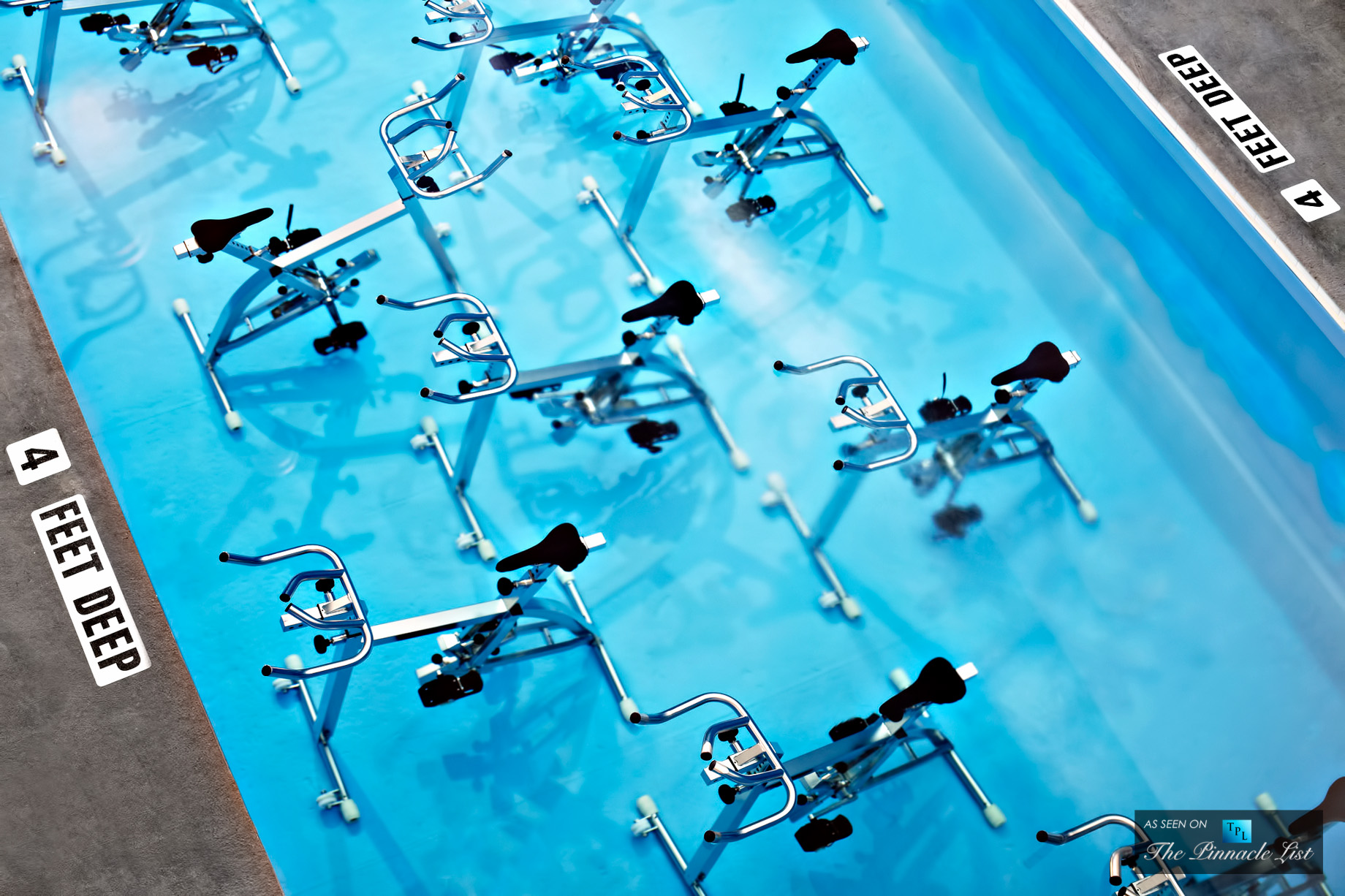 Fitness and wellness work in tandem at AQUA, a unique studio offering high-performance cardio classes to students submerged in water. Guests can choose from a variety of aquacycling workouts that range from open level Interval classes to their 45-minute Mantra Flow experience which combines endurance training, meditation and the healing power of salt-water for a class that's as challenging as it is zen. AQUA also offers a series of pre and post-natal yoga classes for expectant and new mothers through a partnership with Mama Glow.
Pure Barre | 110 Reade Street, New York

Looking for a good excuse to recycle your favorite leotard? Pure Barre's 55-minute classes target problem areas like hips, thighs, buttocks, abs and arms by building strength without adding bulk. By combining isometric ballet techniques, weight training and periods of stretching, guests can expect a full-body workout and a slender appearance. Celebrities like Kelly Rippa have already stepped up to the Barre. Now, are you ready to experience what the masters are calling "intelligent exercise"?
Church Street Boxing | 25 Park Place, New York
Train among the greats at Church Street Boxing, a studio with an impressive list of former clients including Undisputed Heavyweight Champion Evander "The Real Deal" Holyfield and MMA master Chris Weidman. In addition to competitive personal training services, guests can also step in the ring for more than 60 Boxing, Kickboxing, Muay Thai and Boot Camp classes every week.
Bari Studio | 23 Leonard Street, New York
Named "NYC's best hybrid workout" by New York Magazine, Bari Studio allows students to jump start their fitness plans with classes that integrate trampolines, cardio dance and muscle sculpting for a full-body workout. All new students are required to enroll in a prerequisite "barione" class where they will get familiar with the many tools and methods used at Bari Studio. After completing this crash course, guests can float their way into the signature "baribounce" class, which utilizes the Jumpsport Fitness Trampoline and hanging resistance bands for a low-impact workout that comes with the added benefits of strength straining.