The holiday destination of choice for the world's rich and famous, St Tropez offers some of the most spectacular villas on the planet. From stunning Belle Epoque villas bursting with charm to modern-day mansions that offer state-of-the-amenities coupled with striking design, there is a St Tropez villa to suit everyone's taste. However, some villas stand head-and-shoulders above the rest for standout features that elevate them far above others. Keep on reading to discover some of the best standout St Tropez villas.
St Tropez's most spectacular villas
Villa Ama
Located in St Tropez's famed Pampelonne Beach, Villa Ama will appeal to discerning art lovers, thanks to its exquisite art collection, which insiders inform us is more valuable than the villa itself. Contemporary works of art are purposefully placed throughout this spectacular stand-out St Tropez villa, including large-scale site-specific sculptures and installations amidst the grounds, adding touches of colour and grand points of interest. Artwork includes pieces by famed American artist Jeff Koons, British contemporary artist Damien Hirst, and American artist Richard Serra to name just a few. Boasting panoramic views, Villa Ama offers seven bedrooms, a state-of-the-art kitchen, a heated swimming pool, a helipad, a fully equipped gym, and outdoor cinema.
Villa Asana
The highlight of this splendid modern villa is its adjustable depth pool, allowing the pool to be adjusted for paddling or swimming at the touch of a button. When not in use, the pool floor can be fully raised, offering additional entertaining space. Being able to completely raise the pool's floor also offers a superb safety feature, especially for families with young children. Located in Les Parcs, the most exclusive enclave of St Tropez, Villa Asana offers six bedrooms, including a lavish master bedroom, spa room with hammam, billiard room, wine cave, professional kitchen, pool house, and some of the best views on offer in St Tropez.
Villa Virasana
Villa Virasana's splendid cocktail bar and cinema room in the basement offers a real wow factor. It's the perfect space for throwing an extravagant party in true St Tropez style. The wood-panelled bar provides plenty of seating with bar stools and an expanse of counter-top space for mixology, while the cinema room provides oversized sofas for lounging. Other exquisite amenities of this spectacular villa includes five bedrooms, a fitness room, massage room, swimming pool with pool house, and a sauna with a hammam. Located in the gated domain of Les Parcs, Villa Virasana is also just a 10-minute drive to the legendary Tahiti beach.
Villa Sassari
Newly renovated, the piece de resistance of this stand-out St Tropez villa is its refined games room with a cinema room, boasting an elegant billiard table perfect for hosting games nights. Located within walking distance of the iconic Pampelonne beach with its Club 55, Villa Sassari sleeps up to 12 guests across six spacious bedrooms. Outside, guests can enjoy beautiful grounds, including a covered dining area, BBQ, and a fantastic, heated swimming pool.
Villa Crazy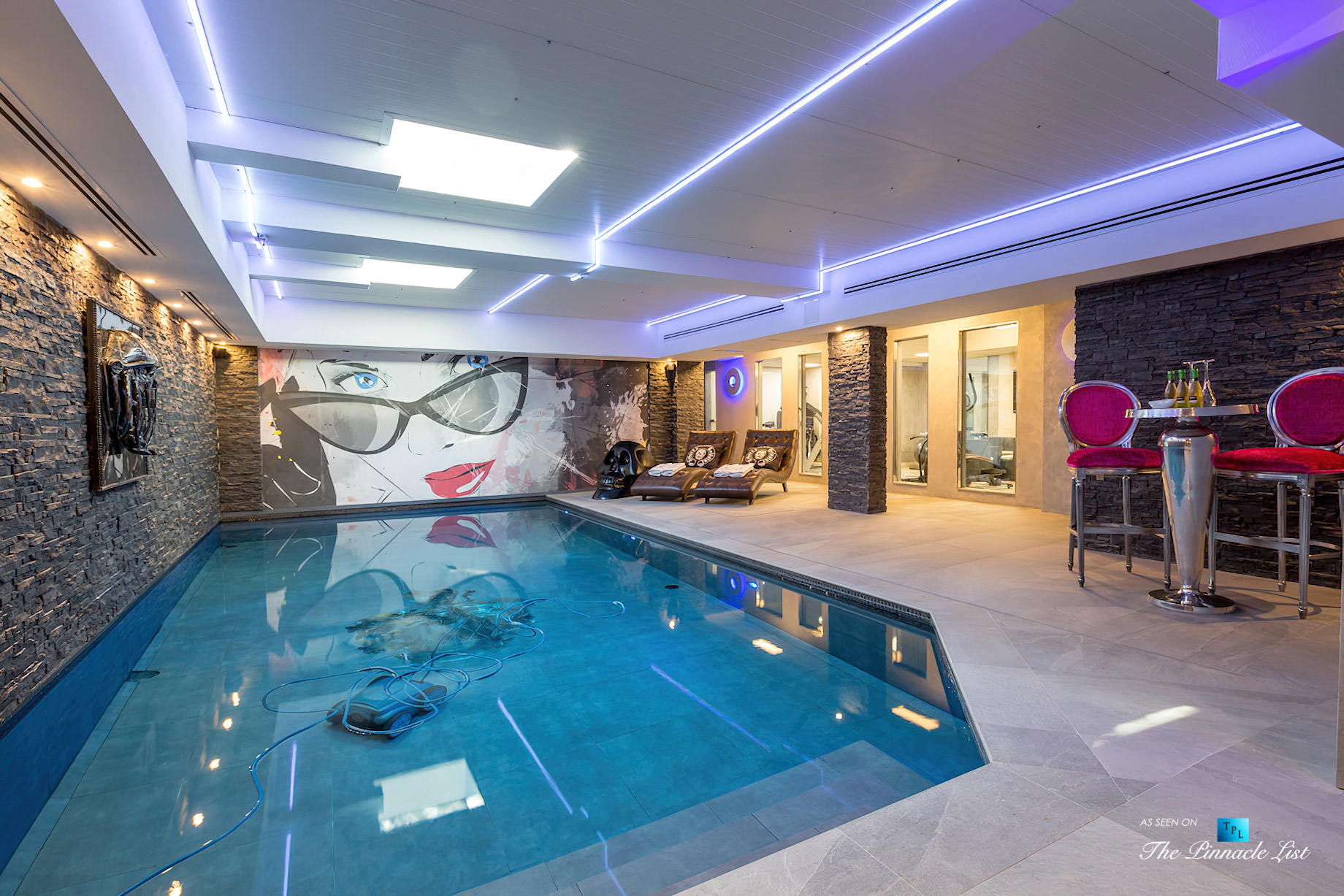 This villa really does have it all, a helipad, fitness room, Jacuzzi, games room, wine room, and cinema. However, its standout feature is its fantastic indoor heated swimming pool and outdoor dining area that rises some 10-metres up into the sky for a dining above the treetops experience. A villa with skydining is a guaranteed talking point at your next dinner party! Located just a stone's throw away from Moorea beach club, offering the ultimate St Tropez experience, Villa Crazy can be rented with an optional purple Rolls Royce and bright orange Hummer H2.
Which St Tropez luxury villa will you choose?