Sunshine, blue skies and gorgeous landscapes – Cannes offers all this and so much more. Ideally located along the stunning French Riviera overlooking a magnificent bay, this seaside town is the pinnacle of the sophisticated high life. Cannes is one of the most exquisite and exclusive destinations to visit, offering jet-setters the opportunity to experience all the finer things in life. With a spectacular array of luxury villas featuring every amenity one could dream of and more, we list the top five luxury villas in Cannes to rent for your next exclusive getaway.
Villa Amelie
This modern villa offers sweeping panoramic views of the sea and its rich green surroundings. Spanning 300 square metres, it has a timeless appeal, with a contemporary, welcoming interior. With six bedrooms, Amelia is able to welcome 12 guests. Stand-out features include the pool with amazing views of the Mediterranean. Ideally located, it's a short drive away from Le Suquet, the oldest neighbourhood in Cannes.
Villa Jade
Offering guests magnificent views of the bay of Cannes, this modern villa spans 550 square metres. Modern and contemporary, large windows flood the luxurious interiors that feature six bedrooms, with direct access to the infinity pool. Perfectly located in La Californie, near Croisette, it's secluded and calm.
Villa Lansa
This magnificent villa is the essence of luxury. Spanning 1,000 square metres, it features a cinema, sauna, hammam, gym, and a sweeping pool. Nestled on the hills of Super Canne, it features nine bedrooms and mesmerising views of Iles de Lérins and the Cap d'Antibes. Coming with a secondary guest house for staff or visitors requiring a bit more privacy, Lansa is perfect to accommodate a large party. Featuring traditional Tuscan architecture, the villa is one of the most elegantly pleasing to witness and will surely make an effect on a crowd during a formal event.
Villa Odaya
Spanning 100 square metres across five floors, this spectacular Cannes Villa offers a welcome atmosphere. Meticulously combining luxury, comfort and style, it offers every amenity from a stunning pool to a spa, gym, cinema and sauna, all looked after by the expert staff. With 12 bedrooms, it is the perfect villa for family and friends. Recently built, it comes with an incredible level of attention to detail and stunning craftsmanship more often seen aboard private yachts and jets.
Villa Eleganza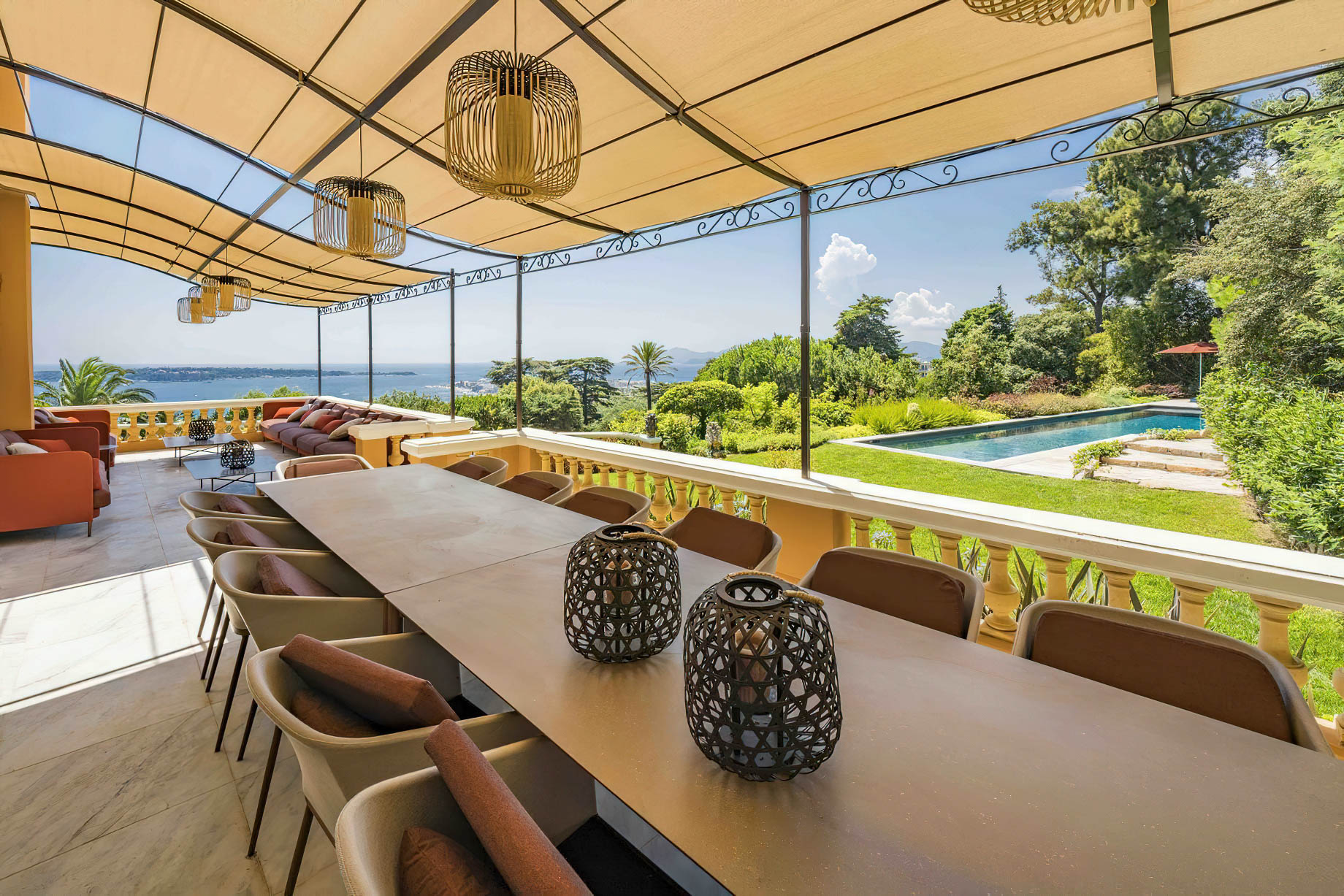 Able to accommodate up to 20 guests in 10 bedrooms, this villa offers beautiful exteriors and interiors. The heated pool has views of the Iles de Lérins and is complemented by the gym, sauna and cinema. Located in Super Cannes, it offers total privacy. Thanks to a gatehouse, a security team and lush vegetation surrounding the villa, you will enjoy true luxury far from the eyes of the crowd.
Finding the perfect villa can be a challenge and talking with a local agent will surely help you find the villa of your dream. From contemporary villas with unparalleled views of the sea, to traditional villas with infinity pools and utmost privacy, there will be the ideal villa to fulfil all expectations of a luxurious stay in Cannes.