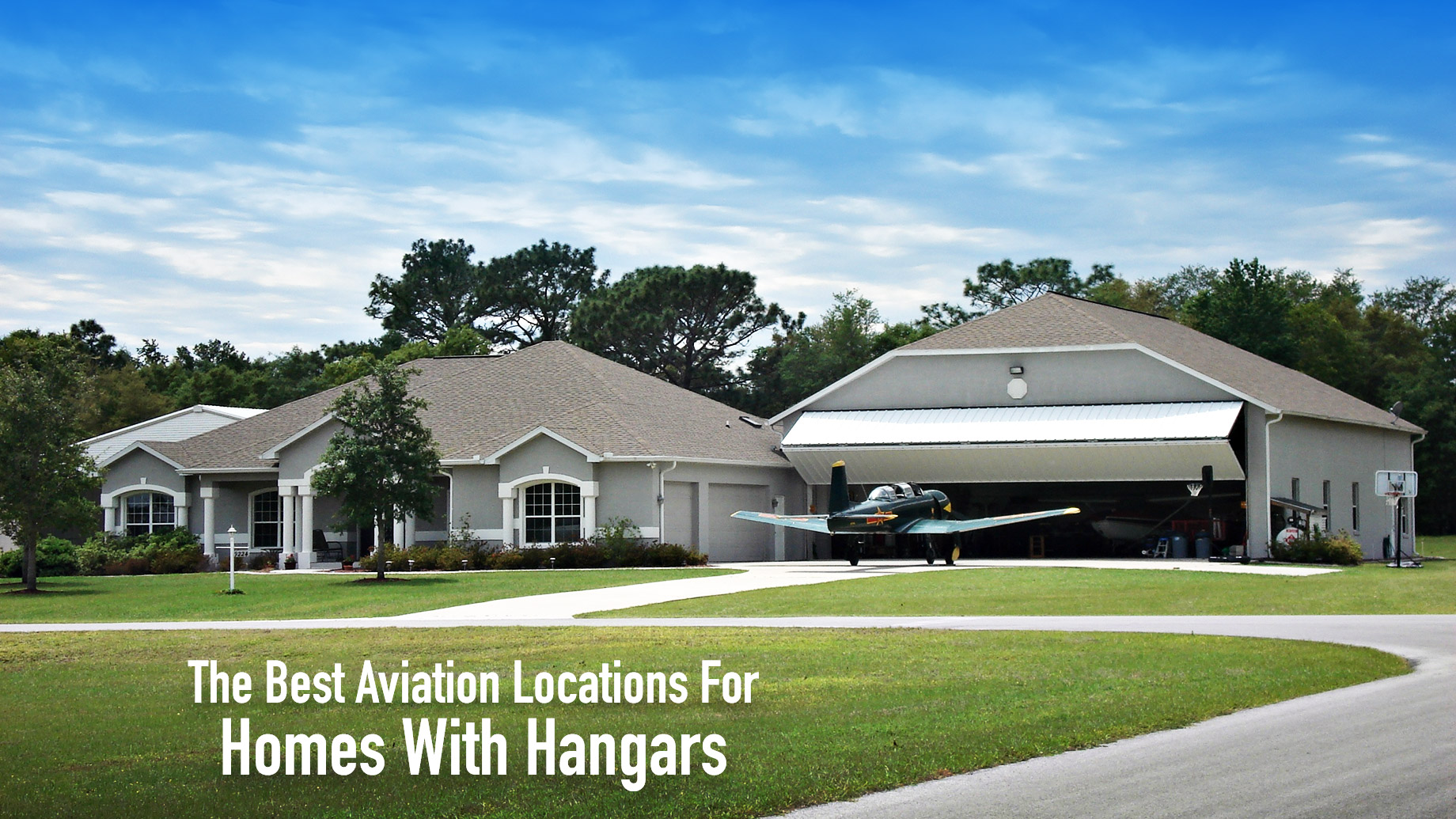 What details does your home with hangar doors have to have? Imagine having a spacious hangar right on your property, designed specifically to accommodate your aircraft. Where ideally will this home be located? Whether it's nestled in a scenic countryside or conveniently situated near an airport, the location plays a significant role in creating your ideal aviation lifestyle. How would your life change if you could store your plane conveniently at your home?
Keep reading to learn about the different homes with hangars out there.
Home in Port St. Lucie, Florida
You know that you are looking in the right place when you find a hangar home on Cessna Rd. This Key-West style 3-bedroom home sits close to the runway, allowing you to fly away for the evening or the weekend with a very short commute from the couch to takeoff. The expansive grass on the property leaves room to add another hangar in the future if you find your fleet of planes expanding. With a fuel tank inside, you won't have to worry about making any stops once you leave home.
Home in Alpine, Wyoming
Purchase a home in a highly coveted neighborhood along with its large custom hangar. This two-bedroom home has a newly updated interior in which you can experience incredible views in multiple directions. This corner lot is professionally landscaped to look incredible year-round. There is a new floor in the hangar, ready to house your plane as it waits for its next adventure.
Large Home in Port Orange, Florida
Perfect for a big family or a group vacation home, this five-bedroom home has almost every amenity you can think of. A pool, sauna, and tennis court will have you never wanting to leave. If you do feel like getting away, there is an expansive hangar that can fit multiple planes inside and keep them protected during the stormy Florida summers. Port Orange is located close to Daytona Beach, which means there will be no shortage of fun activities to take part in year-round.
Michigan Home Built For Planes
A man in Michigan built a home in which there are designated spaces for each plane. He realized that most rectangular hangars have space that is not being used in order for there to be space around the plane. He changed the blueprint by building a star-shaped home to house multiple planes. There are cement drives outside of the garages in order for the plane to drive from the home to the runway with ease. Thinking about designs that make it easier for you to access the plane could be an inspiration for your new hangar.
Helicopter Hangar in Queensland
Maybe planes aren't your preferred mode of private aviation. This hangar home was designed specifically to hold a helicopter. The glass wall allows you to see into the hangar while relaxing or entertaining within the home. The concept allows you to brainstorm ideas in which you can build the home with the hangar as a center focus versus it being detached from the home like a normal garage.
California Hangar Community
Speaking of a hangar being the center of attention, the Banman Live-Work airplane hangar in California was the start of the Santa Paula Airpark. The marriage of past and present design allows you to walk into a one-of-a-kind space in which the plane is only a small piece of the things to look at inside. The lighting design allows the space to feel large and open while exploring each corner as a place for conversation or relaxation.
Danville: A Hidden Hangar Town
If you walked past this home, you would never be able to tell that there is a plane stored inside. The owner of this has designed a hidden door that folds up to reveal the plane and a small town he has designed inside. While not all of the stores along this fake European street are real, they provide a unique aesthetic that a plain white garage or crowded hangar couldn't offer. The owner made this to offer something different when he goes to work via flying his plane. The thoughtful interior aesthetic of this hangar mirrors the interior aesthetic that Gulf Stream interiors frequently provide–typically, the latest in style and technology. 
Homes With Hangars
As you can see from the homes listed, homes with hangars can be built in a variety of locations. Most are in close proximity to a private airstrip or airpark in which they can easily navigate the plane out of the hangar and into the air in a matter of minutes. The many different hangar configurations allow for multiple planes or other hobby vehicles to be protected from outside weather conditions when they are not being used. Check out our website for more helpful articles like this one.