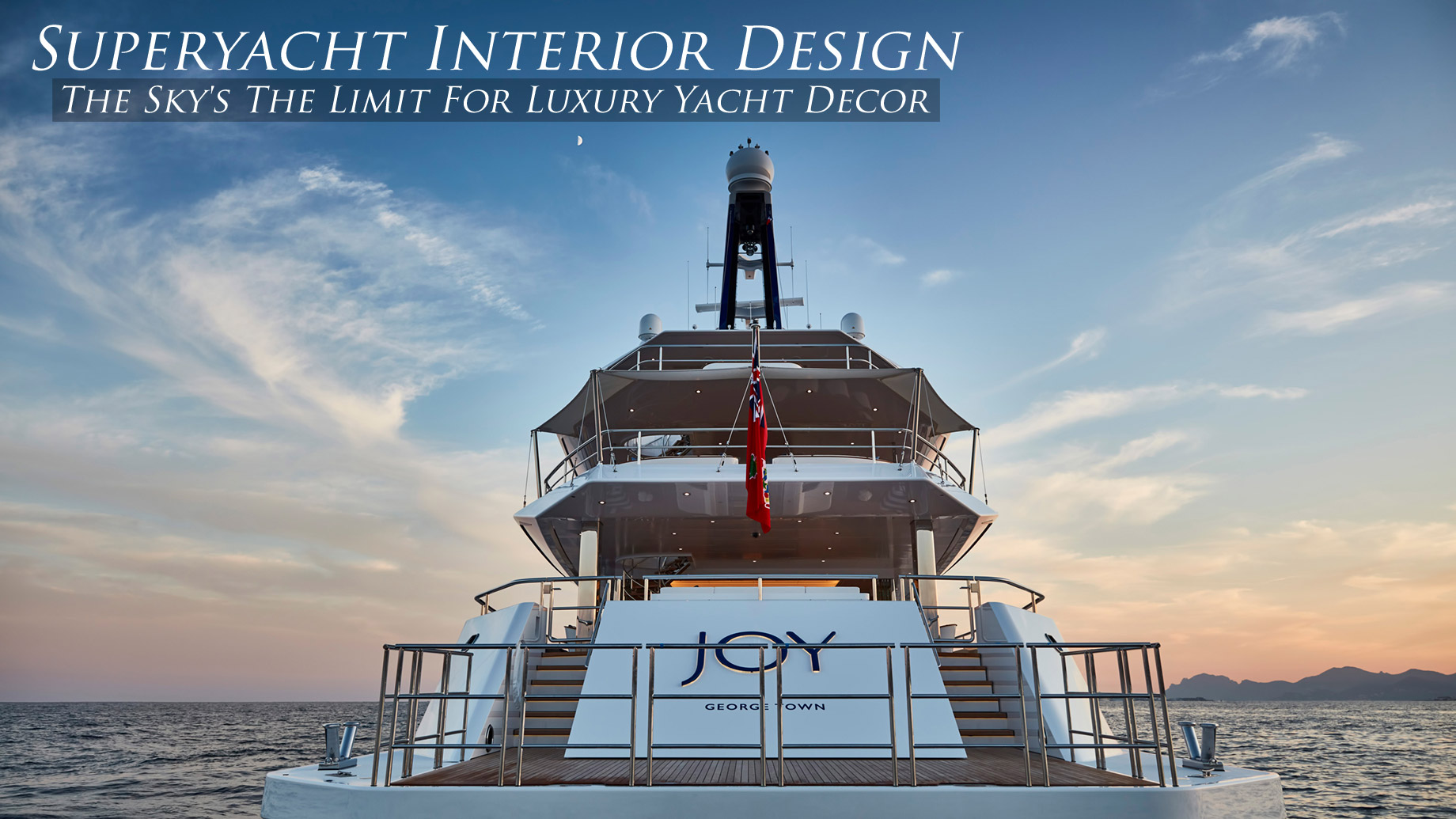 For a lucky few, owning a superyacht is an opportunity to explore some of the world's most exotic destinations in sublime comfort and exceptional style. And as well as a dedicated yacht crew to meet your every desire, plenty of exhilarating water toys and luxury amenities, and the ability to venture anywhere you choose, a superyacht's interior design is key to embracing the lifestyle that such a vessel affords.
Tailoring superyacht interior design to you
Finding the right superyacht for your lifestyle
Whether you are investigating how to buy a yacht from a brokerage or are building one from scratch, how you plan to use your yacht will determine the type of vessel you opt for. Are you an avid sailor or do you prefer the speed and convenience of a motor yacht? Will you be travelling to remote corners of the globe or cruising between the world's most exclusive marinas? Is it a love of water sports or the cultural offerings on shore that draws you to the idea of owning a yacht? Your lifestyle will be the main factor that determines both your choice of yacht and the style of the interiors.
Designing the interior of a superyacht
Your superyacht is your own private, floating home. Yachts, however, are very different from houses, and creating an elegant yet comfortable interior requires specialist knowledge from yacht interior design firms. Walls can't simply be knocked through, and the motion while at sea calls for furniture that will not roll around, cabinets that will not open and spill out their contents, and accessories that can be quickly and safely stowed away.
Even on the largest yachts, space is limited, so interiors need to be practical, with plenty of storage and materials durable enough to withstand the harsh marine environment. You'll therefore need to enlist the services of a yacht interior design firm that understands the challenges of outfitting these vessels, and can work with you to inject your personal style into a functional design.
Choosing your style
If you thought private yacht interiors were all narrow bunks and round portholes, think again. Today's superyachts boast spectacular, cutting edge interiors on a par with the world's most exclusive homes. Superyacht interior design styles vary enormously – discover five of our favourites below…
Minimalist chic
CNB's 30.5m sailing yacht CHRISCO, is a study in modern minimalism, with a crisp white and black colour scheme, sleek furniture and cool, contemporary bathrooms.
Classic elegance
The 62m Feadship NEW HAMPSHIRE is reminiscent of the luxury liners of yesteryear, with marble bathrooms, rich hardwoods and thick, creamy carpets.
Laidback cool
The 34.2m Custom Line HAPPY DAYS, built for island hopping and scuba diving, has a more beach-chic vibe that makes use of pale wood and colourful soft furnishings.
Opulence unbounded
The 72m Tankoa motor yacht SOLO is different again: an opulent mix of plush fabrics, chrome and glass lend it a sleek, contemporary aesthetic.
Artistically inspired
The 50m Philip Zepter motor yacht JOYME features funky pop art interiors with bright flashes of scarlet and bold murals, and incorporates a gym, sauna and hammam.
As you can see, there is superyacht to match every taste!
Finding the right superyacht interior design firm
The yachting world is an exclusive one, and therefore relatively small, so finding a specialised yacht interior design firm to refit or design your superyacht's interior is often a case of asking around within the yachting community. If you're attending a boat show to tour yachts for sale, talk to the professionals there or browse yachting publications and websites. Be sure to get a good idea of their past work and clientele; this will be the best way to determine whether they are the right fit for you.
The world of superyachts holds so many options for stunning decor – what are you waiting for?