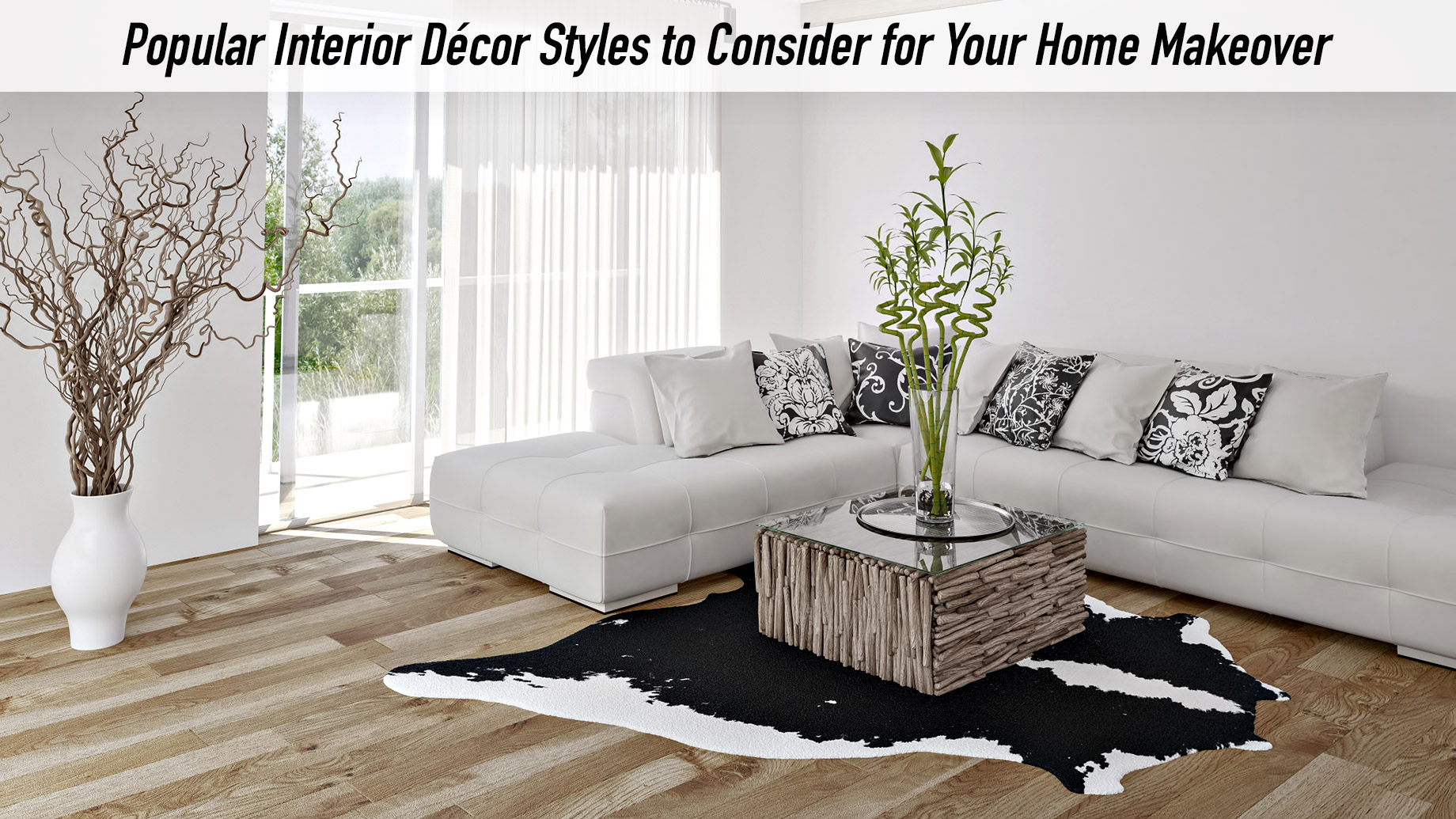 There's nothing like spending some time in your own home to get you dreaming about some home renovations. Maybe you're an HGTV junkie or scroll Instagram looking at perfectly style influencer rooms.
You think to yourself, I want my house to look like that. Do you ever look at a room and feel a connection to it? Maybe it's your interior décor style and you connect with it.
Maybe all those interior décor styles have you confused and overwhelmed too. Trying to find your perfect style for your home décor spruce up?
Read on to learn all about several popular decorating styles you might like to pursue for your home.
Modern Farmhouse
Are you a Chip and Joanna fan? Like millions of Americans across the country, you might sigh and think, I love every room Joanna Gaines decorates.
If that's the case, then look no further, you've found your style, the modern farmhouse.
Farmhouse home decor features light colors with lots of white. Imagine exposed beams and soft furniture too.
Modern farmhouse ditches the "kitchy" look of the farmhouse with its roosters and plaid. Instead, it gives a warm and cozy vibe. A modern farmhouse room invites you for a lingering cup of coffee and in a soft overstuffed chair.
Mid-Century Modern
Mid-Century modern is having a bit of renaissance, a comeback of sorts. Some might even suggest, it never left.
The style is reminiscent of the 1950s and early 60s Americana. In its early days, it was all about functionality and clean lines. Following a time of two World Wars, the design world was ready for clean and functional.
Mid-century modern has features of modernism with organic clean shapes. There are no intricate designs and the fabrics will remain simple without much or any pattern.
Modern Traditional or Transitional
Traditional décor remains a staple in the design world. It's the basis for many décor decisions. What many designers are doing with traditional is to mix some styles to give it a fresh spin in the design world.
Modern traditional takes all the elements of traditional décor and gives it a twist with some modern elements. You might select traditional seating on a sofa and chair and ottoman. Then choose to add a modern glass coffee table and modern lighting.
Transitional is very similar in theory. In the transitional style, you take the many of the elements of traditional décor and add in some modernism lines.
Industrial
Imagine your favorite restaurant with its brick exposed wall and high ceilings. The industrial style has been around for a while, yet remains a hip choice for lofts and renovated warehouse-like spaces.
Features of the industrial style not only include the exploded brick and wood floors but also open ceilings. The exposed wood beams and ductwork become a feature in industrial design.
Also, a part of industrial design is iron and metal features. It's common for industrial design to connect with modernism by balancing all the wood and brick with neutrals white and gray color palettes.
Coastal
Are you a lover of all things related to the beach? You might find the coastal design of your design aesthetic. Many coastal designs use elements of both modern and traditional décor.
For coastal design though, it's really about the color palette. Selecting all those colors of found sea glass and shells, blues, greens, and neutrals.
Coastal design can be soothing and reminiscent of the beach. But homeowners can often go astray with coastal by adding in too much beachy décor, think anchors and seashell art.
Bohemian
Do you look at the rooms in the Anthropologie catalog and swoon? You want that bohemian vibe for décor.
The bohemian decor features a perfect combination of pattern and color. Done right, there are lots of both, yet it looks like it happened over time, instead of in a planned design bubble.
You might see some animal print, tapestry, even a faux fur rug thrown down on the floor. The bohemian enthusiast loves vintage treasures and will mix them into the furniture and décor elements.
The biggest feature of the bohemian style is the layers in space, whether that's layered vintage quilts on your bed or stacked books and a collection of vintage pottery.
Scandanavian
The Scandinavian style has long been inspired by the Nordic region of Europe. Some would suggest Ikea even gave the style mainstream popularity.
Scandanavian décor features clean lines and functional furnishings. Often pressed woods or lights woods are part of the design element. The clean lines of Scandinavian design often give a sculptural vibe to a design space.
Rooms featuring Scandanavian design aren't overcrowded. They're airy and bright often using lots of white as part of the décor.
French Country
The French country décor style is another type that has evolved over time. First, inspired by the rural French wine country, it included brick and warm color tones.
Since then, it has merged with a farmhouse and shabby chic style. Now you would look at French country and see French-inspired shapes in the furniture, think Louis VI chairs. You'd also see lots of white and natural-looking wood.
The shabby chic décor style and French country often overlap and affect each other. Those who merge the styles well layer their white furnishing with antique-inspired pieces.
Contemporary
Many people use the term contemporary and modern synonymously, although they shouldn't. Modern décor has straight, hard lines. It doesn't have the freedom that more contemporary styling has.
Contemporary design uses some features of modern décor and blends them with contemporary influences.
In modern décor, you wouldn't see any curved or rounded pieces of furniture, wherein contemporary you might see some Scandinavian influence mixed in to create a contemporary look.
Home Interior Décor Styles
Are you inspired to tackle your home renovation? Now that you've heard about these interior décor styles have you narrowed down your design aesthetic?
Remember, good design is a lot about what feels and looks right for you. Start with a style and add to it until the room feels right for you.
For more articles like this one, be sure to visit our blog page often.