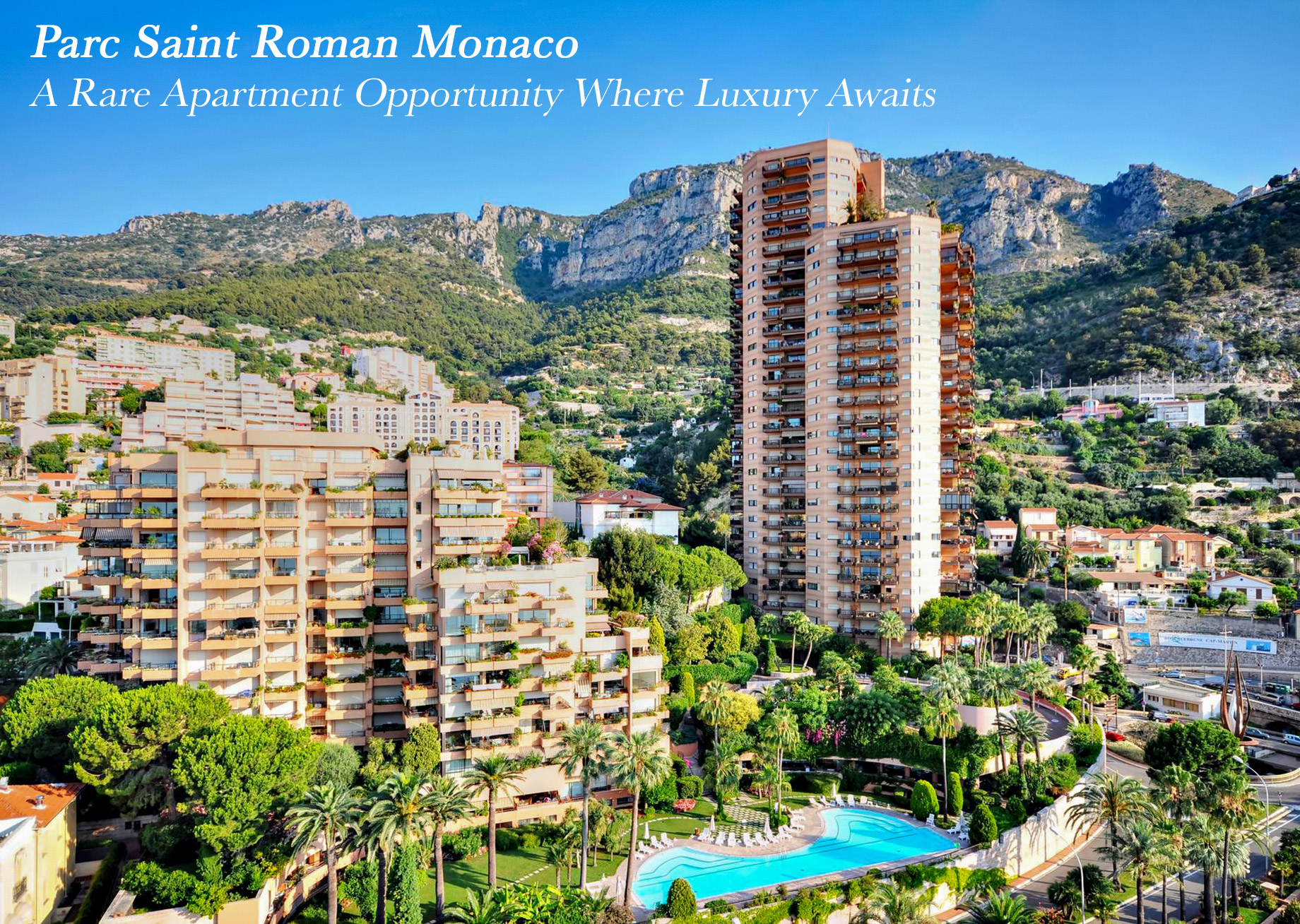 A rare opportunity has arisen to purchase a spectacular apartment in the highly sought-after complex of Parc Saint Roman Monaco.
Located in the popular district of La Rousse, this spectacular apartment in Parc Saint Roman Monaco boasts a raft of wonderful amenities and voluminous proportions and will no doubt appeal to the discerning buyer in search of a luxury residence in one of the most desired locales in the world.
Luxury awaits in Parc Saint Roman Monaco
Spanning some 74-square-metres, this beautiful 2 room apartment in Parc Saint Roman Monaco offers everything the discerning buyer requires, including a spacious living room ideal for entertaining, bedroom with ample wardrobe space, bathroom and separate guest toilet and laundry room. The apartment also includes a well-equipped kitchen and large terrace space boasting fabulous views of the Mediterranean Sea stretching out into the horizon. The terrace has thoughtfully been enclosed and incorporated into the main living area, offering a great bonus space.
Beautifully maintained, this Parc Saint Roman Monaco apartment also benefits from a wonderful range of amenities, including a fabulous swimming pool, pool house, sauna, fitness room, and 24-hour security. There is also the opportunity to purchase a parking lot in the same building if desired.
An ideal location in La Rousse
Monaco's northernmost ward, La Rousse is an affluent residential neighbourhood that borders the small towns of Roquebrune Cap Martin and Beausoleil, France. Parc Saint Roman Monaco is ideally situated, close to all the world-class amenities that the principality offers.
Residents of La Rousse are just a stone's throw away from the popular beaches of Larvotto, as well as the legendary Monte Carlo Country Club which boasts a wonderful range of amenities, including tennis courts, squash centre, fitness club, and putting green. You'll also find the Monte Carlo Bay Hotel & Resort just a short stroll away from this Parc Saint Roman Monaco apartment, where award-winning amenities await, including restaurants and bars, swimming pool and spa.
Monaco's real estate market
Located along the stunning French Riviera, residents of Monaco not only benefit from an agreeable Mediterranean climate, but also enjoy the principality's famed luxury lifestyle, including access to lavish resorts, award-winning restaurants, exquisite boutiques, and some of the most premier events in the world. Of course, Monaco residents also enjoy a favourable tax system with no income tax levied, a stable political and economic climate, and a world-class infrastructure. All of this means that Monaco is one of the most sought-after destinations in the world to live, with many of the world's wealthiest, including VIPs and celebrities, seeking to buy an apartment in Monaco. Due to the popularity of the principality, Monaco has one of the most in-demand real estate markets in the world. This is why it is important that if you desire to buy an apartment in Monaco, such as this one in Parc Saint Roman Monaco, that you work with a reputable real estate agent, such as the team of experts at La Costa Properties Monaco.