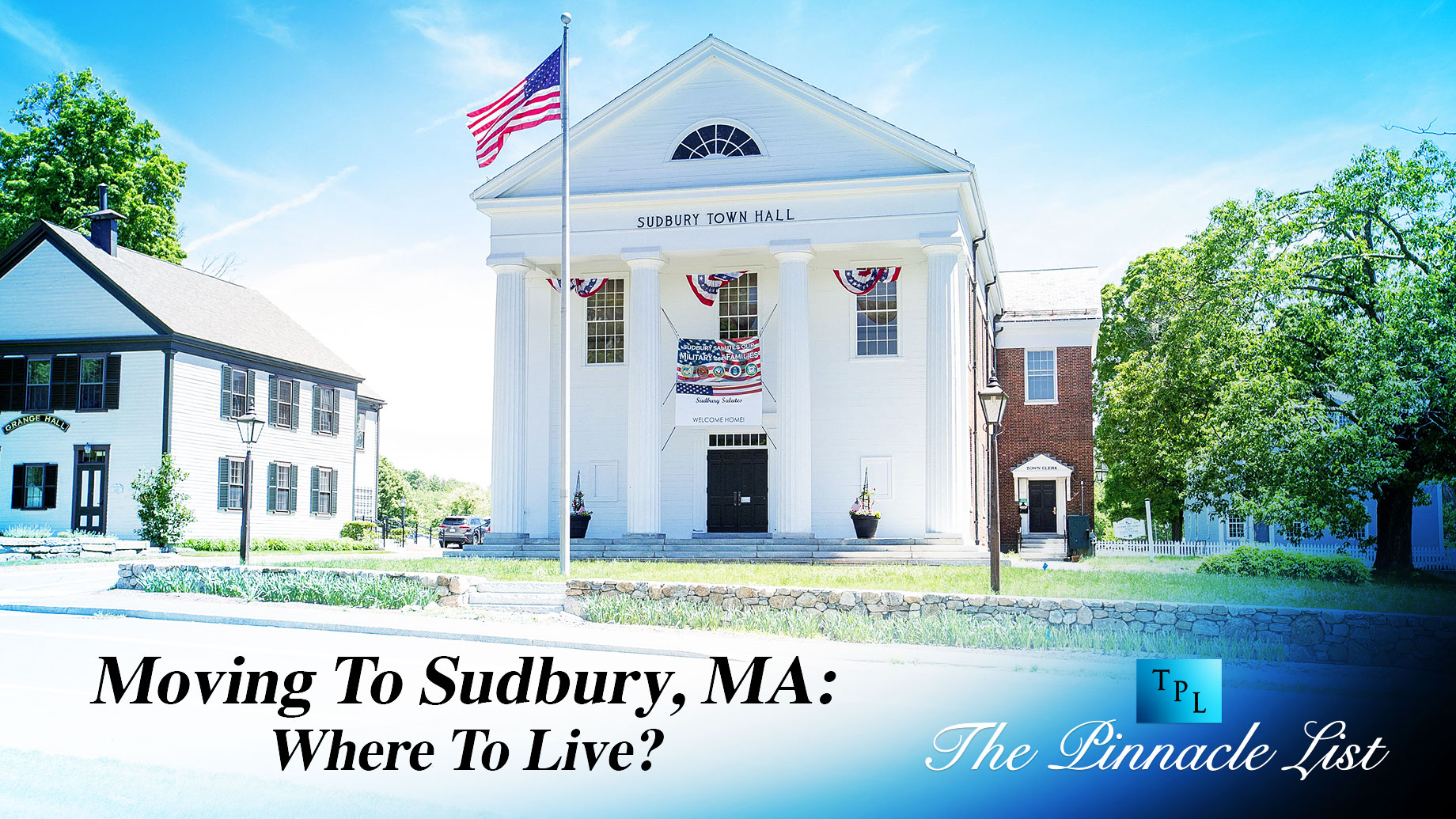 Are you planning on moving to Sudbury, Massachusetts? This quaint town, located in Middlesex County, offers a charming and peaceful environment, making it an attractive destination for families and professionals alike. With its excellent schools, beautiful neighborhoods, and a wide range of amenities, Sudbury provides a high quality of life. In this article, we will explore the different aspects of living in Sudbury, including housing options, neighborhood highlights, education, transportation, cost of living, job market, recreational activities, and more. So, let's dive in and discover why Sudbury may be the perfect place for you to call home.
What To Know Before Moving to Sudbury, MA
Moving to a new place can be an exciting yet overwhelming experience. Whether you're relocating for work, education, or a change of scenery, finding the right place to live is crucial. Sudbury, MA offers a serene suburban lifestyle with easy access to nearby cities like Boston and Worcester. Let's explore what Sudbury has to offer in terms of housing options, neighborhood highlights, schools, transportation, and more.
Overview of Sudbury, MA
Sudbury is a historic town located about 20 miles west of Boston. Known for its scenic landscapes and historical significance, Sudbury provides a perfect blend of suburban tranquility and convenient city access. The town boasts an impressive selection of housing options, ranging from charming single-family homes to modern apartments and townhouses. Sudbury is also renowned for its strong community spirit, which is reflected in various events and activities throughout the year.
Housing Options
When it comes to housing, Sudbury offers a diverse range of options to suit different lifestyles and preferences. From spacious homes with large yards to cozy townhouses, there is something for everyone. Sudbury's real estate market provides an array of choices, including historic properties, new developments, and established neighborhoods. Whether you're looking for a quiet retreat or a vibrant community, Sudbury has it all.
Neighborhoods
Sudbury is divided into several neighborhoods, each with its own unique characteristics and charm. Here are some notable neighborhoods in Sudbury:
Sudbury Center: This is the heart of the town, featuring historic buildings, quaint shops, and a strong sense of community.
North Sudbury: Known for its spacious homes and scenic landscapes, this neighborhood offers a peaceful suburban lifestyle.
South Sudbury: Located closer to major highways, this area provides easy access to nearby cities and amenities.
Haynes: This family-friendly neighborhood is known for its excellent schools and well-maintained parks.
Schools and Education
Sudbury is renowned for its exceptional education system. The town is served by the Sudbury Public Schools district, which includes several highly rated elementary, middle, and high schools. The district focuses on academic excellence, providing students with a well-rounded education. Additionally, Sudbury is home to renowned private schools, offering alternative educational options.
Transportation
Sudbury offers convenient transportation options for both commuting and exploring the surrounding areas. The town is well-connected to major highways, including Route 20 and Interstate 495, making it easy to reach nearby cities. Public transportation is also available, with commuter rail stations in neighboring towns providing access to Boston and other destinations. Sudbury's bike-friendly environment and extensive trail network offer alternative transportation options and opportunities for outdoor activities.
Recreation and Amenities
Sudbury boasts a wide range of recreational activities and amenities that cater to diverse interests. The town is known for its beautiful parks, hiking trails, and conservation areas, providing ample opportunities for outdoor enthusiasts. Sudbury also offers various sports fields, playgrounds, and community centers for residents of all ages. The town hosts numerous events throughout the year, such as farmers markets, art festivals, and holiday celebrations, fostering a sense of community and engagement.
Cost of Living
While Sudbury offers a high quality of life, it's essential to consider the cost of living. Sudbury's housing prices and overall cost of living are generally higher than the national average. However, the town's amenities, excellent schools, and safe environment make it a worthwhile investment for many. It's advisable to budget accordingly and explore different housing options to find the right fit for your needs and financial situation.
Job Market
Sudbury's proximity to Boston and other major employment hubs provides residents with a range of job opportunities. The town itself is home to various businesses and organizations, contributing to local employment. Additionally, Sudbury residents can easily commute to nearby cities for work. The diverse job market in the Greater Boston area offers employment prospects in industries such as healthcare, education, technology, finance, and more.
Shopping and Dining
Sudbury offers a mix of local shops, boutiques, and popular chain stores, providing residents with convenient shopping options. The town's central area, Sudbury Center, features charming shops, galleries, and restaurants, offering a unique shopping and dining experience. For a wider selection, residents can visit nearby shopping centers and malls. Whether you're looking for everyday essentials or specialty items, Sudbury has something to cater to every need.
Safety and Crime Rate
Sudbury is known for its safe and secure environment. The town has a relatively low crime rate compared to national averages, making it an ideal place to raise a family. The Sudbury Police Department ensures the safety and well-being of residents through proactive community engagement and effective law enforcement strategies. Additionally, Sudbury benefits from a tight-knit community where neighbors look out for one another.
Community and Events
Sudbury takes pride in its strong community spirit and offers various events and activities that foster a sense of belonging. From summer concerts in the park to farmers markets and holiday celebrations, there is always something happening in Sudbury. The town encourages community engagement through volunteer opportunities, clubs, and organizations, allowing residents to connect with like-minded individuals and make lasting friendships.
Healthcare Facilities
Sudbury is home to several healthcare facilities, ensuring residents have access to quality medical care. The town has medical centers, clinics, and specialists in various fields, providing comprehensive healthcare services. Additionally, Sudbury's proximity to Boston offers access to world-class hospitals and renowned medical institutions, ensuring residents have a wide range of healthcare options available.
Moving Tips
If you're planning a move to Sudbury, here are a few helpful tips to make the process smoother:
Research neighborhoods: Explore the different neighborhoods in Sudbury to find the one that best suits your lifestyle and preferences.
Plan your budget: Consider the cost of living and housing options in Sudbury to create a realistic budget for your move.
Visit before moving: If possible, visit Sudbury before making the final decision to get a feel for the town and its amenities.
Connect with locals: Reach out to current residents, join online forums or social media groups to gather insights and connect with the Sudbury community.
Hire a top-rated Sudbury moving company: To ensure a stress-free move, consider hiring professional movers who are experienced in handling relocations to Sudbury.
Thoughts On Moving to Sudbury
Sudbury, MA offers a welcoming and serene environment, making it an attractive place to live for individuals and families. With its beautiful neighborhoods, excellent schools, recreational opportunities, and strong community spirit, Sudbury provides a high quality of life. Whether you're seeking a peaceful retreat or convenient access to nearby cities, Sudbury has something to offer. So, if you're considering a move to Sudbury, start exploring the housing options, neighborhoods, amenities, and everything this charming town has to offer.