You know you want your home to be luxurious. You know you love the way it sounds, and you want to experience it in your home every day. But what exactly is luxury? And how do you get it?
According to Elle Décor, luxury can be defined many different ways, but for 68 percent of designers, in order to have luxury you need to have quality. While design, functionality and exclusivity are great elements to include in your décor, if the items in your home are not made from quality materials, you are not really living a luxurious life. There are four ways to keep you up-to-date with current design trends while still making luxury and quality a priority.
Expand Your Patio
One of the clearest indicators that you are living in luxury is if you have an outdoor kitchen. This does not simply mean a nice gas grill accompanied by a well-made patio set. True luxury outdoor kitchens can cost anywhere from $50,000-$200,000, according to AOL.
Luxury outdoor kitchens include the best grill money can buy, which include multiple burners, grilling stations and a bun toaster. They can have built-in sinks, refrigerators and a beer keg. High-end outdoor kitchens are all about entertaining, and no expense should be spared. To help you and your guests relax, you will also want to invest in a high-end cushioned patio set made with aluminum or teak. Fade-resistant fabrics for your furniture will stay looking new for years to come.
Take Inspiration From Outdoors
Vogue states that everything floral is a big trend this season. However, when your goal is luxury you need to be careful when working with flowers. Some floral items can just make your home look cheap (think fake floral arrangements or poorly-made wallpaper), while others can really bring it up to another level of luxury. One easy way to bring flowers into your luxury design is with drapes. Floral silk drapes are available and are available in a variety of colors and patterns to accent any design scheme. You can find some fine art that interprets floral prints in impressive new ways.
Upgrade Your Bathroom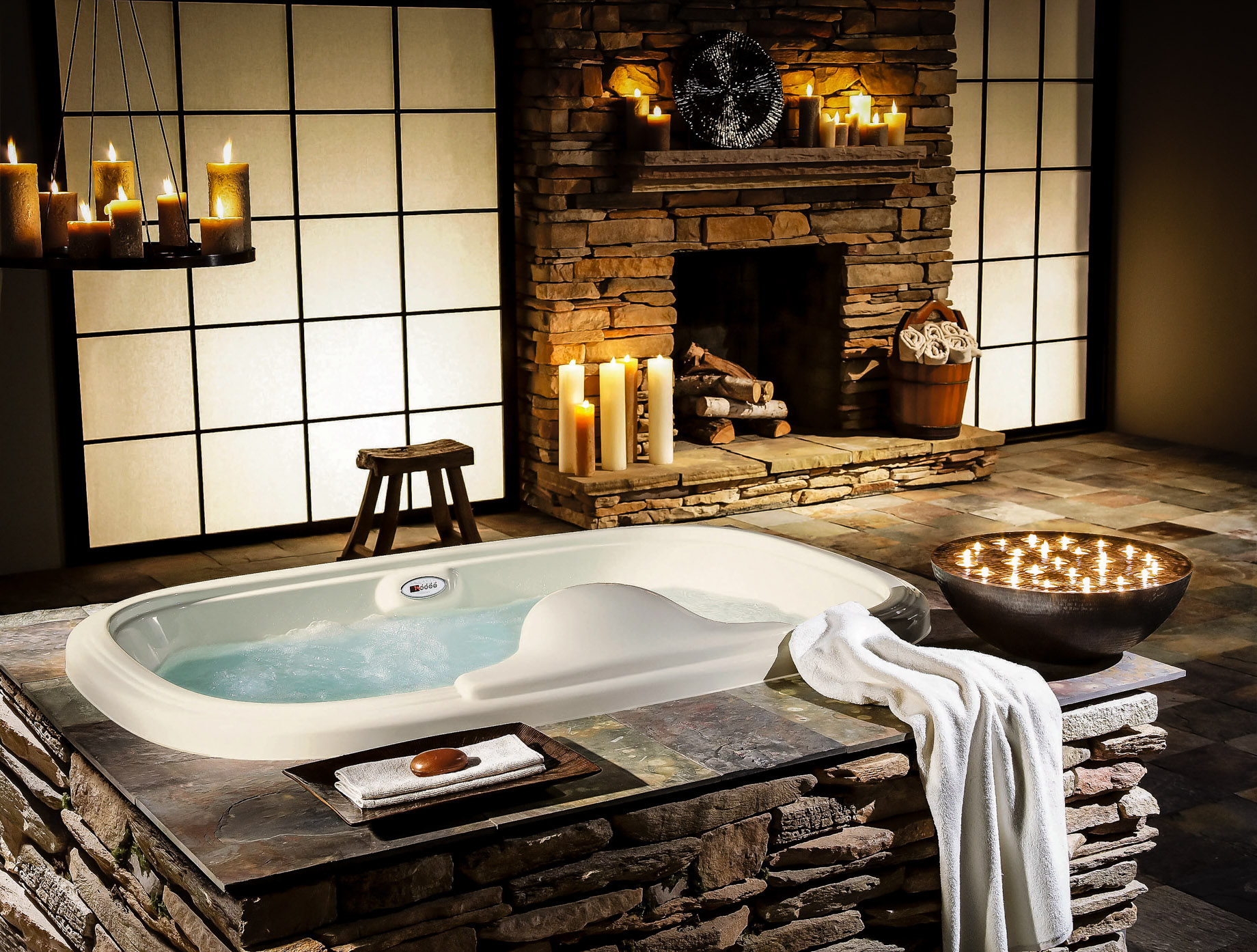 The epitome of living in luxury is a high-end bathroom, one that could rival even the nicest five-star hotel. When creating your spa bathroom, it is all in the details. Heated floors and drawers will bring you the ultimate comfort experience. Jetted bathtubs and multiple showerheads will take you to a tropical oasis every time you shower.
Bring on the Brass
House Beautiful boldly states that brass is one of the biggest must-haves this season. Thanks to its shiny appearance, it naturally conveys luxury. Incorporate brass into your accessories (think lamps, bookends and vases). Accentuate your sofa with a show-stopping brass cocktail table. Even an exquisite brass railway can bring luxury to your staircase.
Don't forget that an upscale home with expensive and rare furniture can often be a target for home theft. Safe Sound Family has a helpful guide on keeping burglars from entering your property, that's worth a read.
When it comes to creating a luxurious home, it is all about the details. As long as you pay attention to the trends and are committed to never settling for anything but the best, you will be living in luxury in no time at all.