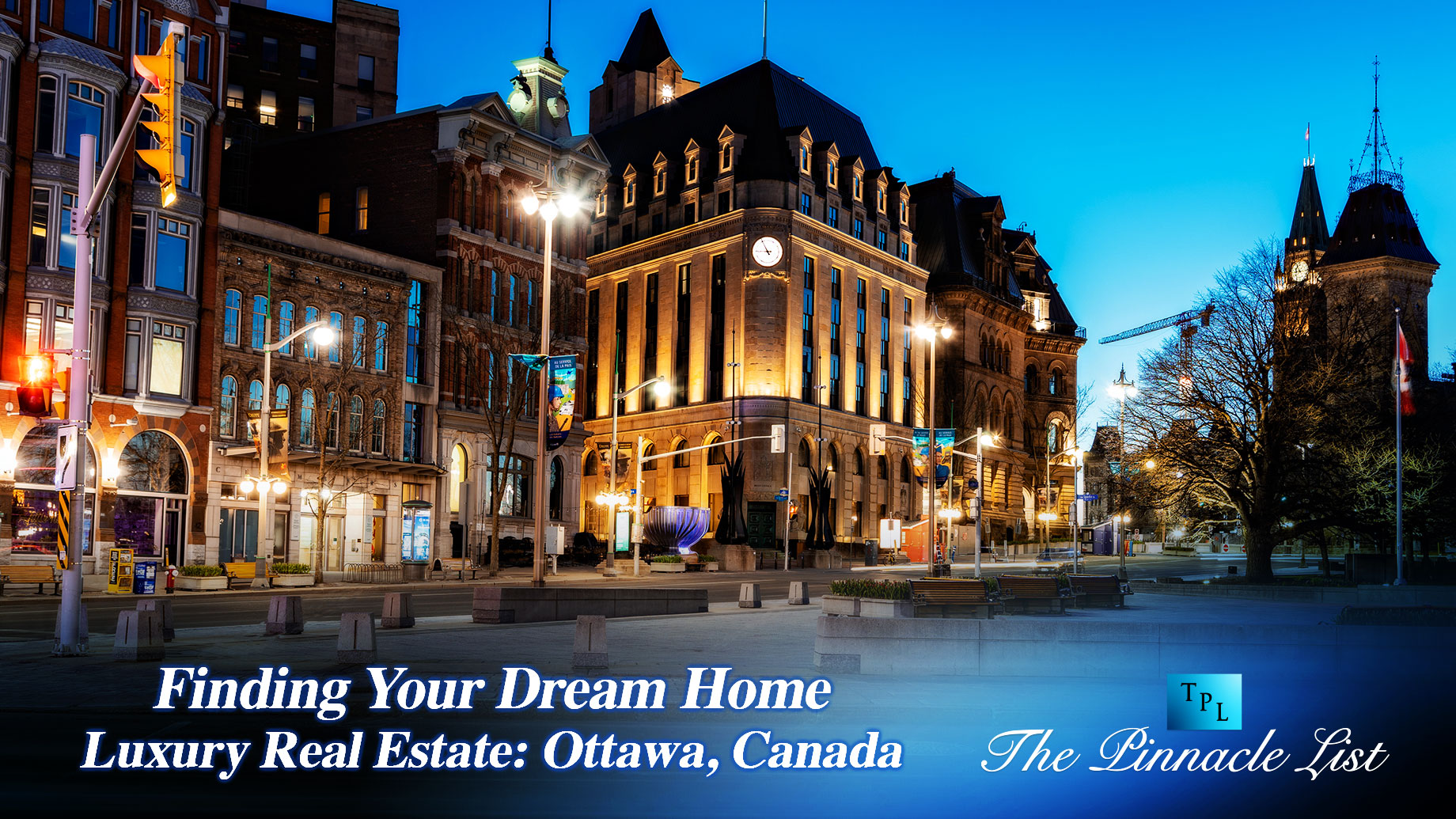 Welcome to the world of luxury real estate in Ottawa, Canada—a location filled with high-end properties and an ideal destination for those seeking to elevate their lifestyle. 
In this journey toward your dream home, you will encounter options boasting ample living space, modern finishes, and stunning views.
Luxurious homes in Ottawa are known for their thoughtful family-oriented designs, high-end finishes, and comfort that blend seamlessly with luxury. 
This detailed guide will help you, whether you're aiming to invest in property or plan home improvements. 
Throughout this article, we will refer to insights and observations from Lyne & Dominique, professionals with years of experience in the Ottawa real estate market. 
Evolution of Luxury Real Estate in Ottawa
Ottawa's luxury real estate market has grown immensely over the years. Early in its history, the focus was primarily on essential housing, with luxury being an element reserved for the affluent few.
Over time, the city has seen a rise in wealth and economic prosperity, leading to a growing market for high-end properties and luxurious homes.
The City's Real Estate Market
The real estate market in Ottawa is a diverse one, characterized by a mix of property types ranging from condos and townhouses to detached homes and guest houses.
The luxury property segment, in particular, has seen robust growth over the past few years.
High-end properties are scattered throughout the city, offering residents the advantage of staying near community amenities and the city's natural beauty.
As the city expands and evolves, so does the demand for more luxurious, spacious living environments.
Noteworthy Luxury Neighborhoods in Ottawa
Ottawa's luxury real estate market thrives in several distinct neighbourhoods, each characterized by unique elements and individual charm.
These neighbourhoods provide residents with a perfect blend of community amenities, spacious living, picturesque views, and access to ample green spaces, making them prime locations for luxury properties.
1. Rockcliffe Park
Known as one of Ottawa's most affluent neighbourhoods, Rockcliffe Park is synonymous with luxury and exclusivity. The area is famed for its grand, luxurious homes that often boast high-end finishes, expansive floor plans, custom kitchens, and large landscaped gardens.
The ample living space that these homes offer caters perfectly to those who prioritize comfort and elegance.
Set amidst natural beauty, Rockcliffe Park also offers breathtaking views of the Ottawa River, serving as a constant reminder of the city's picturesque charm.
The neighbourhood also boasts well-maintained green spaces and parks, encouraging outdoor activities and recreation. Its strategic location provides residents with a quiet, suburban feel while remaining a short drive away from the city's central business district.
2. The Glebe
A dynamic blend of historical charm and modernity, The Glebe is another high-end neighbourhood frequently sought after by prospective homebuyers.
The Glebe showcases a variety of houses for sale, from century-old homes with vintage charm to new constructions with modern finishes. The area features luxurious homes equipped with modern amenities, such as private pools and custom kitchens.
Despite its close proximity to the bustling downtown area, The Glebe retains its serene neighbourhood charm. It's close to Parliament Hill, allowing residents easy access to the political hub of Canada.
Local amenities such as upscale boutiques, gourmet restaurants, and specialty shops add to the appeal of this neighbourhood. Its numerous green spaces, including the famous Rideau Canal, offer residents a perfect escape from city life.
3. Westboro
Westboro is a vibrant neighbourhood that has seen significant growth over recent years. The area is characterized by its luxurious homes, many of which feature modern finishes, expansive floor plans, and ample natural light.
Westboro's prime location near the Ottawa River means many properties boast stunning views. Westboro combines city living with access to outdoor activities, making it a favourite among active families and professionals.
Its bustling main street is home to numerous boutique shops, restaurants, and cafes, contributing to a lively community atmosphere. The neighbourhood also has several parks and green spaces, adding to its family-friendly appeal.
4. New Edinburgh
A historic and upscale neighbourhood, New Edinburgh is known for its tree-lined streets and a variety of architectural styles.
The neighbourhood offers a mix of charming historic homes and modern luxury residences, each designed with ample living space and high-end finishes in mind.
New Edinburgh's strategic location provides easy access to the best of what Ottawa offers, including high-end restaurants, boutique shopping, and cultural landmarks.
The neighbourhood is also a stone's throw away from the Governor General's residence, further emphasizing its status as a prime location for luxury living.
5. Sandy Hill
Just east of downtown Ottawa, Sandy Hill offers a mixture of grand old houses and modern apartments. It's a diverse neighbourhood, home to diplomats, professionals, and families alike, all attracted by the luxurious homes and excellent local amenities.
Sandy Hill is notable for its location, within walking distance of the University of Ottawa, Rideau Centre, and Byward Market.
The neighbourhood also houses embassies, religious institutions, and community organizations, further enhancing its cultural significance.
The range of architectural styles, from Victorian to modern, provides a variety of choices for those looking for luxury property in Ottawa.
6. Old Ottawa South
Old Ottawa South is another neighbourhood known for its luxurious homes and the sense of community it offers.
Nestled between the Rideau River and the Rideau Canal, this neighbourhood features a mix of older single-family homes and new developments, all characterized by spacious living areas, high-end finishes, and custom kitchens.
Many properties in Old Ottawa South offer stunning views of the river or canal, enhancing the neighbourhood's appeal. Its tree-lined streets, parks, and easy access to shops and restaurants on Bank Street make Old Ottawa South an attractive place to live.
The neighbourhood also boasts a vibrant community spirit, with frequent festivals and events that contribute to a warm, welcoming environment.
Factors Influencing Property Values in Ottawa
Several factors contribute to the value of luxury real estate in Ottawa.
Proximity to Amenities and Landmarks: Location plays a significant role in determining property values. Properties near community amenities such as schools, hospitals, shopping centers, and parks often hold more value.
Architectural Style and Home Age: The architectural style and age of a home can significantly impact its value. Homes with timeless architectural designs and modern amenities often demand higher prices. Similarly, historic homes that have been well-maintained or updated can fetch a premium price in the market.
Neighbourhood Reputation and Demand: Neighborhood reputation also influences property values. Neighbourhoods known for their safety, community spirit, and availability of amenities tend to be more desirable and command higher property prices.
Market Trends: The overall health of the real estate market in Ottawa also impacts property values. A booming market can drive prices, while a slow market may result in lower property values.
Guide to Buying Luxury Real Estate in Ottawa
When it comes to purchasing luxury real estate in Ottawa, there are several factors to consider.
When is the best time to buy? Timing can play a critical role in purchasing a property. Generally, spring and fall are considered the peak real estate seasons, but there might be more competition during these times.
What to look for in a luxury property? Important features to consider when buying a luxury property include the location, size, architectural style, modern finishes, and amenities such as a private pool or custom kitchen.
Hiring a real estate agent: Working with experienced real estate agents like Lyne & Dominique can provide valuable insights into the luxury real estate market and can help find the best properties that suit your needs.
Legal considerations: It's important to understand the legal aspects of buying a property, such as contracts, property taxes, and home inspections.
Conclusion
Navigating Ottawa's luxury real estate market can be a complex process, but with careful consideration and expert advice, you can find a property that fits your needs.
Whether you're looking for a condo in the heart of the city or a detached house in a serene neighbourhood, Ottawa offers a range of luxurious options to consider.
With a wealth of natural beauty, vibrant communities, and stunning properties, Ottawa continues to be a desirable location for luxury real estate.
Throughout this process, remember to keep your family's needs in mind, thoroughly research, consult with professionals like real estate agents, and enjoy the journey of finding your dream home.