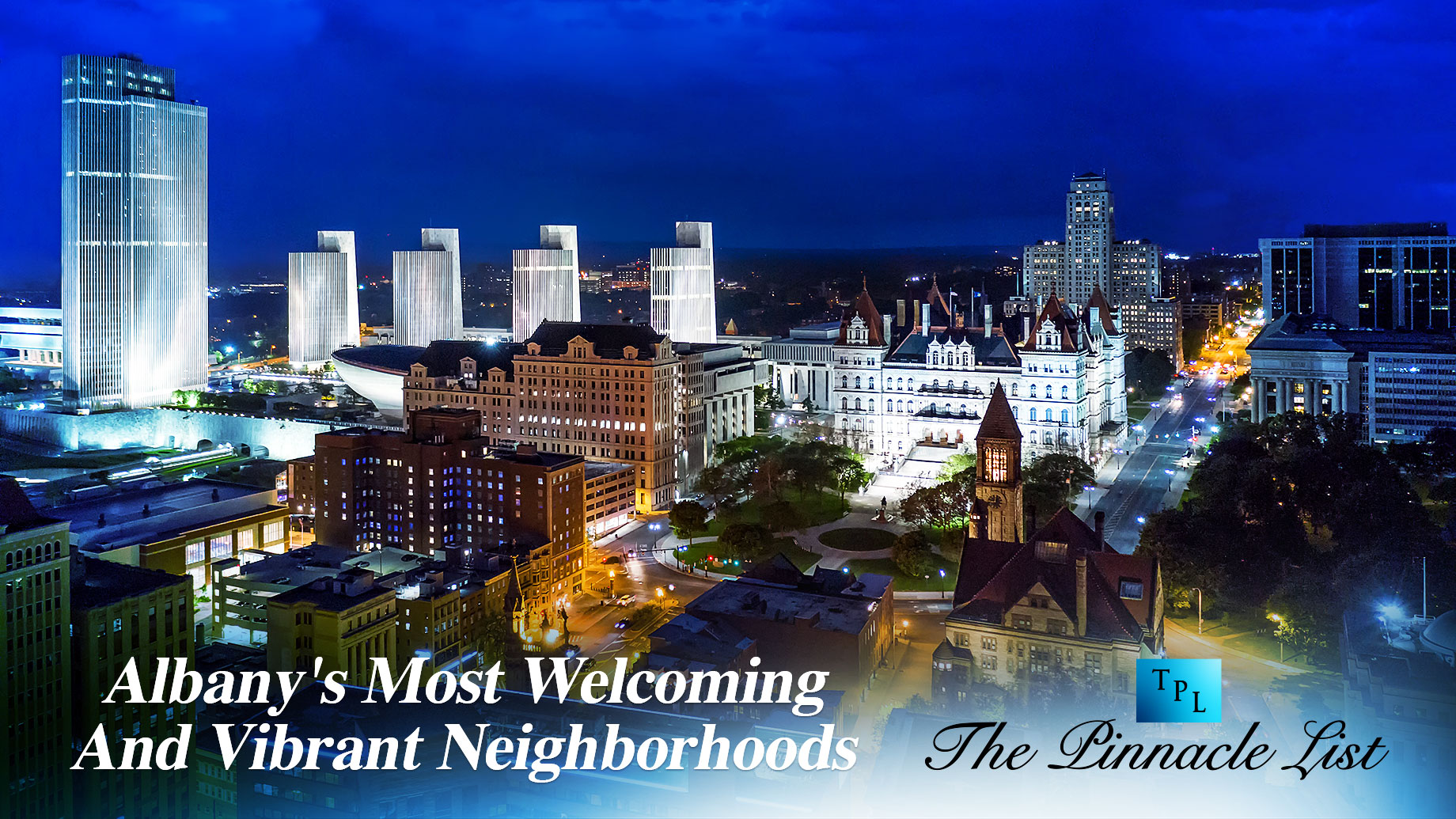 When it comes to finding the best neighborhoods in Albany, NY, you'll discover a range of options that cater to different lifestyles and preferences. Whether you're a long-time resident looking to relocate within Albany or a newcomer considering a move to the area, it's important to explore the neighborhoods that offer the most welcoming and vibrant environments. In this article, we will highlight three of Albany's best neighborhoods: Downtown Albany, Lark Street, and Center Square.

These neighborhoods not only provide a diverse range of amenities and attractions but also offer a strong sense of community and a vibrant atmosphere that make them highly desirable places to call home. If you're planning a move to Albany, NY, be sure to consider the services of Albany NY Movers, a professional moving company in Albany, NY, that can assist you with a smooth and stress-free relocation.
1. Downtown Albany: The Heart of the City
Downtown Albany serves as the hub of business, government, and entertainment in the region. It offers a mix of residential, commercial, and cultural spaces. With its historic architecture, trendy eateries, and proximity to the Hudson River, Downtown Albany provides a vibrant urban experience.
2. Lark Street: Artistic Vibes and Bohemian Charm
Lark Street is a haven for artists, musicians, and those seeking a bohemian lifestyle. Its colorful buildings, independent shops, art galleries, and eclectic restaurants create a unique atmosphere. Lark Street is known for its lively nightlife and regular cultural events.
3. Center Square: Historic Elegance and Cosmopolitan Lifestyle
Center Square, adjacent to Lark Street, boasts stunning brownstone houses and tree-lined streets. It offers a blend of historic charm and a cosmopolitan vibe. The neighborhood features beautiful parks, trendy cafes, and is within walking distance to various cultural attractions.
4. Pine Hills: Student-Friendly and Dynamic
Home to several colleges and universities, including the University at Albany, Pine Hills attracts a young and vibrant crowd. It offers affordable housing options, numerous dining establishments, and a lively atmosphere. The neighborhood provides easy access to the city center.
5. Delaware Avenue: Suburban Tranquility with Urban Convenience
Delaware Avenue, located a short distance from Downtown Albany, offers a suburban feel with the convenience of city amenities. It features tree-lined streets, quaint shops, and parks. Residents enjoy a peaceful atmosphere while still being within reach of entertainment and employment opportunities.
6. New Scotland: A Charming Residential Haven
New Scotland is a residential neighborhood known for its historic homes, quiet streets, and sense of community. It offers a peaceful retreat from the hustle and bustle of the city, while still being close to Downtown Albany's attractions and amenities.
7. West Hill: Culturally Diverse and Community-Oriented
West Hill is a culturally diverse neighborhood with a strong sense of community. It hosts various community events, festivals, and gatherings. The area features affordable housing options, parks, and community centers that foster a tight-knit neighborhood spirit.
8. Upper Washington Avenue: Modern Living and Shopping Delights
Upper Washington Avenue combines modern living with an abundance of shopping opportunities. It is home to large retail centers, supermarkets, and specialty stores. Residents enjoy a convenient lifestyle with easy access to amenities and recreational facilities.
9. Helderberg: Nature's Retreat in the City
Helderberg is a neighborhood surrounded by natural beauty. It offers breathtaking views of the Helderberg Escarpment and is close to parks and nature reserves. Residents can enjoy hiking, biking, and outdoor activities while still being minutes away from Albany's urban core.
10. Colonie: Suburban Paradise and Shopping Haven
Colonie is a suburban neighborhood located just outside Albany. It provides a peaceful and family-friendly environment with excellent schools, parks, and recreational facilities. Colonie is also known for its shopping centers, offering a wide range of retail options.
11. Guilderland: Excellent Schools and Family-Friendly
Guilderland is a highly desirable neighborhood for families due to its top-rated schools and safe communities. It offers a mix of suburban and rural settings, with spacious homes and ample green spaces. Guilderland provides a tranquil environment while still being close to Albany's amenities.
12. Bethlehem: Quaint Suburban Living with Historic Appeal
Bethlehem is a charming suburban neighborhood that combines historic charm with modern amenities. It features well-preserved buildings, picturesque landscapes, and a strong sense of community. Residents can enjoy a peaceful lifestyle while being a short drive away from Downtown Albany.
13. North Albany: Riverside Living with Historical Heritage
North Albany is nestled along the banks of the Hudson River and is rich in historical heritage. It offers stunning river views, historic architecture, and a close-knit community. The neighborhood provides a tranquil escape while still being conveniently located near Albany's downtown area.
14. East Greenbush: Thriving Suburb with Easy Access to Albany
East Greenbush is a thriving suburb located just minutes from Downtown Albany. It offers a range of housing options, excellent schools, and ample recreational opportunities. With its convenient location and suburban charm, East Greenbush appeals to families and professionals alike.
15. Cohoes: Small Town Feel with Big City Proximity
Cohoes, situated along the banks of the Mohawk River, provides a small-town atmosphere with easy access to Albany's amenities. It features historic architecture, picturesque streets, and a strong sense of community. Residents can enjoy the tranquility of a small town while being within reach of urban conveniences.
What To Know Before Choosing a Neighborhood in Albany, NY
Albany, New York, presents an array of welcoming and vibrant neighborhoods, each with its own distinctive character and offerings. Whether you prefer the excitement of urban living or the tranquility of suburban life, Albany has a neighborhood to suit your needs. Take the time to explore these fifteen neighborhoods and discover the one that feels like home to you.
Are these neighborhoods safe?
Yes, Albany's neighborhoods are generally safe. However, it's always advisable to research specific neighborhoods and consult local crime statistics for a more accurate understanding.
Which neighborhood is best for families with children?
Guilderland and Bethlehem are popular choices for families due to their excellent schools and family-friendly environments.
Can I find affordable housing options in Albany?
Yes, several neighborhoods in Albany, such as Pine Hills and West Hill, offer affordable housing options.
Are there recreational activities available in these neighborhoods?
Yes, each neighborhood offers its own set of recreational activities, including parks, sports facilities, and outdoor spaces.
How far are these neighborhoods from Downtown Albany?
The proximity to Downtown Albany varies for each neighborhood, but most are within a short distance and easily accessible by public transportation or car.