Unfurl the map of Asia, a beacon for those in search of the extraordinary. This vast continent, replete with age-old traditions, lavish landscapes, and modern opulence, beckons travelers with its kaleidoscope of experiences. Each nation, a gem in its own right, weaves a tale of historical grandeur and contemporary luxury. Here, centuries-old monuments stand proudly beside opulent real estates; ancient culinary traditions meld effortlessly with avant-garde gourmet experiences. With tailor-made tours and bespoke luxury holidays designed for the discerning traveler, My Way Travel curates elite-class experiences that transcend the ordinary. Join us on this voyage, as we traverse this rich tapestry of timelessness, splendor, and unparalleled grandeur.
---
East Asia: Echoes of Time in Modern Elegance
East Asia, a cradle of ancient civilizations, resonates with stories of dynasties, art, and profound philosophies. In the midst of its historical narratives, modernity has sculpted its own masterpiece. Sky-piercing towers in Tokyo, the futuristic skyline of Shanghai, and Seoul's technological marvels juxtapose age-old temples and traditional teahouses. Here, the harmonious dance of the old and the new paints a landscape of elegance that echoes through time.
🇯🇵 Japan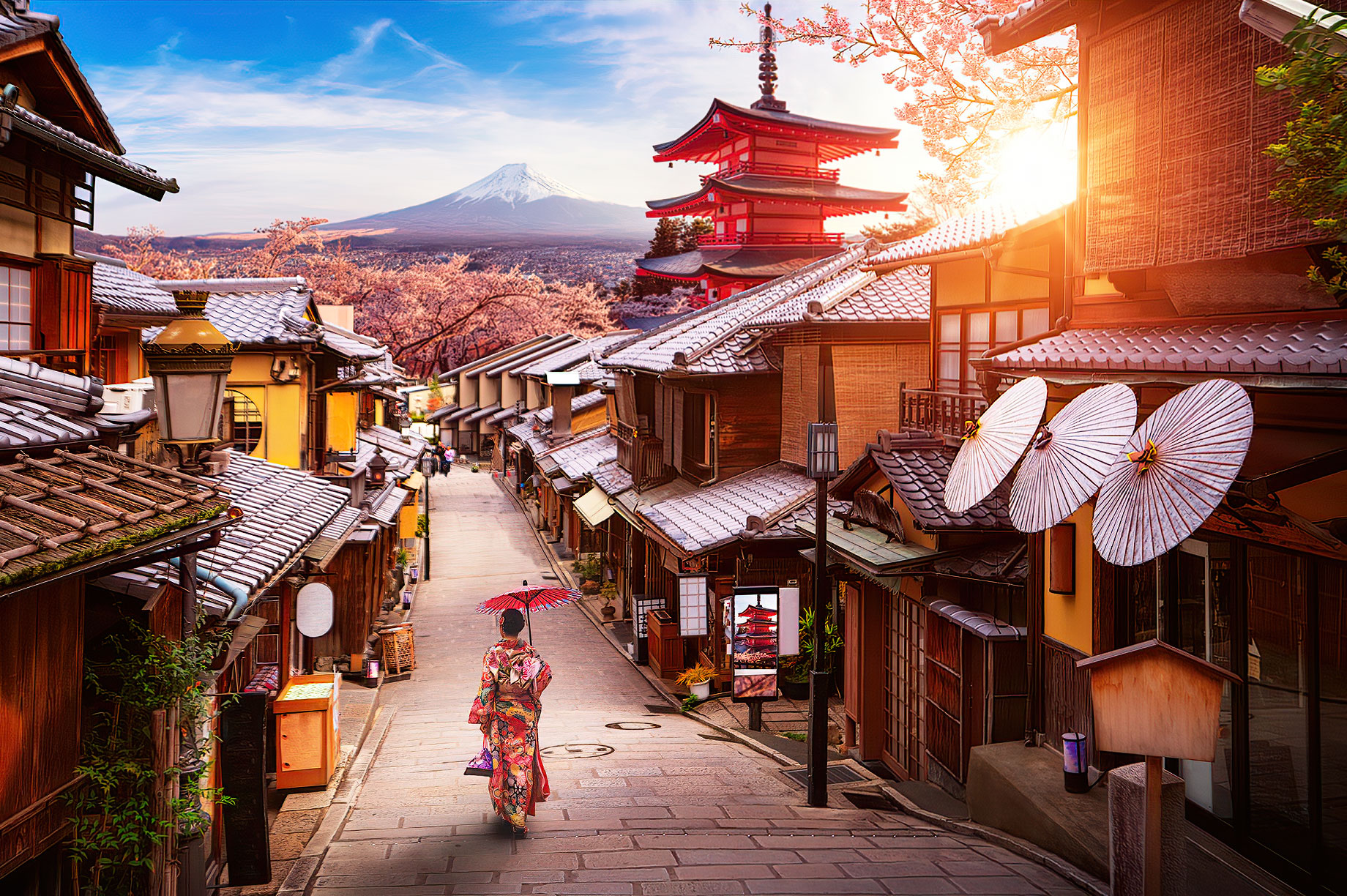 The Land of the Rising Sun elegantly harmonizes its storied past with an avant-garde present. Tokyo, a pulsating metropolis, boasts luxury residences that provide tranquil retreats from the city's neon-lit streets. Kyoto, with its tea houses and centuries-old temples, also houses boutique ryokans reimagined for the luxury traveler. Whether it's a private tour of a samurai residence or an exclusive stay at an opulent onsen resort in Hakone, Japan curates an experience where heritage meets high-end sophistication.
🇨🇳 China
A vast expanse of history and modernity, China stands as a testament to dynasties past and the burgeoning future. Shanghai's skyline, with the iconic Bund and soaring skyscrapers, offers luxury apartments with panoramic views of the Huangpu River. Meanwhile, Beijing's historic hutongs are being reimagined as luxury dwellings, nestled beside imperial landmarks like the Forbidden City. From the boutique resorts along the Li River in Guilin to the penthouses overlooking Victoria Harbour in Hong Kong, China's real estate landscape is as diverse and captivating as its rich heritage.
🇰🇷 South Korea
In the land where ancient palaces coexist with futuristic cityscapes, South Korea offers a unique blend of the bygone and the cutting-edge. Seoul's Gangnam district is emblematic of this fusion, where luxury apartments rise above traditional tea houses and bustling markets. Beyond the urban sprawl, the island of Jeju beckons with its upscale resorts and private villas, offering panoramic views of volcanic landscapes and serene beaches. Whether it's a tour of a Joseon-era hanok or a stay in a high-rise penthouse with views of the Han River, South Korea crafts an experience of luxury intertwined with rich cultural tapestries.
---
Southeast Asia: Where Ancient Grandeur Meets Modern Luxury
In the heart of the world's largest archipelago, Southeast Asia stands as a testament to a time when empires rose and fell, leaving behind tales etched in stone temples and age-old traditions. Today, this region seamlessly merges its illustrious past with the sheen of contemporary luxury. From the golden pagodas of Myanmar to the ultramodern skyscrapers of Singapore, Southeast Asia offers a mesmerizing blend of history and opulence, where every sunrise promises new discoveries and every sunset leaves an indelible mark of splendor.
🇸🇬 Singapore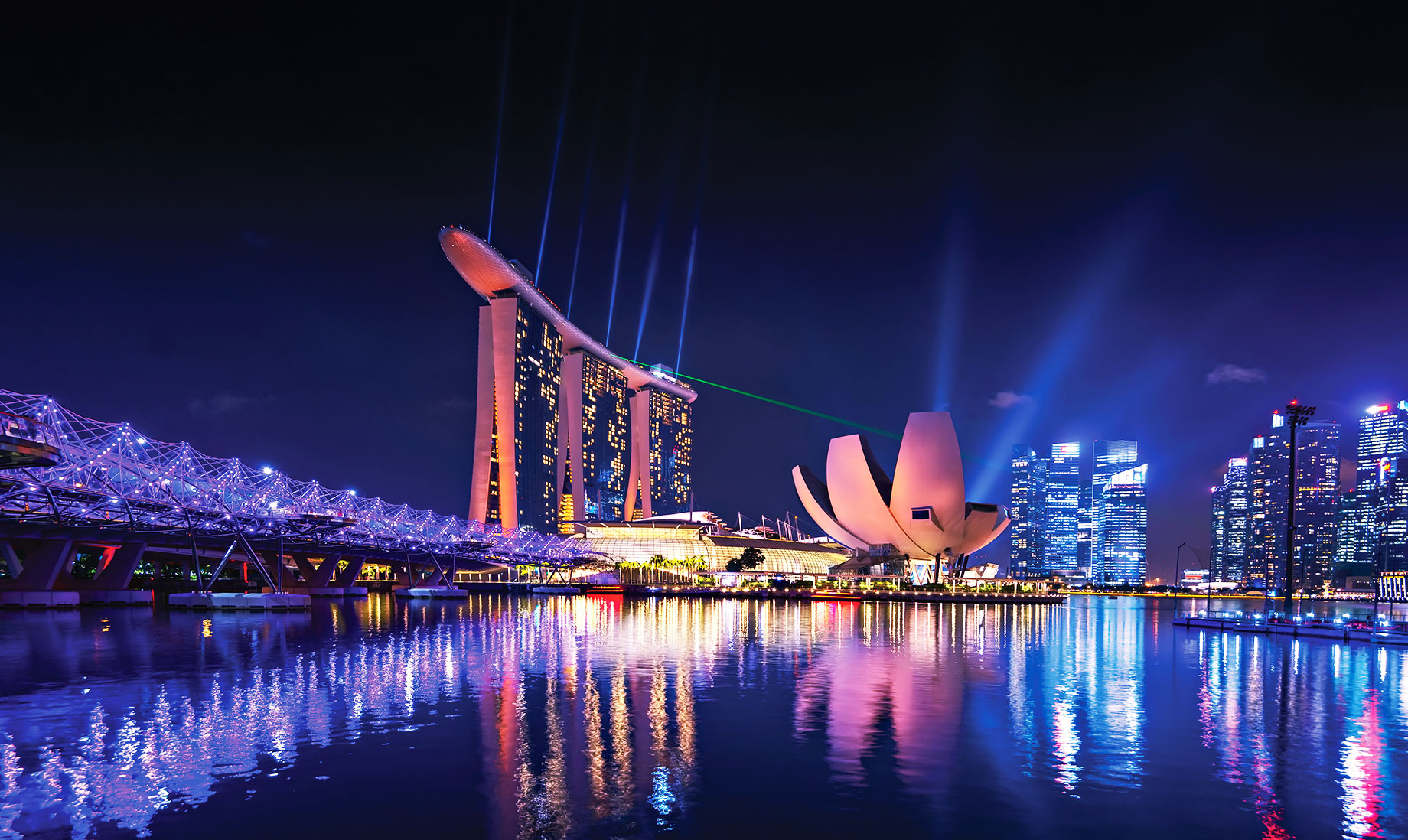 A city-state and an island nation, Singapore is Asia's gleaming jewel of modernity and innovation. Its skyline, punctuated by gravity-defying architectures like Marina Bay Sands and the Supertree Grove, reflects the country's pursuit of excellence and luxury. This tiny red dot offers an unparalleled blend of high-end shopping, gourmet dining, and lavish real estate offerings, from sprawling penthouses in Orchard Road to tranquil bungalows in Sentosa Cove, each providing a unique view of the vibrant cityscape. As you venture beyond the urban maze, you'll find pockets of green sanctuaries and rich heritage in places like the Botanic Gardens and Chinatown. Tailor-made for those who desire the finest in life, Singapore offers an experience where tradition meets opulence, where every corner of the city exudes sophistication and class.
🇲🇾 Malaysia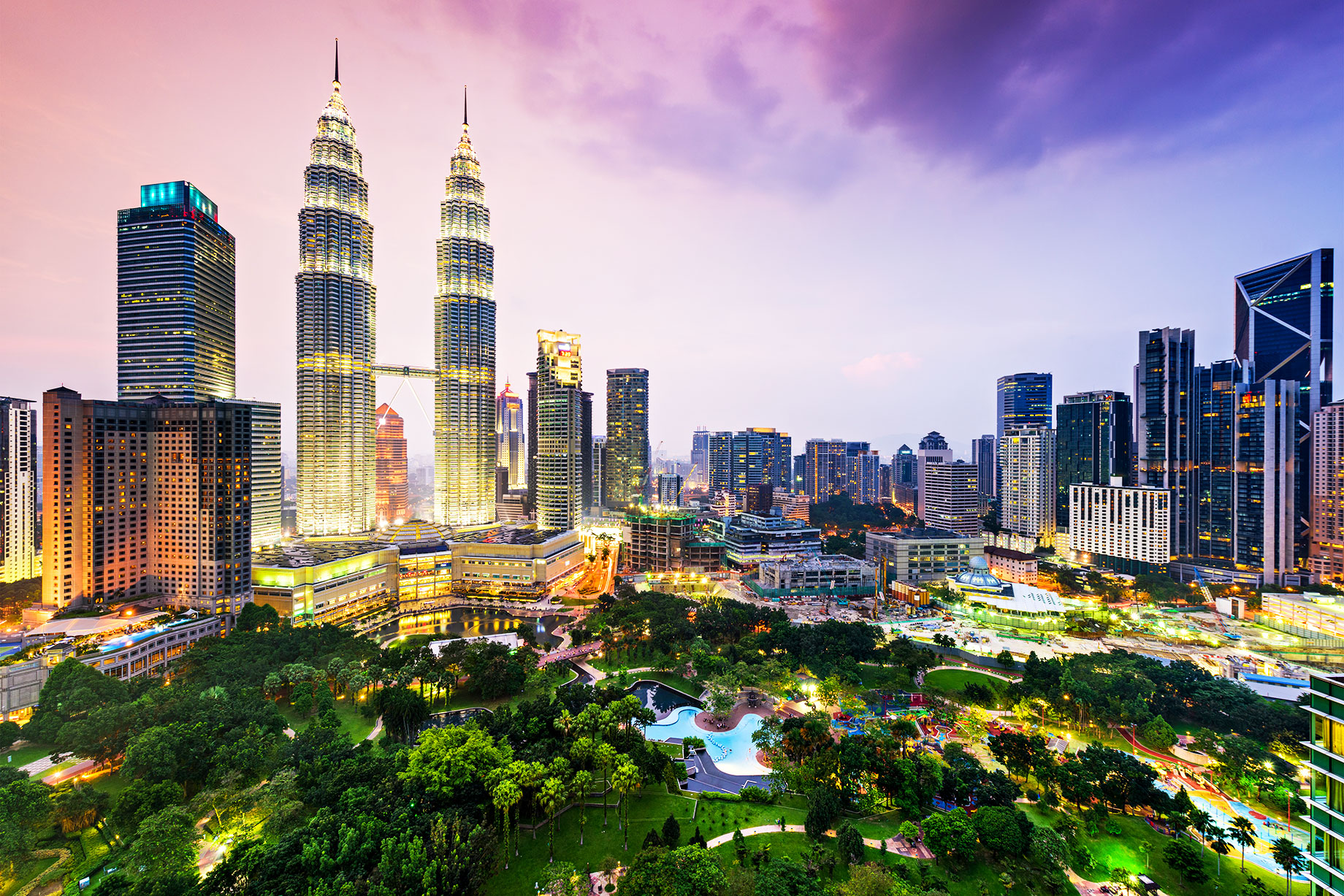 Malaysia is a captivating blend of the ancient and ultramodern, with verdant rainforests giving way to gleaming skyscrapers. In its heart, Kuala Lumpur, the iconic Petronas Twin Towers stand as a testament to the nation's leap into the future, surrounded by luxury residences that offer a panoramic view of the bustling metropolis below. Beyond the urban expanse lies Penang, where colonial heritage meets luxury resorts along its famed coastline. Further still, the pristine beaches of Langkawi are dotted with upscale resorts that promise seclusion and opulence in equal measure. From the UNESCO-listed George Town's charming shophouses to the sprawling mansions in Kuala Lumpur's elite neighborhoods, Malaysia's real estate landscape caters to those with an eye for luxury and history. A journey here is an exploration of diverse cultures, cuisines, and comforts tailored for the elite traveler.
🇻🇳 Vietnam
Draped in a tapestry of ancient traditions and modern luxury, Vietnam unfurls along the Southeast Asian coast like a verdant emerald. Hanoi's colonial mansions have transformed into luxury boutique hotels, juxtaposed with timeless temples and pagodas. Venture south, and Ho Chi Minh City beckons with its high-end penthouses overlooking the Saigon River. UNESCO's Halong Bay is not just a natural marvel; it's also a hub for lavish cruises. From Hoi An's lantern-lit streets to opulent resorts along Da Nang's coastline, Vietnam promises both heritage and hedonism in a delicate balance tailored for the elite traveler. Plan your Vietnam tour today and experience the magic of this amazing country.
🇹🇭 Thailand
Thailand, the illustrious "Land of Smiles," weaves a tale of golden temples, azure beaches, and towering skyscrapers. Bangkok stands as a testament to this fusion, where luxurious riverfront condos offer sweeping city views, and ancient temples like Wat Phra Kaew sparkle under the sun. The upscale resorts of Phuket and Koh Samui, with their private villas and infinity pools, beckon those seeking coastal opulence. As you savor the kingdom's gourmet offerings, from street food delicacies to Michelin-starred feasts, you're wrapped in a rich tapestry of culture and luxury. Plan your Thailand tour today to experience this breathtaking country.
🇮🇩 Indonesia
Spanning thousands of islands, Indonesia is an archipelago of diverse cultures, lush landscapes, and luxury hideaways. Bali, with its Ubud villas overlooking terraced rice paddies and beachfront estates in Seminyak, offers serenity with a touch of opulence. Beyond Bali, the private island resorts in the Riau Archipelago and the luxury dives near Komodo Island present unique blends of nature and comfort. Whether it's the heritage-rich streets of Yogyakarta or the upscale penthouses of Jakarta, Indonesia offers a mosaic of experiences tailored for the discerning traveler.
---
South Asia: Palatial Tales and Contemporary Luxuries
South Asia, a land of maharajas, mystical tales, and architectural marvels, unfurls a rich tapestry of culture and heritage. Amidst its grand palaces and ancient bazaars, a new narrative of luxury is being crafted. From Mumbai's opulent penthouses overlooking the Arabian Sea to the modern art galleries of Colombo, this region celebrates its storied past while embracing a future replete with contemporary indulgences.
🇮🇳 India
India, a subcontinent of diverse narratives, merges ancient legacies with modern opulence. Majestic palaces in Rajasthan have been reborn as luxury hotels, where guests relive the grandeur of maharajas amidst modern amenities. Mumbai's skyline, a blend of colonial architecture and shimmering skyscrapers, offers penthouses with sweeping views of the Arabian Sea. Delhi's rich Mughal history is contrasted with its upscale neighborhoods housing chic boutiques and gourmet eateries. Kerala's backwaters are home to plush houseboats, while Goa's beaches are dotted with high-end resorts. From the bespoke craftsmanship of Jaipur's jewelers to private tours of UNESCO heritage sites, India's luxury is as diverse and deep as its millennia-old history.
🇱🇰 Sri Lanka
An island gem in the Indian Ocean, Sri Lanka is a tapestry of lush landscapes, regal history, and modern luxury. The tea estates of Nuwara Eliya, with their colonial bungalows, have been transformed into boutique hotels, offering views of verdant plantations. Galle's historic fort area is not just a UNESCO World Heritage site but also a hub for luxury villas and upscale dining. Colombo, the bustling capital, boasts sea-facing apartments and elite clubs reminiscent of the British era. From beachfront resorts in Mirissa to secluded jungle retreats in Sigiriya, Sri Lanka promises an elite experience rooted in its rich cultural and natural heritage.
🇳🇵 Nepal
Nestled amidst the majestic Himalayas, Nepal is a fusion of age-old traditions and emerging luxury. Kathmandu Valley, with its centuries-old pagodas, also houses boutique hotels with courtyards that echo the architecture of royal palaces. Beyond the valley, the serene Pokhara offers luxury resorts with unobstructed views of the Annapurna range. For the truly elite, bespoke treks can be arranged, with luxury camps set amidst the towering peaks and verdant forests. Whether it's a private audience with traditional artisans or a helicopter tour of Everest, Nepal offers an elevated experience, both in terms of altitude and opulence.
---
West Asia: Desert Tales and Urban Opulence
West Asia narrates tales of golden deserts, ancient caravans, and legendary oases. Amidst this backdrop of timeless narratives, majestic cities have risen, epitomizing luxury and innovation. From the architectural wonders of Dubai touching the skies to the historic bazaars of Istanbul brimming with exotic allure, West Asia weaves together stories of the sands with the gleam of urban sophistication.
🇦🇪 United Arab Emirates
The UAE, a beacon of modern opulence, seamlessly merges Bedouin traditions with architectural marvels. Dubai's skyline, adorned with the Burj Khalifa, offers penthouse suites with views that rival any global metropolis, while its man-made islands host grand villas. Abu Dhabi's cultural district with the Louvre and grand mosques stands in contrast to its Formula 1 circuits and luxury resorts. From the palatial hotels of Ras Al Khaimah to the desert resorts of Al Ain, the UAE is the epitome of luxury in West Asia.
🇶🇦 Qatar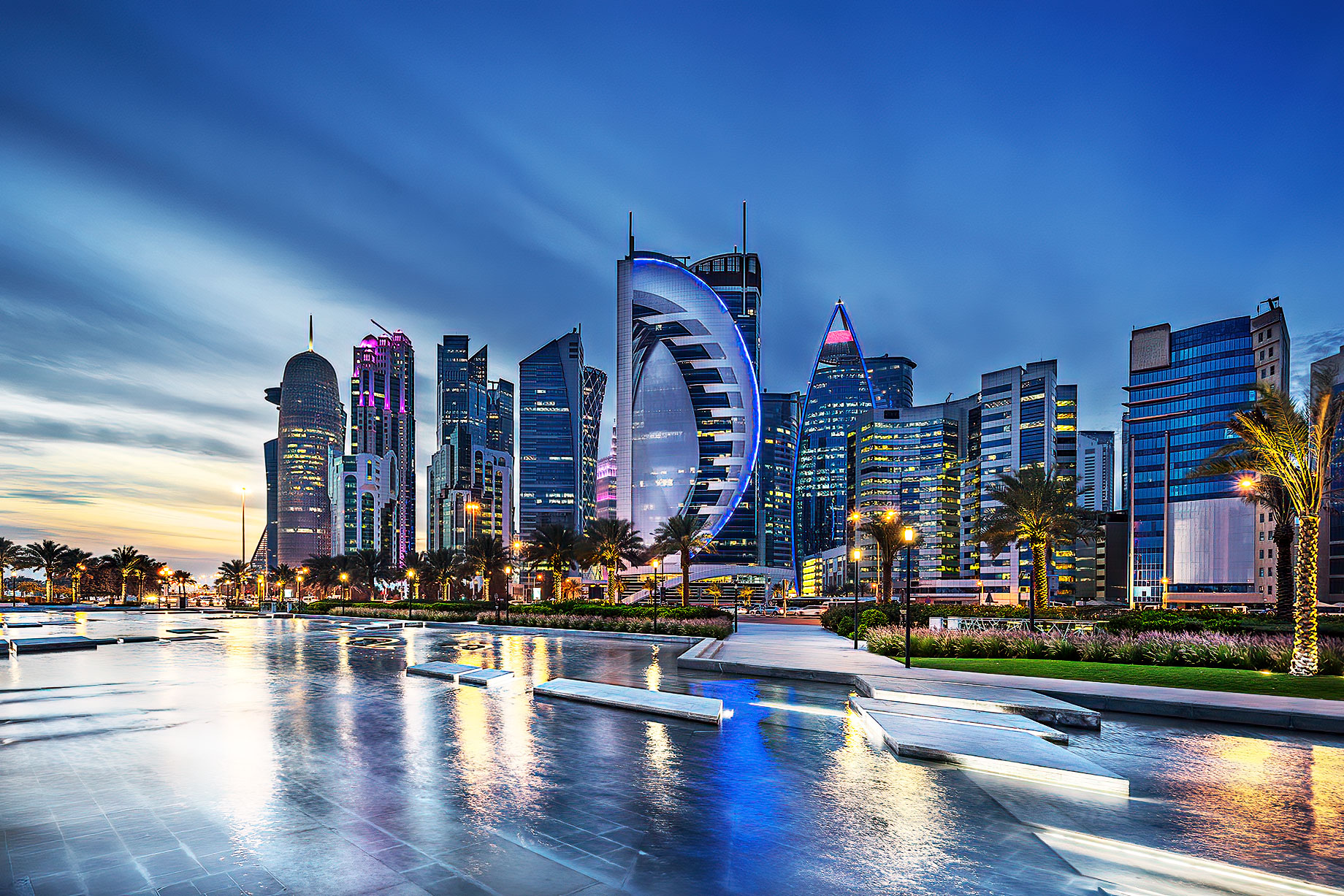 Doha, Qatar's capital, is a testament to luxury reimagined. With its futuristic skyline, Doha offers ultra-luxury apartments overlooking the Persian Gulf. The city's luxury hotels, supercars, and world-class museums like the Museum of Islamic Art make it an epicenter of West Asian opulence. Traditional souqs are reimagined as high-end shopping destinations, blending Qatar's heritage with its modern aspirations.
🇸🇦 Saudi Arabia
The heartland of the Arabian Peninsula, Saudi Arabia, is reinventing itself as a luxury travel hub. Riyadh, with its soaring skyscrapers, houses luxury apartments and elite shopping districts. The historical Diriyah stands reimagined as an entertainment hub, while the Red Sea Project promises ultra-luxurious tourism. From the spiritual serenity of Mecca and Medina to the opulent hotels of Jeddah, Saudi Arabia's blend of faith and luxury is unparalleled.
🇯🇴 Jordan
Delve into the heart of the Middle East with Jordan, a land echoing tales of Nabateans, Romans, and Bedouins. The ancient city of Petra, carved from rose-red stone, stands in stark contrast to the burgeoning luxury resorts along the Dead Sea coastline. In Amman, the capital, Roman ruins sit beside upscale districts like Abdoun, which boasts luxury villas and modern apartments overlooking the city's seven hills. From the therapeutic luxury resorts of the Dead Sea to the exclusive desert retreats in Wadi Rum, Jordan is a blend of ancient wonders and contemporary opulence.
🇮🇱 Israel
Israel, with its biblical landscapes and innovative spirit, combines the ancient with the avant-garde. Tel Aviv's Bauhaus architecture contrasts with its beachfront luxury hotels and residences. Jerusalem, sacred to many, also boasts exclusive neighborhoods and upscale dining. From the spa resorts at the Dead Sea to the luxury retreats in the Negev Desert, Israel promises a journey through time, punctuated with modern comforts.
🇱🇧 Lebanon
Lebanon, where Phoenician heritage meets Mediterranean glamour, is a mosaic of historical grandeur and contemporary luxury. Beirut, once termed the "Paris of the Middle East," boasts upscale neighborhoods like Ashrafieh, which are lined with chic boutiques, gourmet restaurants, and luxurious apartments overlooking the azure Mediterranean. The Roman ruins of Baalbek contrast with the opulent ski resorts in the Lebanese mountains. From the ancient cedar forests to the glitzy Beirut nightlife, Lebanon is an exquisite fusion of past and present.
🇹🇷 Türkiye
Straddling two continents, Türkiye is where Byzantine churches meet Ottoman palaces, and ancient bazaars meet luxury boutiques. Istanbul, with its rich history, also offers exclusive Bosporus-facing villas. Cappadocia, renowned for its otherworldly landscapes, is home to luxury cave hotels. From the golden beaches of Bodrum with their upscale resorts to the thermal spas of Pamukkale, Türkiye crafts a unique narrative of luxury rooted in history.
🇬🇪 Georgia
Georgia, where the Caucasus meets ancient vineyards, is an emerging luxury destination. Tbilisi, the capital, boasts boutique hotels within its historic bath district and modern apartments overlooking the Mtkvari River. From exclusive wine tours in Kakheti to the ski resorts of Gudauri, Georgia offers a distinctive blend of European charm and Asian heritage.
🇮🇷 Iran
Iran's illustrious past of emperors and poets is mirrored in its architectural marvels and lush gardens. Tehran, while housing ancient palaces, also boasts upscale neighborhoods like Elahieh. The historic bazaars of Isfahan and Shiraz contrast with luxury hotels that echo Persia's grandeur. Iran's journey, from the ruins of Persepolis to the lavish restaurants of its cities, tells a tale of resilience and refinement.
---
North Asia: The Vast Wilderness and Modern Metropolises
North Asia, a realm where the vast expanses of Siberian wilderness meet the bustling urban centers, is a land of contrasts and harmonious coexistence. This region, dominated by the sprawling Russian territories, invites travelers to experience the enigma of endless taigas, crystalline lakes, and the mystery of the Northern Lights. Yet, amidst these natural wonders, cities like Novosibirsk and Vladivostok emerge as beacons of modernity, showcasing a fusion of rich Tsarist legacies with contemporary luxuries. In North Asia, the symphony of nature's grandeur and human ingenuity plays a captivating tune, echoing from the Ural Mountains to the shores of the Pacific.
🇷🇺 Russia
Beyond the Ural Mountains lies the vast expanse of Asian Russia, a region dominated by the endless terrains of Siberia. A realm often cloaked in legend and mystery, this part of Russia unveils landscapes that seem untouched by time: from the dense coniferous taigas to the tranquil shores of Lake Baikal, the world's deepest and oldest freshwater reserve. While nature reigns supreme, there's no shortage of luxury amidst this wilderness. Exclusive lodges overlooking scenic vistas offer unparalleled opulence, and the Trans-Siberian Railway, one of the world's greatest travel experiences, combines awe-inspiring views with lavish comforts. Cities such as Novosibirsk and Vladivostok, though distant, shimmer with urban sophistication, blending their rich histories with contemporary luxuries. In the heart of North Asia, Asian Russia promises a harmonious melding of nature's raw beauty and the refined elegance of human endeavors.
Plan your Asia tour today and experience the diversity and beauty of this amazing continent for yourself!