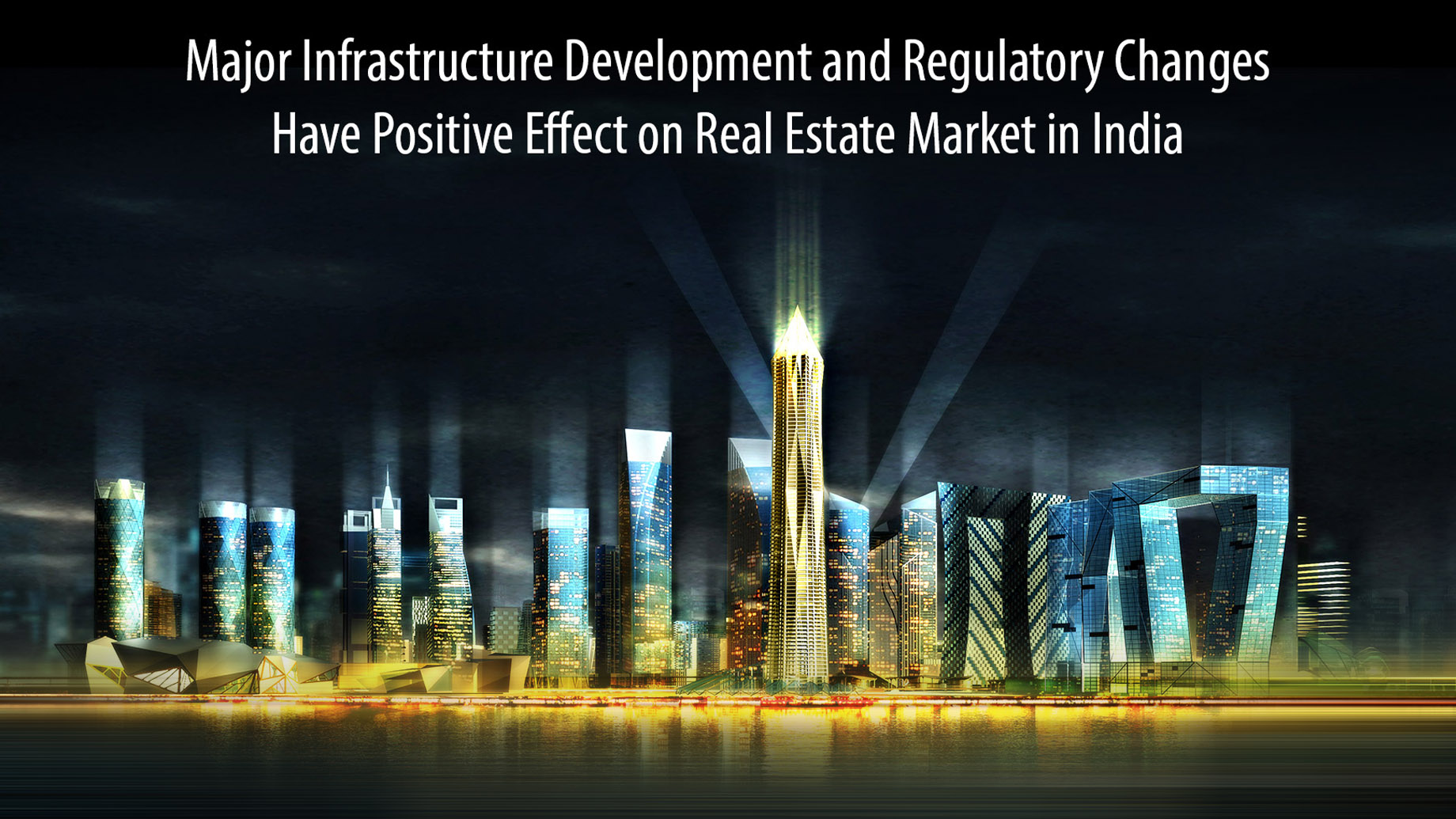 India is fast emerging as a popular international real estate investment destination in Asia as rapid infrastructural development and regulatory changes have led to appreciation in property prices in both the residential and commercial sectors. New government regulations are expected to further spur substantial large-scale investment in the Indian real estate market.
Residential real estate has been bolstered by India's rapidly expanding middle class that is generating a new class of affluent Indians seeking good investment opportunities. Indians, who have long trusted in gold to protect their wealth, are viewing real estate as a safe place to put their money as a long-term investment. This shift has spurred exciting new developments across the country and has propelled government infrastructure spending.
U.S. based real estate investment firm Hines, launched 'Hines India Residential' in late September 2014 as a joint venture with an international finance company to invest in residential development and various housing projects across India with an initial capitalization of $250 million. Hines Country Head & Senior Managing Director Yash Gupta said, "We are targeting mid-income housing projects where there is maximum demand."
While investment yields in residential properties are between 3-4 percent, commercial real estate in India offers some of the highest yields in the world typically generating around 8 percent and even up to 10 per cent in some areas. This positive investment climate has attracted some of the largest private equity firms in the world to invest in India's prime real estate assets.
The Blackstone Group L.P. of New York has invested close to $900 million across the commercial real estate sector of India acquiring over 29 million sq. ft. of office space in cities such as Bangalore, Pune, Mumbai and Noida on the outskirts of New Delhi. Blackstone, which is the largest private equity alternate investment firm in the world, opened its real estate division in India in 2007, but only started buying assets in the country in 2011. After its aggressive three-year acquisition drive, it is set to become the single-largest owner of commercial real estate in India.
The Securities and Exchange Board of India (SEBI) published newly approved final regulations governing Real Estate Investment Trusts (REITS) and Infrastructure Investment Trusts (INVITS) on September 26, 2014. The new measures will enable Indian firms to launch REITs and INVITS allowing easier access to funds for real estate and infrastructure development. This will create a new investment avenue for institutions and high net worth individuals, and eventually ordinary investors. This is also expected to further boost demand for real estate in most of the Tier-I cities across India.
Major new transportation infrastructure projects across India support a positive future real estate investment horizon. Swanky new airports, metro lines and freeways are changing the face of the nation making for easy travel across the country with improved connectivity between major Indian cities.
Chhatrapati Shivaji International Airport
A swanky new state-of-the-art Terminal 2 development was inaugurated in January 2014 at the Chhatrapati Shivaji International Airport, Mumbai. The airport, which is the primary international airport in Mumbai, is the second busiest in India and the 48th busiest in the world. It includes an ultra-modern new terminal as well as new taxiways and apron areas for aircraft parking and is designed to cater to 40 million passengers annually.
Netaji Subhas Chandra Bose International Airport
Another important development is the new terminal at the Netaji Subhash Chandra Bose International Airport which was completed in 2013. Built by a Thai-Indian consortium, the new terminal can easily handle 25 million passengers a year. Located in Kolkata, West Bengal, India, the airport is the largest in eastern India and the fifth busiest in the country in terms of passenger traffic.
Metro Lines
A new metro rail system has been launched in Mumbai, the financial and commercial capital of India, enhancing commuting for the city's residents. The system is designed to reduce traffic congestion in the city and supplement the existing Mumbai Suburban Railway network. The systems first line entered operation on June 8, 2014 and will be built in three phases over a 15-year period, with overall completion expected in 2021.
New extensions within the Kolkata and Delhi metro systems have connected the important nodes of their respective cities. Cities like Hyderabad, Jaipur, Chennai and Kochi will introduce metro rail soon. Property prices in areas, which lie in the vicinity of the metro stations, have witnessed an appreciation in property prices.
Monorail Lines
India's first monorail system, the Mumbai Monorail is part of a major expansion of the rapid transit feeder structure to the public mass transportation system of the city of Mumbai, India. Construction began in 2009, with the first operational line, between Wadala Depot and Chembur, being opened to the public on February 2, 2014. Future Monorail systems may also be introduced in major Tier-I Indian cities.
Freeways
One of India's most important major infrastructure developments in the National Capital Region (NCR) is the 165km long Yamuna Expressway project connecting Greater Noida with Agra in the Indian State of Uttar Pradesh. The $2.1 billion (USD) road system is the longest controlled access 6-lane expressway in the Indian Road Network and was inaugurated in August 2012.
A new Mumbai Eastern Freeway has been introduced between South Mumbai and the Eastern suburbs. The 16.8 km freeway, that connects P D'Mello to Ghatkopar, is a controlled access road that is part of the modern Greater Bombay Transportation network that also includes a series of new link roads. Heavy vehicles, three-wheelers, two-wheelers, bullock carts, handcarts and pedestrians are prohibited from using the freeway. A study conducted by international property consultancy firm Jones Lang LaSalle published in September 2013, found that property prices in proximity to the new freeway system had risen by 25% to 32% over the past two years.
Buses
The increasing need for urban mass transit mobility is being addressed by various cities in India with investment in a new Bus Rapid Transit System (BRTS) also known as the High Capacity Bus System (HCBS) that is increasingly being adopted by cities in India. This has improved the connectivity and has made travel easy and comfortable for the commuters with the introduction of numerous routes with air-conditioned buses. BRTS operates in cities such as Ahmedabad, Jaipur, Delhi, Rajkot, Vijayawada and is under construction in Pune, Mumbai, Kolkata and Bhopal.
Trains
A new class of superfast double-decker air-conditioned express trains has been introduced in India making rail travel within the country more comfortable. Indian Railways introduced its first air-conditioned double deck train in 2011 on the Howrah-Dhanbad Double Decker Express between Howrah station in West Bengal and Dhanbad Junction in Jharkhand. This was followed by services between Delhi Sarai Rohilla – Jaipur, Ahmedabad – Mumbai, Chennai Central – Bangalore and Bhopal Habibganj – Indore.
Kashmir Railway
Perhaps the most difficult new infrastructure development project undertaken on the Indian subcontinent by the Government of India is the 345 km (214 mi) Kashmir Railway line being built to connect the state of Jammu and Kashmir with the rest of the country. The railway is expected to cross a total of over 750 bridges and pass through over 100 km (62 mi) of tunnels, the longest of which is 11.215 km (7 miles) in length. One of the toughest engineering challenges of the new route involves building a 1,315 m (4,314 ft) long bridge 359 m (1,178 ft) above the Chenab River bed between Bakkal and Kauri, in the Reasi district of Jammu and Kashmir. When it's completed in 2016, the Chenab River Bridge will be 35 m (114 ft) taller than the Eiffel Tower and hold the title of being the world's highest rail bridge.
Gujarat International Finance Tec-City
For finance and tech companies looking to establish a base in India, Gujarat International Finance Tec-City (GIFT) has been designed as an advanced high-tech Central Business District (CBD) that offers world-class infrastructure in the form of an advanced green-field integrated next generation urban city development. Located in the Indian state of Gujarat, the 886 acres (3.59 km2) GIFT mega-project is conceptualized as a global financial and IT services hub, a first of its kind in India, designed to be at or above par with globally benchmarked financial centers such as Shinjuku, Tokyo, Lujiazui, Shanghai, La Defense, Paris and Canary Wharf in London. The project master plan includes a sophisticated future city concept with a well-planned township, international education zone, special economic zone and entertainment zone. The GIFT integrated city is expected to become a contemporary model development in India, advancing the ideas of sustainability, ecology and quality of life in a mixed-use district of residential, commercial and open space facilities that optimize land and real estate values.
With the addition of these infrastructural and transportation network developments, the development pace of the real estate market in India has continued to strengthen. As a result, property prices in India have gone high. If you want to benefit from capital gains and property value appreciation, now might be the right time to seek out residential or commercial investment opportunities in India.