The platinum triangle in Los Angeles, California is set to shatter international real estate price records for the most expensive luxury home ever offered for sale in the world at a staggeringly eye-watering $500 million. That's the price that film producer and speculative developer Nile Niami will be asking for the L.A. hilltop home, currently under construction in Bel Air. It is intended to be one of the largest and most luxurious single-family residential homes ever constructed in U.S. history.
Expected to take at least 20 months to complete, the elaborate 4-acre (1.6-hectare) residential estate compound will include a 74,000 sq. ft. (6,900 m2) main residence with three additional smaller homes with a total combined floor-space that will exceed 100,000 sq. ft. Built to palatial proportions, the uber-luxury residence will feature almost every amenity available in the world, according to Niami, including a show-stopping 180-foot cascading infinity pool with sweeping panoramic views and that is only one of four swimming pools planned for the property.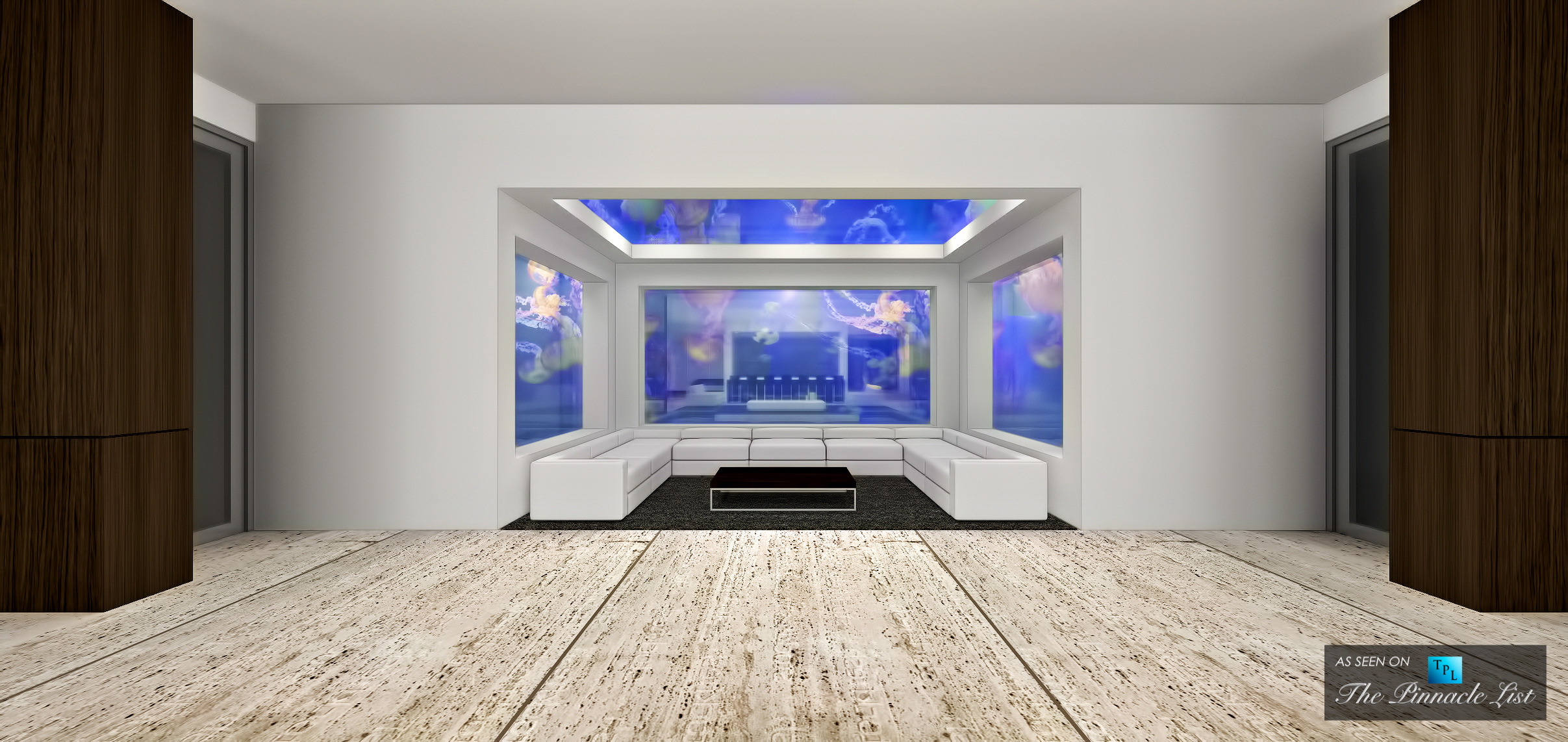 Nearly twice as large as the White House in Washington, DC the 74,000 sq. ft. main residence has such large proportions that it will feature a 5,000 sq. ft. master bedroom suite, that is in itself nearly twice as large as a typical single-family home in America. The elaborate estate will include a 45-seat cinema theatre, a personal 8,500 sq. ft. nightclub and Monaco-style casino along with a 30-car underground garage as well as a distinctly unique "jelly fish room" with water-filled tanks on three walls.
Volume can be addicting with trophy properties and renowned L.A. Architect Paul McClean massively delivers it in this giga-mansion. Set to eclipse all others, with a total of over 100,000 sq. ft. of floor space, this estate may just be the pinnacle of the current mega-spec home era. The colossal scale of this hyper-modern estate is unprecedented to say the least. Built more like a private luxury resort than a personal home, the residential compound will include a cantilevered tennis court, bowling alley, spa and a gym with indoor pool. Take an elevator up to the 3,000 sq. ft. rooftop "sky deck" to experience 360-degree views of Beverly Hills, downtown Los Angeles and out across the horizon to the Pacific Ocean. Everything in this giga-mansion is designed to break luxury benchmarks.
The recent euphoria of real estate investment in spec-built trophy properties in Los Angeles has almost created a cult of luxury exuberance where a new breed of developers considers square footage to be a marketing tool and stratospherically high selling prices to be a promotional tool. It seems that 20,000 sq. ft. and $100 million just doesn't measure up anymore. The challenge will be to find buyers willing to step up to these untested levels.
With a $500 million price tag, Niami has entered the uber-luxury home spec market at an untouchable price pedestal that eliminates all but the upper echelon of super-rich buyers. Although we are in an era that can be described as a cultural revolution of wealth creation, a 20 or 30 something high tech billionaire flush with IPO cash may not be the ideal target for this half a billion-dollar estate. This home was created to cater to the top 1% of the 1%, that elusive private island, mega yacht, jet set billionaire class of trophy property owners where prestige dominates their narrative.