The French Riviera is a unique coastline of luxury and glamour that has long attracted the world's rich and famous. One of the many reasons the French Riviera has retained its appeal over so many decades is its pristine and exclusive coastline, with each Cap offering something different for the most discerning travellers.
From the rolling hillsides of St Jean de Cap Ferrat to the historic village of Eze-Sur-Mer, the French Riviera is home to the world's most luxurious villas. Boasting first-class amenities, mesmerising design, and elegant fixtures and fittings, here are four of the best villas for rent near Monaco – idyllic hideaways that will make you want to stay forever.
Top Villas for Rent Near Monaco 2022
Rent Villa Coco, Saint-Jean Cap Ferrat
Saint-Jean Cap Ferrat is an enchanting forested peninsula, home to old Riviera glamour. Adorned with powdery sand beaches, each with unique characteristics, plus a myriad of world-class restaurants and beach clubs, you could spend an entire summer exploring everything this region has to offer. Holiday rental villas on Cap Ferrat are also wonderfully close to Monaco and Nice, ideal for short day trips to other favoured parts of the Cote d'Azur.
Nestled alongside the exclusive seafront of Saint-Jean Cap Ferrat is one of the best villas for rent near Monaco. Villa Coco is an ultra-contemporary architectural masterpiece, beautifully contrasted against the thriving flora and fauna. The luxury residence stands over four floors with seven bedrooms that are managed by a full team of staff. Boasting exceptional amenities, the villa is home to a wine cellar, a state-of-the-art gym, a professional kitchen, a spa and a massage room. The villa also comes with impressive outdoor facilities, including a well-equipped pool house, lush private gardens, a Jacuzzi and stunning terraces fitted with fire pits and indulgent outdoor seating.
Perhaps the most luxurious feature of this holiday rental villa on Cap Ferrat is the 12-metre heated pool, fitted with massage hydrotherapy jets, a depth adjustable floor, coupled with panoramic sea views. Depending on the occasion, guests have complete control over whether they want to take a refreshing morning dip or transform the space into a dance floor by night at just the push of a button.
Rent Villa Garoupe, Cap d'Antibes
A tropical oasis and paradisiacal retreat, Villa Garoupe is situated on the sun-lapped shores of Cap d'Antibes La Garoupe beach. Ideal for those who enjoy a slower pace of life, Cap d'Antibes is home to panoramic sea views, luscious greenery and historical landmarks including the 16th century Fort Carré. Villas for rent near Monaco, such as Cap d'Antibes offer excellent privacy, plenty of open space and a great sense of the Provencial countryside while only being located less than 30 minutes from the bustling centre of Cannes.
Once served as a beach club for the rich and famous, inviting Picasso, Sean Connery, and Winston Churchill, the iconic Villa Garoupe is now a privately owned residence boasting its own beach and pontoon sun deck, offering unparalleled access to the azur waters. With much of its design remaining authentic since its years as a renowned beach club, guests are treated to several south-facing terraces and beach cabins adorned across multiple tiers for ultimate privacy and relaxation. Guests will also find a small heated swimming pool and a solarium with uncompromised Mediterranean vistas.
Beautifully designed, Villa Garoupe is one of the most picturesque villas for rent near Monaco, with its whitewashed exterior strikingly contrasted against the dreamy blue skies and turquoise waters. The 150m2 interior features multiple tiers, sea view kitchens, spacious living areas, four bedrooms (one with independent access), three bathrooms and a small second level crawl space for children.
Rent Villa Magnifique, Eze-Sur-Mer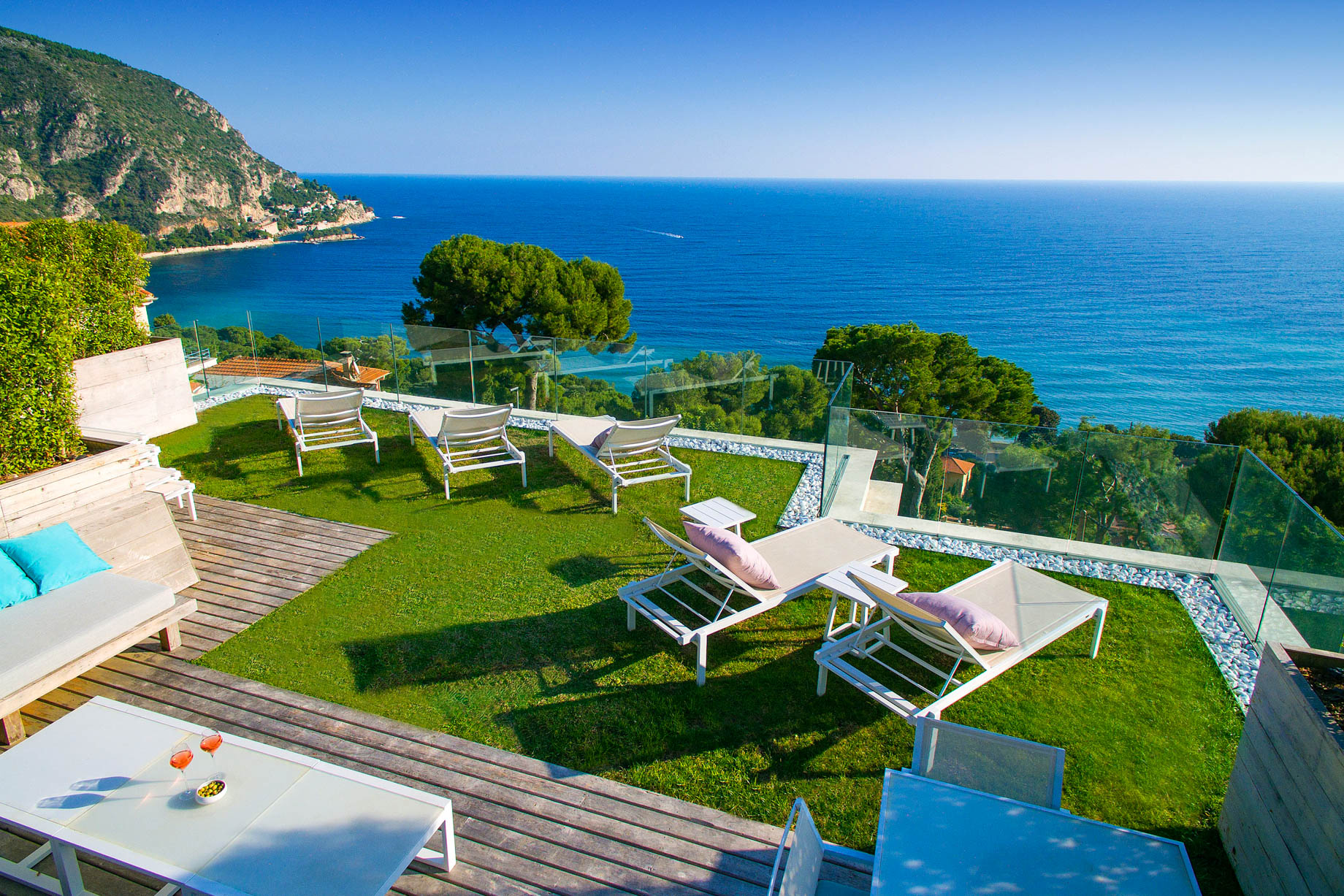 Villa Magnifique is a glamorous and contemporary villa perched on the sweeping green hills of Eze-Sur-Mer. This highly sought after multi-tiered villa treats its guests to uncompromised sea views of the exclusive stretch of the French Riviera and is ideally situated to St Jean Cap Ferrat, Monaco's Monte Carlo and is within walking distance of the famed Anjuna Beach. Eze is a beautiful hilltop medieval village, famed for its impressive views, spectacular architecture and its celebrity visitors, including Bono and George Clooney and Angelina Jolie. Residents of the holiday rental villas on Cap Ferrat can enjoy peaceful strolls to the village's boutiques, galleries, Eze Tennis Club and the renowned Fragonard Perfumerie.
The lavish interiors are second to none, fitted with the finest quality furnishings, appliances and amenities, this residence is the perfect choice for guests looking for a glamorous villa for rent near Monaco. The 400m2 interiors include five sleek bedrooms, six bathrooms, a spacious living and dining area, a fitness suite, a fully equipped spa area with a hammam and steam room and a well-stocked wine cellar. Not forgetting to mention the exterior boasts a 12-metre heated swimming pool and a 3-metre long glass viewing panel on the lower level allowing for guests to watch swimmers while enjoying a glass of wine in the comfortable living area.
Guests can also enjoy the large pool house with dining facilities, comfortable seating areas, fire pits and a multifunctional rooftop terrace – perfect for outdoor entertaining at sunset, summer parties and dining alfresco.
Rent Villa Royale, Villefranche-Sur-Mer
Traditional in design, Villa Royal is a beautiful Belle Epoque villa built in the 20th century, home to a long romantic history. Villa Royal is ideally located in the heart of Villefranche-Sur-Mer, embraced by the Cap of Nice to its west and Cap Ferrat to the east. As one of the five most beautiful bays in the world, Villefranche-Sur-Mer is an authentic fishing village, ideal for those looking to enjoy a relaxed lifestyle amongst a fascinating, international scene. With the perfect combination of French culture and local markets in its Old Town and the modern luxuries of the beachfront villas, Villefranche-Sur-Mer is home to some of the most charming holiday rental villas.
Exceptionally located to Plage de la Marinière and the Old Harbour, this 300m2 authentic villa also provides its guests with five bedrooms, four bathrooms, a sophisticated dining and living room and a fully equipped kitchen that opens into a comfortable lounge area. Guests are also treated to panoramic vistas of the Mediterranean Sea, enjoyed from its vast floor-to-ceiling windows and quaint balconies.
Villa Royale's exterior is equally as mesmerising, with manicured lawns, a glistening swimming pool, a sauna and a fantastic terrace with prime access to the golden beaches. A beautiful juxtaposition of traditional Belle Epoque design coupled with modern amenities makes this villa a wonderful retreat for all.
With a spectacular selection of villas for rent near Monaco, from ultra-modern architectural masterpieces to traditional Belle Epoque Chateaus, you are guaranteed to spend the summer in comfort and style. Which villa on the Cote D'Azur do you want to spend your next 2022 getaway in?