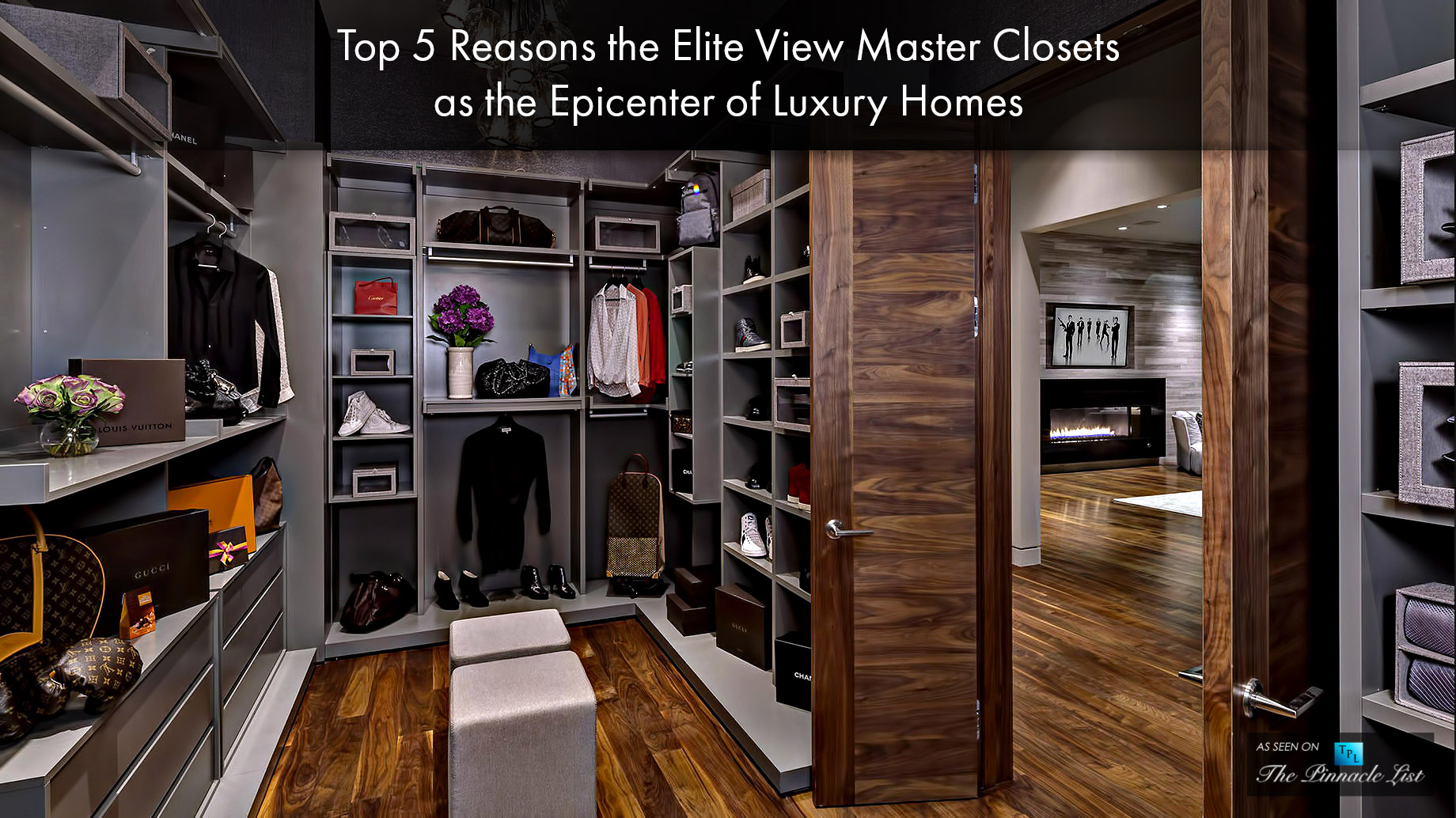 To label a great closet as simply "storage space" is to do that potentially incredible room a major disservice. Closets don't have to take on the role as a vessel for clutter. In many luxury homes, the closet has become one of the most important rooms, and it's not just due to the extra space these nooks provide. In many cases, walk-in closets have become so spacious that "nook" is hardly an applicable term to describe them. One upscale Parisian duplex located in the center of the 16th Arrondissement features a light-filled Art Deco-style dressing room that creates an inviting atmosphere for preparing for a night on the town. Meanwhile, a farmhouse in Montecito includes an entire wall of shelf space dedicated to shoe display. It's easy to see that such closets are anything but ordinary.
Here are the top reasons why so many of the world's elite now embrace the walk-in closet as the epicenter of a high-end lifestyle.
1. The Master Closet is the New Man Cave
Add a flat-screen television and a mini-bar to a sleek, modern walk-in closet, and you've transformed a traditional storage space into a cool new hangout. High-tech features like elegant backlighting and entertainment systems elevate the mundane ritual of selecting an outfit into an exciting "pre-game" event.
2. A Closet Brimming with Designer Goods is Essentially a Trophy Room
When your life is complemented by $20,000 Gucci handbags, Ann Demeulemeester boots, and a vanity top covered in Jean Patou perfume bottles, you'd be hard pressed to resist showing off. A spacious closet becomes the happy home for the finer things in your life as features such as ample shelf space, clear glass paneling, and an open-air wardrobe offer plentiful opportunities for stylish displays.
3. One Person's Storage Space is Another's Treasure Safe
Top-of-the-line security systems and safes also play important roles in many high-end closets these days. Fingerprint scanning technology and other security measures ensure that coveted jewelry, purses, and designer garments are always kept behind locked doors. You never know when a fashion-forward burglar might strike! Keep that impressive Manolo Blahnik collection under wraps by transforming your walk-in closet into a securely monitored treasure trove.
4. The Closet Acts as a Cornerstone for Looking Great
When your closet has two stories and features a dressing room, escalator, and an electronic clothing carousel controlled by a computer, you have no excuse for looking anything less than your very best. A large, expertly designed closet that affords ample space for primping may even turn into a favorite retreat.
5. The Closet is an Extension of You
Your clothing, accessories, and toiletries instantly say a lot about you. Are you playful and modern, or elegant and understated? A well-kept closet can provide an immediate overview of your personal style and fabulous lifestyle. Having all of your favorite pieces in one special place is empowering and promotes a greater sense of pride and well-being. A professionally outfitted walk-in closet can serve as much more than just a place to stash your stuff, especially when it's been turned into a sanctuary that pays homage to all things "you." For insights into some of the world's most fabulous closets, read more on Christie's Luxury Defined.