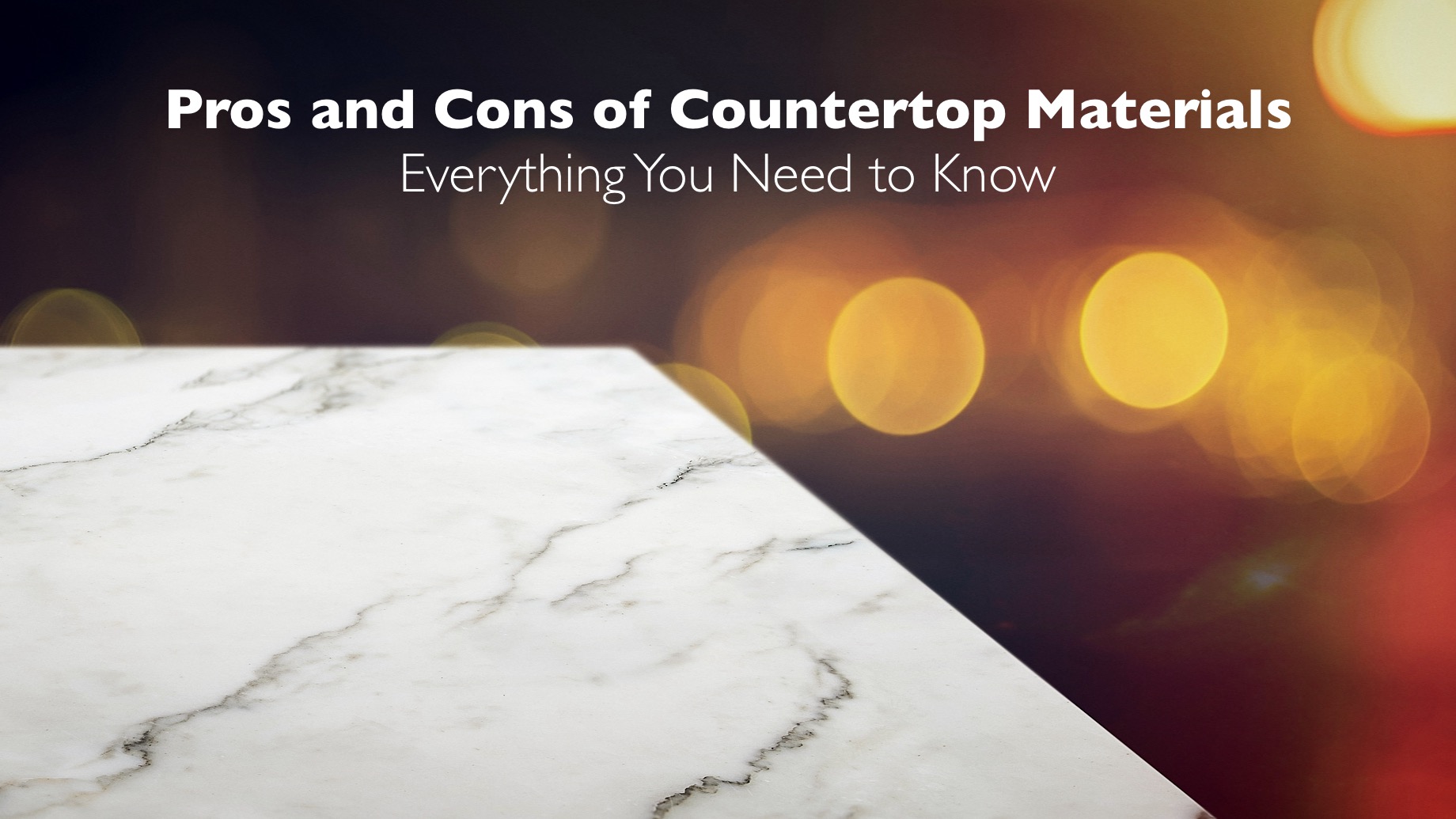 Pick any day of the week, and your kitchen countertop is probably working double-time, playing a multitude of roles, from cutting board or hot pad, to food preparation surface or office desk while you read the morning news.
Countertop Materials Toronto: Kitchen countertop materials play a major role in the aesthetics and functionality of your kitchen, capable of elevating the space and improving usability as well as ambiance and appeal.
In this guide we explore the pros and cons of the most popular types of countertop materials, giving you a succinct overview of what you can expect from each.
Countertop Materials Pros and Cons
Quartz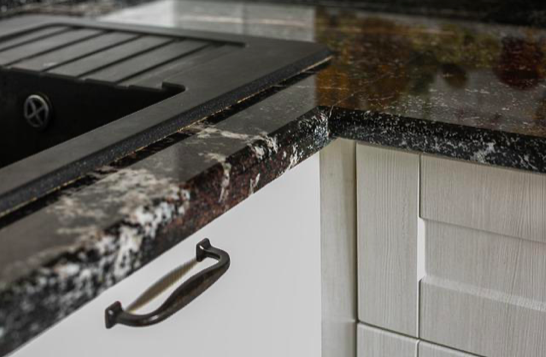 Pros: High-end looks and feel. This man-made material can be customized to resemble the look and appearance of granite, marble and more. As an added benefit, it is generally lower maintenance than many of these other materials and stands up well against abrasive pads, stains, hot pots (but not too hot), and knives.

Cons: Can become damaged over time from UV light and excessive heat. Caulk tends to be visible. Cuts need to be perfect for miters to fit properly. Moderately priced.
Bamboo
Pros: Eco-friendly, sustainable material that adds an element of nature and warmth to the kitchen.
Cons: More prone to staining, chipping and scorching. Excessive moisture (such as near a sink) can also cause warping. Over time, some models may need to have beeswax or mineral oil reapplied.
Butcher Block
Pros: Highly resistant to stains. Trendy and unique. Natural wood finishes.
Cons: Not nearly as resistant to staining. Only moderately resistant to heat. Not ideal in high moisture areas such as by a sink.
Concrete
Pros: Unique industrial look and feel. Great for modern kitchens. Resists stains well if sealed.
Cons: Quality can vary due to custom-form fitting to your cabinets. Weight may be an issue for cabinets or flooring. Can develop hairline cracks over time
Laminate
Pros: Highly affordable for budget-minded homeowners. Available in a wide range of patterns, colors and designs. Resistant to stains and heat.
Cons: May look 'cheap(er)' than higher-end kitchen countertop materials. Can be damaged by certain types of abrasive cleaners or tools. Susceptible to cutting and punctures.
Limestone
Pros: Attractive and exotic (as far as countertop materials go), and resists heat well.
Cons: Somewhat impractical for kitchens. Not great at warding off stains, easily scratched, and prone to nicking or chipping. Will require resealing over time.
Recycled Glass
Pros: A bold and beautiful look that will turn heads. Highly resistant to scratching and heat and simple to maintain.
Cons: Chipping could be an issue with hard impact, and high heat could potentially cause cracking.
Engineered Stone
Pros: The appearance of natural stone without the high price tag or impact on the environment. Available in a wide range of styles and colors, this material is both resistant to scratches and stains. You may also appreciate the variety of edging options available.
Cons: Can be slippery when wet and cold to the touch. Although it's a good imitator, this material will never be the 'real thing'.
Soapstone
Pros: All natural, featuring a notably silky-smooth feel and an old-world aesthetic appeal. Moderately tolerant of stains and impervious to a reasonable amount of heat. Minor damage can often be sanded out.
Cons: Has a tendency to darken over time. Needs to be periodically treated with mineral oil. The surface is susceptible to denting and scratches (some find that this adds to the rustic appeal).
High-End Kitchen Countertop Materials
According to the Family Handyman, most homeowners can expect to spend between 10-15% of their kitchen remodeling budget on countertops. For those with a budget that allows, high-end kitchen countertop materials can offer performance and appeal that will last for decades to come.
Marble
Pros: From stately and elegantly luxurious, to vibrant swirling colors, marble is an upscale high-end kitchen countertop material that deserves its praise.
Cons: Will periodically require resealing. Can take on a bit of a patina over time. Marble is prone to chipping but small nicks and scratches can be easily polished out.
Granite
Pros: Every slab is unique so you'll always have something no one else has, with over 3000 color patterns available. Highly resistant to scratching, cutting, heat and stains. Low maintenance with the right sealers.
Cons: Granite might feel a bit 'played out' with everyone jumping on the granite train the last decade. Corners and edges can be prone to chipping with impact. Will need periodic sealing over time. Expensive in comparison to other options.
Ready to Explore Countertop Materials for Your Next Project?
At Kitchen Land, we can help you find the perfect fit for your Toronto home. From customized styling to traditional classics, our team is committed to bringing your vision to life. Connect with our team today and experience the Kitchen Land difference.