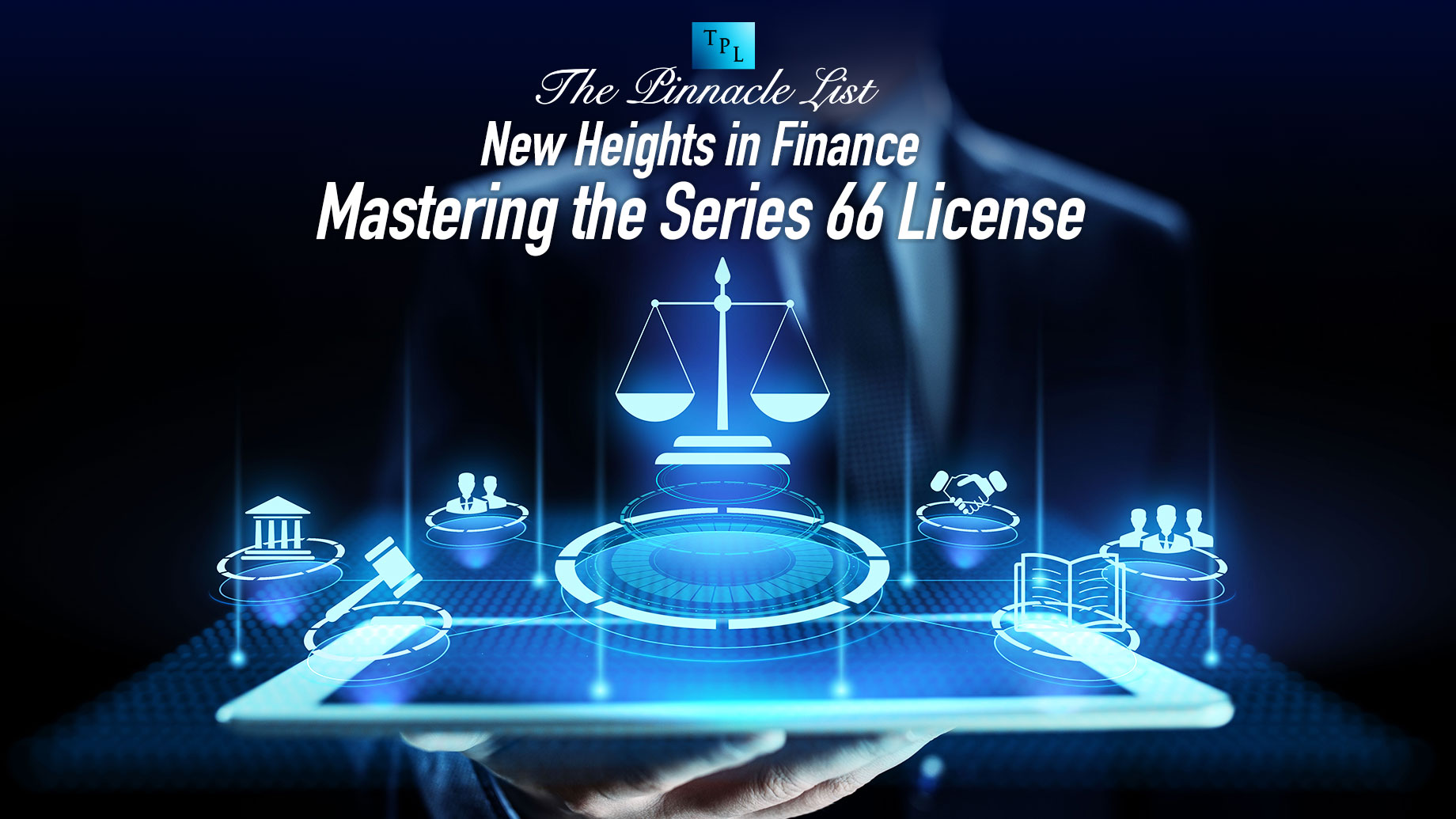 In the ever-evolving landscape of finance, professionals continually seek avenues to advance their careers, expand their knowledge, and serve their clients better. One pivotal stepping stone on this journey is obtaining the Series 66 license. This article explores the significance of the Series 66 license, its impact on financial careers, and why it's a vital achievement for professionals seeking to reach new heights in finance.
The Series 66 License: A Gateway to Success
Understanding the Series 66 License
The Series 66 license, also known as the Uniform Combined State Law Examination, is a crucial regulatory certification in the world of finance. It combines elements of the Series 65 (Uniform Investment Adviser Law Examination) and Series 63 (Uniform Securities State Law Examination) licenses, making it a versatile qualification for financial professionals.
This examination is administered by the Financial Industry Regulatory Authority (FINRA) and is a mandatory requirement for individuals who wish to work as investment adviser representatives. It allows professionals to provide advice on securities and manage client portfolios, making it an indispensable qualification for financial advisors, wealth managers, and other professionals who offer financial guidance.
The Value of Series 66 License
Research suggests that holding a Series 66 license significantly enhances a financial professional's career prospects and earning potential. According to a study conducted by HeinOnline, professionals with the Series 66 license are more likely to secure high-paying positions, attract a larger client base, and establish trust with clients due to their comprehensive knowledge of investment laws and regulations.
Navigating the Complex World of Finance
The Role of Investment Adviser Representatives
Investment adviser representatives play a pivotal role in helping individuals and organizations achieve their financial goals. They assess clients' financial situations, provide tailored investment advice, and manage investment portfolios. To excel in this role, professionals need a deep understanding of securities regulations, ethical guidelines, and investment strategies.
Series 66 License: Knowledge and Expertise
The Series 66 license equips professionals with the knowledge and expertise required to excel in their roles as investment adviser representatives. It covers a wide range of topics, including state and federal securities regulations, ethical practices, and investment strategies. This comprehensive knowledge allows professionals to make informed decisions, protect their clients' interests, and navigate the complex world of finance with confidence.
Elevating Career Opportunities
The Competitive Advantage
In today's competitive financial industry, having a Series 66 license is a clear advantage. Employers and clients recognize this qualification as a symbol of dedication to the profession and commitment to adhering to the highest ethical standards. It demonstrates a professional's ability to provide sound financial advice while complying with strict regulatory requirements.
Series 66 License: Career Advancement
For financial professionals seeking career advancement, the Series 66 license opens doors to a broader range of opportunities. It allows individuals to work as investment adviser representatives, financial planners, or wealth managers, providing them with the autonomy to build their client base and expand their services. Additionally, many firms and organizations prefer candidates with this qualification, making it an essential asset for those aiming to climb the corporate ladder.
Building Trust with Clients
The Importance of Trust in Finance
Trust is the cornerstone of any successful financial advisory relationship. Clients must have confidence in their advisers' abilities and trust that their interests are being prioritized. Without trust, it's challenging to build lasting client relationships and grow a successful practice.
Series 66 License: A Trust-Building Tool
The Series 66 license plays a significant role in building trust with clients. It demonstrates a commitment to professionalism and adherence to ethical guidelines. Clients are more likely to trust advisers who hold this qualification because they know that their financial well-being is in capable hands.
Series 66 License: A Stepping Stone to Success
In the ever-changing landscape of finance, professionals need to continually seek opportunities for growth and improvement. The Series 66 license offers a pathway to success by providing the knowledge and credentials necessary to excel in the role of an investment adviser representative. Research suggests that this qualification can significantly impact a financial professional's career by enhancing earning potential, opening doors to new opportunities, and building trust with clients.
As you embark on your journey to master the Series 66 license, remember that it is not just a certification but a symbol of your commitment to the highest standards of professionalism and ethics in the financial industry. With dedication and determination, you can unlock new heights in finance and achieve the career success you aspire to.
Series 66 license is not merely a license; it is a stepping stone towards a brighter future in finance. It empowers you with the knowledge, skills, and credentials needed to navigate the complex world of investment advisory and build trust with clients. As you embark on this journey, remember that the Series 66 license is your key to unlocking new opportunities and advancing your financial career. So, prepare diligently, aim high, and embrace the exciting possibilities that lie ahead.