Having a sky-high net worth affords you a lot of things, but one of the more undervalued extravagances it can offer you is perspective. You've seen things around the world the others only dream of. Those experiences have taught you an appreciation of what you have. This season's interior design trends encourage you to embrace your worldly experiences and let your home serve as another stop on the adventure.
Japanese Influence
You love getting pampered at Ten Thousand Waves in Santa Fe and are eagerly awaiting the rumored opening of a new Nobu Hotel in Malibu, so why not incorporate some of that relaxing Japanese design into your own home? Work in timeless touches like traditional roman shades and rice paper room dividers to infuse the art of zen into your abode. For the ultimate in relaxation, replace your bathtub with an ofuro, a traditional hand-crafted soaking tub. Celebrities like Jennifer Aniston and Sir Richard Branson have spent as much as $10,000 to have their own ofuros custom crafted by the master makers at Zen Bathworks to bring the Japanese spa experience home.
Gilded Glory
As with everything else from the early 90s, gold bathroom fixtures are back in style. To avoid the noveau-riche look of decades past, use gold fixtures to top minimalist-chic bathrooms like designer Sean Knibb used at the newly opened boutique hotel, the Line in LA's Koreatown. Choose fixtures with clean lines, like Kohler's Purist wall-mount sink faucet in the Vibrant Moderne brushed gold finish ($764.35).
Scandinavian Super White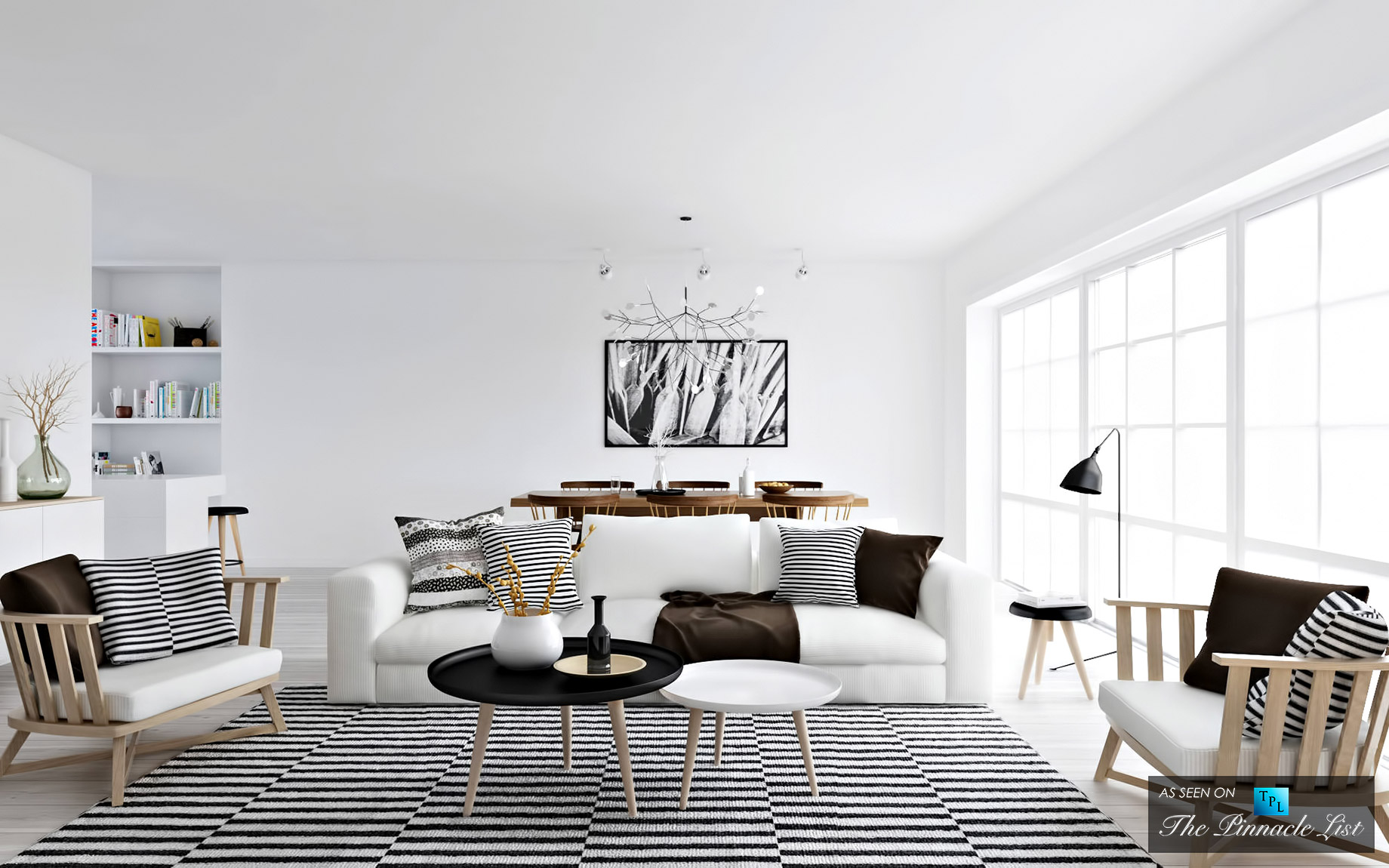 Like having a pearly white smile, super white walls naturally are tough to come by. Every paint company makes dozens of white shades, but the whitest of white walls are somewhat tough to achieve without some expert assistance. To achieve this on-trend look that equal parts invigorating and relaxing, enlist the help of a seasoned designer to select the right white and have the painter use as many coats as necessary to achieve the whitest of whites. Reconsider the rest of your decor to make the walls look even brighter, using materials in white and light gray and accenting with crisp black lines.
A Statement Ceiling
Create a bold statement by adding striped wallpaper to the ceiling in a communal space like the entrance hall to greet guests with panache. Star designer Kelly Wearstler plays up spaces with this trick to create depth and add interest. Avoid evoking images of a circus by choosing stripes in black and white like Kelly Hoppen's designs for Graham & Brown (from $85 per roll) or opting for monochromatic tonal stripes in a neutral color.
Moroccan Influences
Texture is everything and no one does texture quite like the Moroccans. For centuries, they've decorated in the spirit of sensory indulgence with colorful tile patterns, ornate kilim rugs and luxe poufs. Add these Moroccan flourishes in your home to show your wanderlust spirit.