NBA stars make millions of dollars, which affords them unbelievable luxuries. But which NBA stars have the biggest houses, the best style, and the most niche and influential side brands? Here's a look at a few of the top NBA stars and legends.
Michael Jordan
Michael Jordan is arguably the greatest player ever to play the game. In terms of buzzer beaters, nobody had hands like him. But his heroics for the Chicago Bulls aren't all he's known for. During his NBA career, Air Jordans, some of the most famous shoes in history, hit the shelves. Made by Nike, first in 1984, these shoes evolved over time with multiple releases.
It's not surprising that Michael Jordan, with his on-court success, his endorsements and his very own shoe line, would have an extravagant house. While he's since moved on, his former home had an iron gate on fenced land, his famous number, 23, for all to see on the gate. Inside was an indoor tennis court, putting green and deep-water pond, as well as a 15-car garage complete with climate control.
Russell Westbrook
The Oklahoma City Thunder star bought his home in Beverly Hills for $4.65 million in 2015. This 4,000 square-foot home has five bedrooms, six bathrooms, and views of Catalina Island. Russell Westbrook is known for more than just a cool house though. Westbrook Frames are a household name in terms of eyeglasses, which he wears himself. As stylish as Westbrook Frames are, they are just the tip of the iceberg. Russell Westbrook is a fashion-forward star who's worn everything from a poncho and designer torn jeans, to a ripped Ramones T-shirt. Westbrook also doesn't shy away from flannel vests and jewelry. He's what the NBA looks like off the court.
Chris Bosh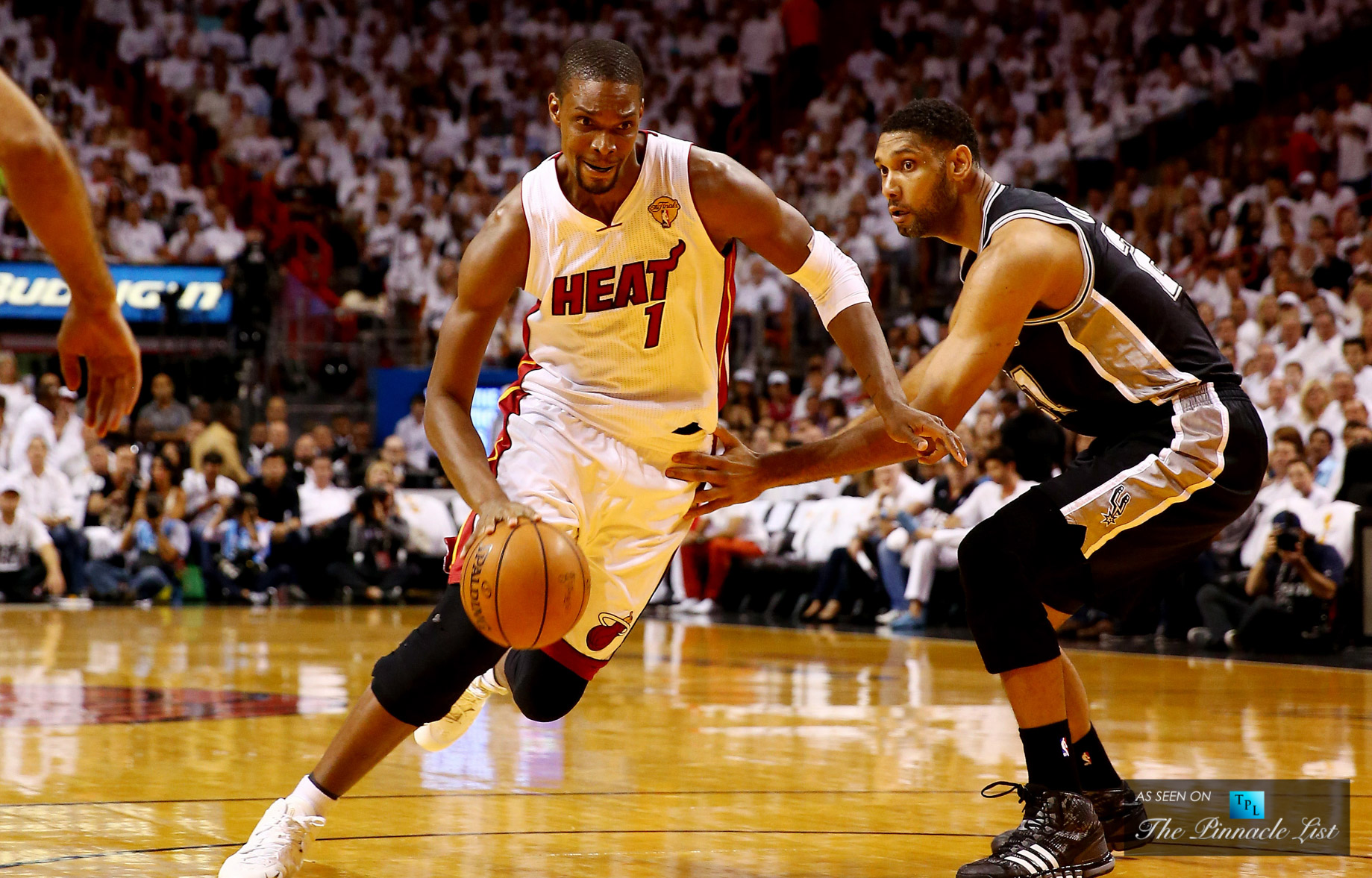 Chris Bosh may be known for his Mr. Nice Ties, which he wears on almost every occasion. He usually pairs his ties with a set of fly sunglasses. But did you know Chris Bosh likely has the most extensive real-estate portfolio in the whole NBA? From his Miami Beach mansion, which he bought for 12.5 million immediately after signing with the Miami Heat, to the Pacific Palisades in California, which set him back 9.4 million as well. His Miami Beach home has 20-foot high ceilings, the dining room has a view of Biscayne Bay, and directly outside this mansion is a ground-level infinity pool.
The house in the Pacific Palisades might be up for sale for 11 million, but it's still technically in Bosh's name. This house has a tiki-style pool and hot tub, as well as a bar. The views span from from Topanga Canyon to the Pacific Ocean, and is designed with influences from the Mediterranean as well as Balinese styles. At 10,700 square feet, there's plenty of room to spread out, and with an in-home theater, he can entertain friends with the latest blockbusters or hottest video games. The walk-in closet off the master bedroom is as roomy as the rest of the house, so even a man as classy and flush with cash as Chris Bosh could have a difficult time filling it.