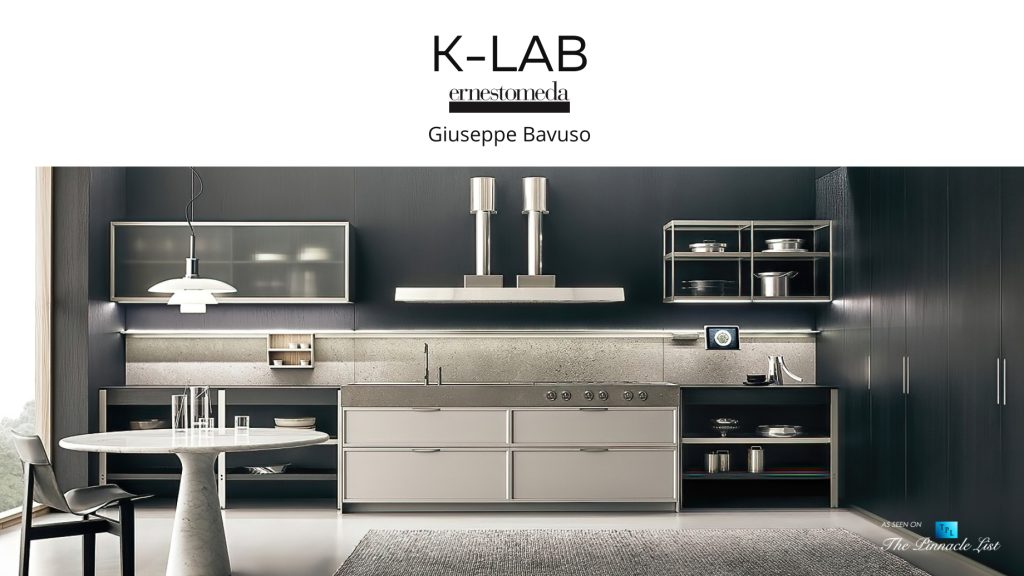 K-lab, a new contemporary kitchen designed by Giuseppe Bavuso for Ernestomeda in Italy, offers a strong aesthetic impact while simultaneously remaining sober and elegant. Inspired by the idea of ​​the delicatessen counters, the kitchen as fine food store. An informal space, with seemingly suspended alternating solid and open spaces, typical of a professional kitchen. k-lab is inspired by the counters of the gastronomic laboratory, by the idea of ​​the kitchen as a shop. An informal space almost suspended in the play of empty and full volumes, typical of the professional kitchen.
"My concept of kitchen is linked to the idea of ​​the house as an open space, in which environments can interact and integrate with each other." – Giuseppe Bavuso
The new K-lab project is divided into solutions with a strong aesthetic impact and at the same time sober elegance, adopting an informal stylistic language. Characterized by a system of open elements with metal structure, it is inspired by the large workbenches of industrial environments. The skilful alternation of full and empty volumes responds to functional needs and gives dynamism to the entire project. K-lab is a kitchen with an innovative design, in which 'cult' elements are mixed with strong character and sheer elegance.
Innovative design, technological avant-garde, constant research and a great passion for quality: these are the hallmarks of the Ernestomeda philosophy. The vocation for experimentation and innovation translates into attention to detail and highly customizable solutions. Ernestomeda's projects are the result of the synthesis between company know-how and Giuseppe Bavuso's original vision of the project.
Name: K-lab
Brand: Ernestomeda
Product: Kitchen
Designer: Giuseppo Bavuso
Country: Italy