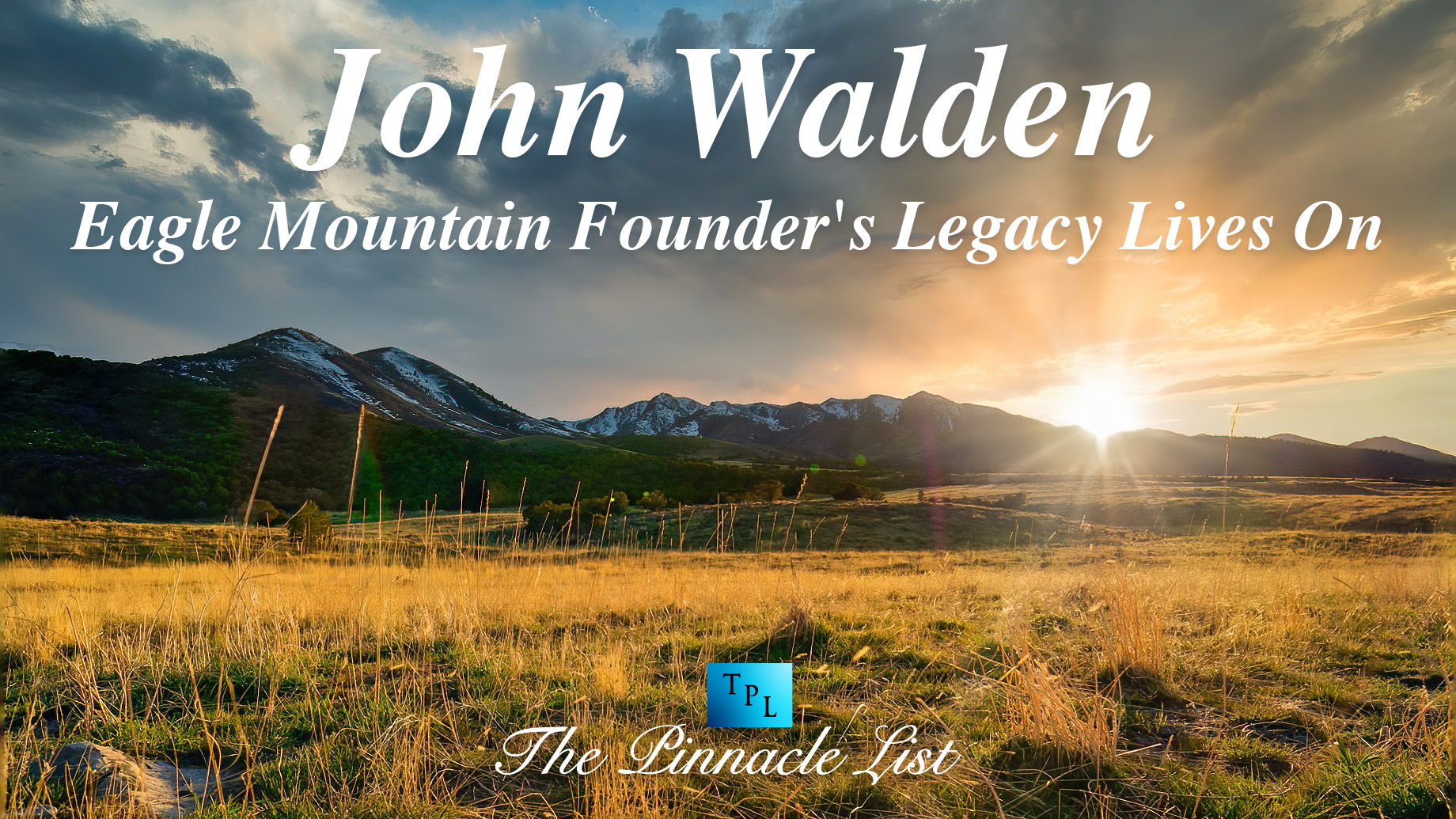 It all started in 1994 at a bankruptcy auction in Utah. John Walden, a real estate developer at the time, went in on a $2.5 million purchase with two of his friends, which bought them upwards of 8,000 acres of land.
The land was located in Cedar Valley. For John Walden, the appeal was not the land itself but what was on that land. The property held 5,000 acre-feet of water, which John Walden immediately planned to use for his existing developments located in Utah.
However, his plan quickly changed the moment he stepped foot on his new property. Walden thought it was gorgeous and was quoted as saying, "It's like 'Home on the Range!'"
Incorporating A Community
After realizing the expense of servicing a single town and the hurdles of creating an entirely new county, John Walden and his friends decided to join forces with a developer named Debbie Hooge. They put their heads together and started to weigh the pros and cons of forming an entire city.
They went to two communities roughly five miles from the newly purchased land – Cedar Pass Ranch and Harvest Haven. Cedar Pass Ranch consisted of large lots, while Harvest Haven was a polygamous community perched on the other side of Highway 73. The two towns liked the idea of joining forces to become a city and decided to sign on.
In December of 1996, a new city that took up 24 square miles was incorporated. Around 7,000 acres were under the Federal Bureau of Land Management's control, while John Walden's group owned about a third of the city. Either private property owners or the state held the remaining property.
Building A Dream
Walden and the two friends that bought the original property with him continued throwing money into their newly discovered dream. By 1998, they had invested at least $11 million, but their confidence remained intact. They were insistent that the costs would be well worth the payout.
One of their first goals was to build homes meant for modest families–people who could not keep up with skyrocketing prices, like the homes that sat by the Wasatch Front. This plan is where Eagle Mountain came into play. The first homes built at Eagle Mountain were designed to sell for around $100,000.
Stirring The Pot
The Bradshaw family purchased one of the first occupied homes in Eagle Mountain. Diane Bradshaw, who was on the original City Council and went on to work for the city, said that Walden certainly "enjoyed stirring the pot, doing things different…" but that "he genuinely cared about the direction the city was going."
That is why the residents were thrown for a major loop when Walden suddenly rallied for the Utah state prison to be relocated to Eagle Mountain.
Community members were furious that John Walden would execute a move that seemingly put their families in danger, but Walden's daughter Tiffany claimed that they had it all wrong. She insisted that her father did this because of his belief that everyone deserves a second chance.
Tiffany stated that Walden had hoped to aid people in rehabilitation by creating a manufacturing training facility for prisoners, which would give them experience and make them employable immediately upon release from prison.
Creating A Legacy
John Walden's vision was a sustainable city big enough that the residents never needed to leave to accomplish something. He wanted an airport, a hospital, a cemetery, and a college to grace the streets.
According to Tiffany Walden, her father put in extra funds to jumpstart the creation of a city hall, a cemetery, a few churches, and even a rodeo ground. Walden himself proudly boasted at one point that he was continuing a Utah tradition that had started all the way back in 1847 when the LDS Church's original members emigrated to a practically barren area. Walden stated, "I'm a new kind of pioneer."
City administrator Ifo Pili attested to that, noting that Walden was a key player in the early roads, infrastructure, and utilities that got the city up and running. Pili added that although Walden was sometimes misunderstood, he had nothing but good intentions for the place he was creating.
Passing The Torch
On January 14, 2017, John Walden lost his battle with pancreatic cancer and passed away at 68–but not before handing over the reins to his daughter.
While in his hospital bed, Walden formally designated his daughter as his replacement in his company. Tiffany proudly accepted and promptly followed in her father's footsteps without skipping a beat. Her duties included taking on continued land development plans, dealing with seven ongoing lawsuits, and juggling other responsibilities in and around Eagle Mountain.
Fortunately, Tiffany Walden thrived. She organized and developed designs for roads, utilities, parks, infrastructure, stores, and more.
Tiffany smartly struck a deal with Facebook, bringing numerous jobs to the city. She even established her own business despite these challenges. This business focuses on real estate development and was aptly named Tiffany Homes.
Developing Real Estate
Tiffany's business aims to make each client's dream a reality while establishing a trusted, personal relationship. Tiffany states that her team is easy to talk to and has no qualms about working on customizations on any level to get it exactly right.
She ensures her company sticks to her word by tightly monitoring the number of clients they take on at any given time, thereby ensuring that each client gets the individual attention they are promised at the beginning. Tiffany's format is working, as evidenced by the more than 100 homes built by her company every year since it was formed.
Within 30 years, John Walden took vacant land in Utah and turned it into a sprawling metropolis known today as Eagle Mountain. According to the United States Census Bureau, Eagle Mountain was home to 49,738 residents in 2021. Despite the ups and downs, Walden persisted in building his dream, creating a legacy, and passing it on to his daughter, who did everything she needed to do to make her father proud, and then some. Tiffany Walden not only continued her father's work but was able to build her own dream too, adding to the Walden family's legacy that is the Walden family.