Coffee tables in your home or office act as important centrepieces to the style and décor of any space. A great way to refresh your surroundings and introduce a touch of contemporary flair and elegance to your home or office is to update your space with a new set of modern glass coffee tables. The design that you ultimately select will determine how your interior setting is viewed therefore, you need to explore a multitude of options before determining what best suits your needs. Researching all the latest design trends from vendors around you could be a good approach. However, the internet is often the best source for the latest design trends and source of inspiration. Websites such as "Fab Glass and Mirror" offer many unique designs of glass coffee tables that you can purchase right from your home. In this article, we will look at five different designs of glass coffee tables that could suit both your home and office.
Aquarium Glass Coffee Table
Bringing a natural outdoor setting indoors is a mantra that you hear repeatedly within the language of modern home design and contemporary architecture. However, you can get nature indoors without redesigning your home and add a new level of uniqueness and natural ambiance to any space with a coffee table aquarium. Having a coffee table that has an aquarium added to it is a new type of modern design which is becoming popular among many homeowners. New frameless designs with tempered glass panels glued together, with a rubber stand at the bottom to avoid direct contact with the ground, are the preferred option for these tables.
Glass Top Curio Coffee Table
It is always interesting to have captivating art or décor objects displayed within your office or home space. We often see these items displayed in curio (short for curiosity) wall cabinets within a room that function as display cases. So, incorporating that concept into your coffee table could be a perfect fit for you. Modern contemporary versions of a glass top curio coffee table is a perfect place to showcase your statement pieces or the prized items that you want to display in a more intimate and close-up setting. 
Sculptural Wood Glass Coffee Table
Furniture as contemporary art is the theme behind sculptural wood glass coffee tables. If you are a modern art lover, having a sculptural glass coffee table in your house or office would do some magic to your interior décor. As you would expect, this type of table is designed such that the base is a sculpture with a glass top that makes it a table. The sculpture can be of anything, but the warmth of wood displayed under a glass top is always a good option for a modern, yet sophisticated look.
Wire Base Glass Coffee Table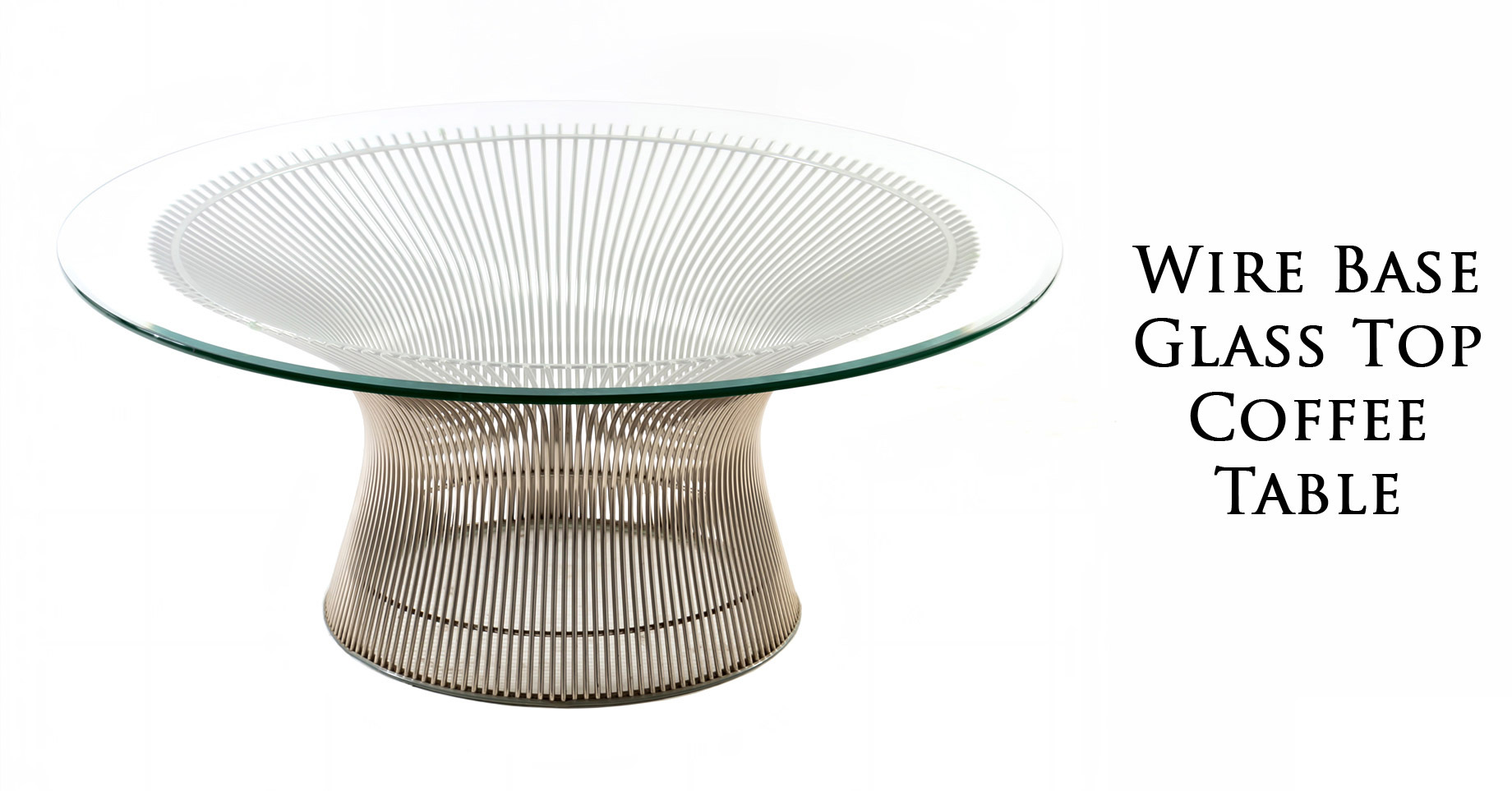 Wire-based items are a common theme for interior décor furnishings and are considered by many to be a design icon of the modern era. Symmetric or geometric wire designs with harmonious forms create a decorative and graceful base for a fashionable glass coffee table.   
Magazine Rack Glass Coffee Table
Form meets function and utility is the overriding concept here. Coffee tables or glass side tables with built-in magazine racks can add both style and a decorating opportunity for creative use of the space under the table to display magazines or books that add sophistication to the ambiance of any room.